Dragon Naturally Speaking Reviews

- 2007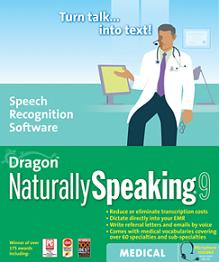 ---
Nuance Mobile Tops One Million Transactions; Sets Goal to be as Pervasive as Traditional 411, Desktop Search and Email by End of Decade
Breakthrough Customer Usage Volume Highlights Simplicity of Speech Access to Mobile Content; Usage Frequency Nearly Doubles in Just 9 Months
LAS VEGAS, January 10, 2007 – Nuance Communications, Inc. (NASDAQ: NUAN), a leading supplier of speech and imaging solutions, today announced that Nuance VoiceControl, a mobile search and messaging service powered by speech technology, has completed more than one million speech-enabled mobile transactions. Users of the Nuance VoiceControl service can simply press a single button and speak to their phone, then instantly receive desired information or create highly accurate messages, without any need for typing on the small, constrained keypads of mobile devices. Over the past year, customers using the service placed "voice requests" on Sprint-compatible Palm Treo, Blackberry and Windows Mobile devices available from Sprint. The Nuance VoiceControl service was and is also available via download from Handango.
Usage analysis of the most recent mobile transactions with Nuance VoiceControl reveals that voice dialing and calendar access accounted for approximately 65 percent of the speech requests, while 17 percent of the requests involved mobile messaging, such as sending SMS messages or email. Nearly all of the remaining requests involved mobile search of yellow pages directories, news and other information. Perhaps most significantly, Nuance reports that usage frequency of the service nearly doubled over the last nine months, with an average of approximately 30 requests per unique subscriber in the month of December 2006, compared to 17 voice requests per user for the month of April 2006.
"Handsets have incorporated speech applications for quite some time, but the functionality was previously limited to personal information management (PIM) functionality such as voice dialing and device control, so much of the available mobile content remained deeply hidden behind confusing menus or awkward and complicated keypad entry," said Michael Thompson, vice president and general manager, telco, search and communications, Nuance. "Our research suggests that by delivering single-button access to Web content and messaging, Nuance is helping mobile users unlock the full potential of mobile device Web and data capabilities, thereby creating significant value opportunities for users and operators alike. Our goal is to make mobile search as pervasive as traditional 411 and desktop Web search."
411 Tops Mobile Search Usage
Reflecting the growing hunger for mobile information anytime, anywhere, approximately 18 percent of all voice commands in the Nuance study involved mobile search. This usage is an indication of rising interest with end users who appreciate single-button access to the wealth of information available on the Web. According to the results of the analysis, the most popular voice-based search category is "Find Business," which enables users to simply ask for any business name or category, in any city or zip code. Among all searches, this search category accounted for over 30 percent of search requests (for example, "Find Business: Best Buy store in Las Vegas."). Web browsing by voice, where a user requests a specific Web address, represented 20 percent of voice searches (for example, "Go to Web site: Nuance.com"), and general Web search represented 10 percent of all voice searches (for example, "Web search: how tall is the Empire State Building?").
The complete breakdown of search request frequency by category includes:

Business listings or yellow pages information: 31 percent

Voice browsing: 20 percent

Weather: 19 percent

Web search: 10 percent

Movies: 6 percent

Stock Quotes: 6 percent

Sports: 5 percent

Top News Stories: 3 percent
Email is Second Most Popular Feature
Approximately 17 percent of all voice requests were for creating SMS and email messages. Email was by far the most popular messaging method, accounting for 77 percent of all messaging requests and 13 percent of voice requests overall. Email Dictation was the second most frequently used feature of Nuance VoiceControl, only falling behind Voice Dialing. This feature has been found to be particularly useful to Blackberry subscribers, typical heavy users of mobile email.
Demand for mobile email is accelerating worldwide with over 100 percent annual growth for corporate email users, according to Portio Research. The ability to simply dictate an email rather than type on a small keypad could help fuel that growth.
The remaining 23 percent of messaging usage in Nuance VoiceControl was SMS Dictation. Much like email, users simply push the button and dictate their short message (for example, "New SMS to John Smith; I'm running late, will be there in 30 minutes"). Portio Research reports that there were more than one trillion SMS messages sent in 2006 worldwide.
Overall Usage Frequency Nearly Doubled in 9 Months
Each unique Nuance VoiceControl subscriber used the service an average of 30 times during the month of December 2006, or approximately once per day, nearly twice the average usage of 16.7 voice requests per month in April 2006.
"Usage frequency of our speech-enabled mobile messaging and mobile search service has nearly doubled in just nine months, suggesting that the more individual users see what's possible with tools such as speech-enabled mobile search, the more they use it," said Thompson. "This behavior reflects the 'sticky' nature of the Nuance VoiceControl service. Analysis of individual usage patterns reveals that most users are initially attracted to the Nuance VoiceControl service for its voice dialing and email/SMS dictation features, and over time discover other capabilities such as searching the Web and creating calendar appointments by voice."
About Nuance VoiceControl
Nuance VoiceControl (formerly MobileVoiceControl) provides a speech-enabled service that allows consumers to press one button on their mobile phone to easily dictate and send email or text messages, dial a contact, create calendar entries, and search Web content entirely with their voice. This complete mobile service with powerful speech-enabled search and communications applications is available today for a $6 monthly fee for Sprint Nextel subscribers on select devices and can also be downloaded from Handango.com. Rich, dynamic content and advertising is delivered through a strategic content relationship with Gannett Co. Inc. and USA TODAY.
For more information about Nuance VoiceControl, please visit www.nuance.com/mobiledevices.
About Nuance Communications, Inc.
Nuance is a leading provider of speech and imaging solutions for business and consumers around the world. Its technologies, applications, and services make the user experience more compelling by transforming the way people interact with information and how they create, share, and use documents. Every day, millions of users and thousands of businesses experience Nuance's proven applications. For more information, please visit www.nuance.com.
Nuance and the Nuance logo are trademarks or registered trademarks of Nuance Communications, Inc. or its affiliates in the United States and/or other countries. All other trademarks referenced herein are the property of their respective owners.
---
Order Dragon Naturally Speaking
Schedule your FREE Medical Transcription Software Demo today.
View the History of Voice Recognition and Speech Recognition Software