Dragon Naturally Speaking Reviews

- 2007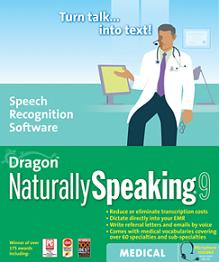 ---
Nuance Closes Acquisition of MobileVoiceControl
Expands Nuance Mobile Services with Innovative Offering that Allows Mobile Users to Find a Business, Get the Weather, Check Stock Quotes, Dictate Messages, Dial a Contact and More, Entirely with Voice
BURLINGTON, Mass., January 3, 2007 - Nuance Communications, Inc. (Nasdaq: NUAN), a leading provider of speech and imaging solutions, today announced that it has closed its acquisition of MobileVoiceControl, a provider of speech-enabled mobile search and messaging services.
The transaction allows Nuance to further accelerate its deployment of speech-enabled services for the wireless industry and the burgeoning mobile search and communications markets. The mobile device and wireless phone industry is one of the fastest growing technology markets in the world, and the opportunity to provide content, advertising, and services has enticed the world's more prominent Internet, search, software and content providers.
MobileVoiceControl's service allows users to press one-button on their mobile phone and simply speak their request, eliminating the need to fumble with tiny keypads or navigate complex menus to perform simple tasks. Consumers can easily dictate and send email or text messages, create calendar entries, dial a contact, and search the Web for business listings, news, weather, stock quotes, sport scores and more.
The service is available to Sprint Nextel (NYSE:S) subscribers on select BlackBerry®, Treo™ and Windows Mobile devices and can also be downloaded from www.handango.com. Dynamic content and advertising is delivered through a strategic content relationship with Gannett Co. Inc. (NYSE: GCI) and USA TODAY. This service has been commercially available for one year and has processed more than one million live mobile voice-in and visual-audio out search and messaging tasks.
In addition, MobileVoiceControl recently launched Narrator, a new email reading service designed for the BlackBerry® Pearl™ smartphone from Research In Motion (RIM) (Nasdaq: RIMM). Narrator uses speech technologies to read incoming email messages on a BlackBerry Pearl through the handset's speakerphone, a headset or hands-free car kit.
In the coming months, the Nuance Mobile team will showcase its services and preview new applications at various industry events including the 2007 International CES in Las Vegas (January 8 to 11); the 3GSM World Congress in Barcelona (February 12 to 15); and CTIA Wireless 2007 in Orlando (March 27 to 29). For more information about Nuance Mobile, please visit www.nuance.com/mobiledevices.
About Nuance Communications, Inc.
Nuance is a leading provider of speech and imaging solutions for business and consumers around the world. Its technologies, applications, and services make the user experience more compelling by transforming the way people interact with information and how they create, share, and use documents. Every day, millions of users and thousands of businesses experience Nuance's proven applications. For more information, please visit www.nuance.com.
---
Order Dragon Naturally Speaking
Schedule your FREE Medical Transcription Software Demo today.
View the History of Voice Recognition and Speech Recognition Software