Dragon Naturally Speaking Reviews

- 2007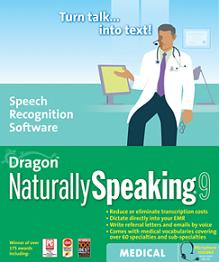 ---
Nuance's Speech Automation Powers 1-800-YellowPages Service for AT&T
Nuance Communications Automates AT&T's Advertiser-Supported Directory Assistance Service
BURLINGTON, Mass., January 3, 2007 – Nuance Communications, Inc. (NASDAQ: NUAN), the world's leading supplier of speech and imaging solutions, today announced that AT&T, the largest telecommunications company in the United States and one of the largest in the world, has selected speech technology from Nuance to automate its new 1-800-YellowPages (1-800-935-5697) Directory Assistance (DA) service. The Nuance solution is part of an integrated advertising platform from VoltDelta, a wholly owned subsidiary of Volt Information Sciences, Inc. (NYSE: VOL), which provides directory assistance, data management and operator services to telephone companies worldwide. AT&T began a controlled trial of this new DA service (www.att.com/1800YellowPages) in December 2006 in Bakersfield, Calif.; Oklahoma City, Okla.; and Columbus, Ohio. The new service provides free DA information accompanied by targeted advertising messages to the public.
AT&T will automate the white pages requests with speech recognition and text-to-speech solutions from Nuance, delivering instant access to extensive directory information without sacrificing customer service. Nuance participated in the development of a unique user interface customized for AT&T to make 1-800-YellowPages a differentiated and unique service while maximizing caller value and satisfaction, and enhancing speech recognition in the fulfillment of the caller's request.
VoltDelta is integrating Nuance's automated directory assistance application with VoltDelta's advertising platform, data, database services, and operator interfaces to provide a dynamic speech-enabled service for name and number search with operator back-up.
Nearly 50 billion directory searches are completed in the United States each year, according to industry research. Approximately six billion of these information requests are accessed through traditional directory assistance services, and the remainder are accessed via free services such as print directories or online searches.
"Consumers are looking for directory assistance when they don't have a phone book handy or can't jump online," said David Huntley, senior vice president-Diversified Businesses, AT&T. "In addition to our premier caller-paid Directory Assistance service, AT&T 1-800-YellowPages now offers our consumers audio YellowPages, powered by Nuance's speech technology. Nuance has been a critical player throughout the development of our new state-of-the-art advertiser supported Directory Assistance service."
"SpeechExpressSM DA Automation is a key component of VoltDelta's new integrated advertising solution for advertising-supported services," said Rich Oldach, executive vice president of strategic marketing at VoltDelta. "We have been integrating Nuance's advanced speech technologies and applications into our many SpeechExpress automation solutions for a broad range of automation solutions. We are excited to leverage our existing relationship with Nuance to offer cost-effective automation with operator back-up for services such as white pages searches for AT&T 1-800-YellowPages."
"The entrance of AT&T into the market for advertiser-supported DA services validates the business model of this evolving market," said Michael Thompson, vice president and general manager, telco, search and communications, Nuance. "We expect the number of free 411 calls to explode as callers discover the service offers a faster, more convenient alternative to other options such as standard yellow pages or traditional Internet searches."
About VoltDelta
VoltDelta specializes in providing platform and database services to the world-wide telecommunications market. Volt Information Sciences, Inc. is a diversified technology and staffing company, providing leading edge services to the information technology, telecommunications and publishing industries. http://www.voltdelta.com VoltDelta Media Information: contact Kari Bittner, (585) 924-0383, kbittner@voltdelta.com
About Nuance Communications, Inc.
Nuance is a leading provider of speech and imaging solutions for business and consumers around the world. Its technologies, applications, and services make the user experience more compelling by transforming the way people interact with information and how they create, share, and use documents. Every day, millions of users and thousands of businesses experience Nuance's proven applications. For more information, please visit www.nuance.com.
Trademark reference: Nuance and the Nuance logo are registered trademarks or trademarks of Nuance Communications, Inc. or its affiliates in the United States and/or other countries. All other company or product names mentioned may be the trademarks of their respective owners.
The statements in this press release that relate to future plans, events, or performance or to market acceptance of Nuance's products are forward-looking statements that involve risks and uncertainties, including risks associated with market trends, competitive factors, and other risks identified in Nuance's SEC filings in the United States. Actual results, events, and performance and actual market acceptance of Nuance's products may differ materially. Readers are cautioned not to put undue reliance on these forward-looking statements that speak only as of the date hereof.
---
Order Dragon Naturally Speaking
Schedule your FREE Medical Transcription Software Demo today.
View the History of Voice Recognition and Speech Recognition Software