Dragon Naturally Speaking Reviews

- 2006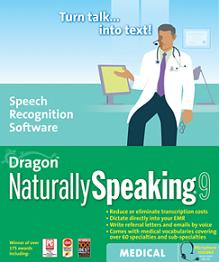 ---
Nuance Communications Improves Employee Productivity and Organizational Communication with New Suite of Speech-Enabled Enterprise Applications
New Product Suite Supports Employee-to-Employee Communications, Employee Password Reset and Disaster Recovery Strategies
BURLINGTON, Mass., November 7, 2006 – Nuance Communications, Inc. (NASDAQ: NUAN), a leading supplier of speech and imaging solutions, today launched SpeechAttendant™ Large Enterprise Edition (SA-LEE), an integrated product suite that combines proven auto attendant and directory services with enhanced applications to power employee productivity, self-service communications and business continuity.
The foundation of the new product suite is a natural and accurate speech auto attendant that boosts workforce productivity by enabling employees to place internal calls by simply speaking the name of a person or department. Designed specifically for large organizations, the system eliminates the need to search through directories or wait on hold for an operator by providing single number access to all employees across the enterprise. Built on this core speech-enabled employee directory, SA-LEE introduces new add-on applications including an Employee Password Reset feature and specific communications capabilities to support business continuity and disaster recovery efforts.
"Large organizations already use speech solutions to boost productivity in call centers while cutting service costs," said Richard Martel, general manager, AutoAttendant Solutions, Nuance. "Why not extend those same benefits to the employee population? Speech solutions are no longer exclusively designed for inbound customer calls. Large enterprises can use speech-enabled, internal applications to improve employee productivity by automating the repetitive data-gathering tasks that place unnecessary and costly burdens on the organization. Whether employees are conducting business as usual or facing an emergency situation, SA-LEE delivers the highest levels of performance and accuracy for truly superior employee communications across large enterprises."
Employee Password Reset enables employees to quickly and securely reset their own passwords for more than 60 enterprise applications over the telephone – eliminating the time and expense of a live IT help desk agent for this routine task. Leveraging Nuance's patented biometric voice verification technology, SA-LEE's Employee Password Reset feature uses each employee's "voiceprint" to confirm caller identity before authorizing password changes. Since about 30 percent of calls to the IT help desk are password related and manual password resets cost an average of $10-13 per call , automating this task across large enterprises can save significant time and money.
The new product suite also adds new capabilities to the core speech auto attendant to facilitate individual and group communication in a crisis. Enterprises can initiate employee roll call, redirect calls to locations with redundant systems, send broadcast messages to targeted personnel, and provide self-service access to emergency information. Specific tools to support an organization's business continuity and disaster recovery strategies include the following applications:
Call Redirect – enables employees to forward calls to any of eight numbers using simple voice commands. Ideal for both temporary and permanent changes, Call Redirect ensures that employees are always routed to colleagues at their current location – optimizing productivity and connectivity for a mobile workforce.

Roll Call – employees call into the system, say their name, and confirm their status. Employees can also use Roll Call to communicate important information and ensure they stay connected in emergency situations.

Broadcast Messaging – automates immediate notification of key management, response teams or employees before, during and after a crisis. SA-LEE broadcasts emergency information via multiple modes of communication (e.g., office phone, mobile phone, pager, e-mail, etc.) until every recipient has been notified.

Self-Service Information Center – provides 24 x 7 automated access to a wide range of up-to-date employee directory information, including office, mobile, pager and fax numbers, and email or mailing address. Callers simply speak the person's name and choose from a spoken menu of options to automatically obtain the desired information.
Based on the patented Voice Search Engine technology used for carrier automated directory assistance, SpeechAttendant Large Enterprise Edition provides fast, accurate voice access for enterprises with 25,000 or more directory listings. SA-LEE offers a wide selection of telephony interfaces to allow seamless implementation with an organization's current infrastructure and can be deployed quickly and easily—typically within a few days.
About Nuance Communications, Inc.
Nuance is a leading provider of speech and imaging solutions for business and consumers around the world. Its technologies, applications, and services make the user experience more compelling by transforming the way people interact with information and how they create, share, and use documents. Every day, millions of users and thousands of businesses experience Nuance's proven applications. For more information, please visit www.nuance.com.
Nuance, the Nuance logo and SpeechAttendant are trademarks or registered trademarks of Nuance Communications, Inc. or its affiliates in the United States and/or other countries. All other trademarks referenced herein are the property of their respective owners.
Order Dragon Naturally Speaking
Schedule your FREE Medical Transcription Software Demo today.
View the History of Voice Recognition and Speech Recognition Software