Dragon Naturally Speaking Reviews

- 2006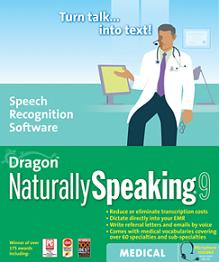 ---
Nuance to Host Worldwide Dragon NaturallySpeaking Developer Conference 2006
Inaugural Conference Examines Best Practices, Future of Speech-Enabled Applications; Highlights Integration of Speech with Electronic Medical Records Systems
Overview:
Nuance Communications, Inc. (Nasdaq: NUAN), formerly ScanSoft, Inc., today announced the first annual Worldwide Dragon NaturallySpeaking® Developer Conference. This inaugural conference, taking place at the conclusion of HIMSS06, will examine how to properly build full-featured speech enabled solutions within a wide range of applications, including those serving Electronic Medical Records (EMRs). Healthcare organizations have reaped the benefits of EMRs for years, but have been challenged by the need to manually create records through traditional, manual dictation/transcription methods. Integrating Dragon NaturallySpeaking speech recognition with today's EMRs provides an affordable way to automate the medical information collection process while significantly reducing administrative overhead, increasing productivity and providing better patient care.
This conference will provide an outside look at the rapid deployment of the Dragon NaturallySpeaking technology within EMRs and other applications, an outlook to the future, and some best practices in the industry. A wealth of networking opportunities will provide attendees with new ideas to help grow their business and sharpen their product knowledge.
Details:
Throughout the conference, experts from Nuance will provide commentary and insight in an array of panels, forums and keynote engagements focused on topics such as:
Dictation

Deferred Transcription

Language Model Optimization

Programming for Network Deployments and Mobile Devices

Speaker Independent Speech Recognition

..and much more
For a full schedule and additional information, please visit http://www.nuance.com/devconf2006/
When:
February 16-17, 2006
Where:
The Worldwide Dragon NaturallySpeaking Developer Conference 2006 is being held at the San Diego Marriott Hotel & Marina in San Diego, California.
Contact:
Erica Hill
Nuance Communications, Inc.
Tel: (781) 565-5218
Email: erica.hill@nuance.com David McKee
Schwartz Communications
Tel: (781) 684-0770
Email: dmckee@schwartz-pr.com
Nuance Communications, Inc.
Nuance (Nasdaq: NUAN) is the leading provider of speech and imaging solutions for businesses and consumers around the world. Its technologies, applications and services make the user experience more compelling by transforming the way people interact with information and how they create, share and use documents. Every day, millions of users and thousands of businesses experience Nuance's proven applications. For more information, please visit www.nuance.com.
Nuance, the Nuance logo, Dragon and NaturallySpeaking are trademarks or registered trademarks of Nuance Communications, Inc. or its affiliates in the United States and/or other countries. All other company names or product names may be the trademarks of their respective owners.
The statements in this press release that relate to future plans, events or performance are forward-looking statements that involve risks and uncertainties, including risks associated with market trends, competitive factors, and other risks identified in Nuance's SEC filings. Actual results, events and performance may differ materially. Readers are cautioned not to put undue reliance on these forward-looking statements that speak only as of the date hereof.
Order Dragon Naturally Speaking
Schedule your FREE Medical Transcription Software Demo today.
View the History of Voice Recognition and Speech Recognition Software