Dragon Naturally Speaking Reviews

- 2006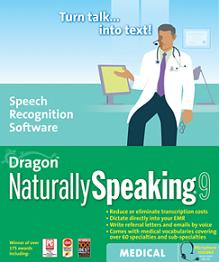 ---
Dictaphone PowerScribe® from Nuance Dominates Speech Recognition-Driven Reporting for Radiology
Leading Speech Recognition Solution Passes 900 Customer Mark, Outpacing Competition with Unmatched Ability to Reduce Transcription Costs, Accelerate Reporting and Deliver Best-in-Class Quality
RSNA 2006 – CHICAGO, November 27, 2006 – Nuance Communications, Inc. (Nasdaq: NUAN), a leading provider of speech and imaging solutions, today announced that its Dictaphone® PowerScribe® system is the leader in speech recognition solutions for radiology with more than 900 customers. Proven in hundreds of implementations worldwide, Dictaphone PowerScribe saves healthcare organizations thousands of dollars per radiologist each year in reduced or eliminated manual transcription costs, automates the clinical documentation process and reduces the long turnaround time associated with the manual transcription of radiology interpretations, part of a $10 billion transcription industry in North America alone.
PowerScribe sales continue to outpace the industry with recent implementations at such prestigious institutions as Memorial-Hermann Healthcare System of Texas, Jefferson Health System of Pennsylvania, Vancouver Clinic of Vancouver, Canada and Mt. Sinai Hospital of Chicago, Illinois. These organizations and hundreds of others are using PowerScribe to reduce or eliminate the costs of manual transcription and to dramatically speed report turnaround time.
"In our industry, there are three critical success factors when it comes to clinical notes: quality, turnaround time and cost, and PowerScribe has probably been the single greatest product contributor to our ability to do it right, do it fast and keep our costs in line," said Robert Weeks, director of the information systems division at Memorial Hermann Hospital System, Houston. "Now, when our physicians need a report by next day, they know they don't need to order a stat, and when they really do need a stat, they can get it in hours not days. When you combine that with our annualized savings figure for this initiative projected at about $1.5 million, it is no wonder PowerScribe is dominating the industry."
A leader in enterprise speech recognition and clinical documentation, Nuance is driving the digitization of patient information with the world's most accurate speech and language technologies. PowerScribe is an integrated digital dictation and speech recognition application that brings substantial productivity gains to the medical transcription process. Through the combination of highly accurate speech recognition software and powerful physician self-editing tools, PowerScribe dramatically reduces report turnaround time in even the most demanding medical environments. In many cases, organizations are able to completely eliminate manual transcription services, the cost of which is a growing problem for the industry.
Through its PACS/RIS Extension Partner (PREP) program, Nuance has integrated Dictaphone PowerScribe Workstation with a wide range of leading RIS and PACS, including among many others, integrations to Cerner, FUJIFILM Medical Systems, GE Healthcare, IDX, McKesson Information Solutions, and Siemens Medical Solutions. Today, more than 45 PACS/RIS vendors provide customers with the ability to streamline workflow by using PowerScribe's desktop integration. The desktop integration allows Radiology departments to eliminate redundant hardware, providing real-time speech recognition reporting within the PACS/RIS workstation. Medical report errors can be reduced when multiple applications share patient context, eliminating the need for paper workflow.
"Nuance has become the premier provider of speech solutions for healthcare," said Peter Durlach, senior vice president, marketing and product strategy, Dictaphone Healthcare Solutions, Nuance. "As we continue to grow our product offerings and customer base in PowerScribe and across the spectrum of our healthcare solutions, we are dedicated to leading not just in market share, but more importantly in quality, accuracy and value as well. Looking ahead, we will continue to bring solutions to market that support the critical role of the narrative in the process of care, with solutions that integrate easily with existing systems and significantly reduce the need for costly manual transcription services."
For more information on Dictaphone PowerScribe go to Nuance.com/powerscribe/. For sales and pricing information, please call 1-888-350-4836.
Dictaphone Healthcare Solutions, a division of Nuance, is located in RSNA booth #3123.
Dictaphone Healthcare Solutions Division
Nuance's Dictaphone Healthcare Solutions Division provides comprehensive dictation and transcription solutions and services that improve the way patient data is captured, processed and used changing the way people process and work with medical information. Through the integration of speech recognition and natural language processing within existing health information management workflow, Nuance's Dictaphone Healthcare Solutions offerings help healthcare organizations save money and improve patient care by improving the turn around time, accuracy and usability of their medical documentation. For more information, please visit Nuance.com/Dictaphone.
Nuance Communications, Inc.
Nuance (Nasdaq: NUAN) is the leading provider of speech and imaging solutions for businesses and consumers around the world. Its technologies, applications and services make the user experience more compelling by transforming the way people interact with information and how they create, share and use documents. Every day, millions of users and thousands of businesses experience Nuance's proven applications and professional services. For more information, please visit nuance.com.
Nuance, the Nuance logo, Dictaphone, and PowerScribe are registered trademarks or trademarks of Nuance Communications, Inc. or its affiliates in the United States and/or other countries. All other company names or product names may be the trademarks of their respective owners.
The statements in this press release that relate to future plans, events, performance or market acceptance of Nuance's products are forward-looking statements that involve risks and uncertainties, including risks associated with market trends, competitive factors, and other risks identified in Nuance's SEC filings. Actual results, events, performance and market acceptance may differ materially. Readers are cautioned not to put undue reliance on these forward-looking statements that speak only as of the date hereof.
Order Dragon Naturally Speaking
Schedule your FREE Medical Transcription Software Demo today.
View the History of Voice Recognition and Speech Recognition Software