Dragon Naturally Speaking Reviews

- 2006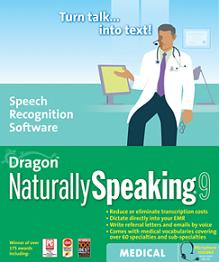 ---
Nuance to Acquire Dictaphone, Accelerating Strategy to Eliminate Manual Transcription in Healthcare
Acquisition Greatly Expands Nuance Speech Solutions and Channels for Healthcare
BURLINGTON, Mass., and STRATFORD, Conn., February 8, 2006 – Nuance Communications, Inc. (Nasdaq: NUAN) and Dictaphone Corporation today announced a definitive agreement whereby Nuance will acquire Dictaphone, the leading provider of dictation and speech recognition solutions for the healthcare industry. This acquisition significantly accelerates Nuance's strategy to automate manual transcription in healthcare, where an estimated $15 billion is spent worldwide each year.
The acquisition of Dictaphone expands Nuance's product portfolio, market reach and revenue streams within the large and rapidly growing healthcare vertical. One of the most respected technology solutions vendors in the healthcare industry, Dictaphone has an installed base of dictation and transcription software systems serving over 4,000 hospital and outpatient facilities and approximately 400,000 physicians.
"Improvements in speech technology and pressures on the healthcare industry create a compelling opportunity for our companies to transform manual transcription through speech-enabled solutions," said Paul Ricci, chairman and CEO at Nuance. "The combined resources, experience and talents of Nuance and Dictaphone will help accelerate the adoption of speech recognition to eliminate most manual transcription for healthcare in North America this decade, delivering over $5 billion in savings to care facilities and transcription service organizations."
Nuance expects the acquisition to add between $80 million and $85 million in revenue in fiscal year 2006 and between $180 million and $200 million in fiscal year 2007. The transaction is expected to generate cost synergies between $20 million and $25 million per year. The acquisition is expected to be dilutive to earnings on a GAAP basis by approximately $(0.12) to $(0.11) cents per share in fiscal year 2006 and $(0.05) to $(0.02) cents per share in fiscal year 2007. On a non-GAAP basis, the acquisition is expected to be accretive to earnings, excluding amortization, acquisition-related costs and stock-based compensation, by approximately $0.02 to $0.03 cents per share in fiscal year 2006 and $0.06 to $0.09 cents per share in fiscal year 2007.
Under the terms of the agreement, consideration for the transaction is $357 million in cash, subject to adjustments. Nuance has obtained a commitment for a new senior secured credit facility from UBS Investment Bank, Credit Suisse, Citigroup and Bank of America to finance the transaction. The facility comprises a $355 million term loan and a $75 million revolving credit facility. Closing of this commitment is subject to customary conditions.
"We are pleased that the strong cash flows we expect to generate from the synergies of the recent Nuance merger, as well as those from Dictaphone, allowed us to obtain an attractive financing package without issuing additional equity," added Mr. Ricci.
The acquisition has been approved by both companies' Boards of Directors and is expected to close by March 31, 2006 subject to regulatory approvals and customary conditions. Nuance and Dictaphone were represented by Evercore Partners and UBS Investment Bank, respectively.
Dictaphone Brings Extensive Products, Penetration and Expertise for Healthcare
Through the companies' strong partnerships with leading electronic medical records (EMR) vendors, systems integrators, medical transcription service organizations (MTSOs) and Nuance's established network of Dragon Dictation Solutions VARs, the combined organization will be better positioned to effectively serve this market through an expansive portfolio of technologies and applications, and a deep set of services and capabilities.
"We share with Nuance the strong belief that speech recognition is not only at an inflection point in healthcare, it is also becoming an essential component of the industry's drive toward cost reduction and clinical automation," said Rob Schwager, chairman and CEO of Dictaphone. "By combining Dictaphone's software application skills, understanding of physician documentation needs and workflows, and substantial market presence with Nuance's deep expertise and innovation in speech recognition technologies, the combined company is extremely well-positioned to lead the market."
Benefits of the transaction include:
Enhanced Revenue Streams from Complementary Product Lines
Dictaphone adds significant and stable recurring revenue streams from many of its products and services, including ichart® Web-based speech recognition editing outsourcing service, PowerScribe® speech recognition system for radiology and pathology, EXSpeech® enterprise-level speech recognition platform, and Enterprise Express® voice/text workflow management solution. Further, Dictaphone's product portfolio complements Nuance's Dragon Dictation Solutions, with a complete solution set for automating the capture and processing of patient data and clinical documentation.
Talented and Accomplished Employees
Dictaphone brings a dedicated, talented team of professionals whose healthcare knowledge and expertise has established Dictaphone as the premier provider of dictation and transcription solutions. Part of this employee base includes more than 200 sales and professional services staff that have forged customer relationships with a majority of care facilities in North America. The result is a robust, experienced sales, support and services organization focused on delivering highly accurate speech-enabled solutions to the healthcare industry.
Strong Customer Relationships
Dictaphone has a track record of selling systems to a wide range of healthcare institutions and has an installed base of approximately 4,000 hospitals, clinics and physician groups, including virtually all of the Top 100 and honors-winning hospitals in the U.S. In addition, Dictaphone's solutions are currently used by approximately two out of every three physicians in North America. Following the acquisition, Nuance will have one of the industry's most extensive rosters of IT system deployments.
Extensive Healthcare Research and Development Resources
Dictaphone has a rich history with more than 75 years of experience and a team of engineers and scientists with years of domain expertise in developing the most innovative and effective speech solutions for healthcare. Following the transaction, Nuance will gain approximately 100 patents and patents pending from Dictaphone, expanding its portfolio of intellectual property to comprise approximately 500 patents protecting the investments made within its range of speech technologies and products.
Strong Partner and Channel Networks
Nuance and Dictaphone intend to leverage a strong network of product and channel partners to rapidly deliver the benefits of speech recognition throughout the healthcare industry – from healthcare IT and EMR vendors and systems integrators to dictation workflow providers and MTSOs. The combined organization will deliver the most widely used speech technology within healthcare, integrated with solutions from industry leaders such as Cerner, GE/IDX, McKesson, and Misys Healthcare Systems.
Since 2004, Nuance has steadily increased its investments within healthcare, putting substantial resources in product development, sales, business development and marketing behind this effort. The company has continually enhanced its medical version of Dragon NaturallySpeaking, formed a dedicated sales and business development organization and recently acquired MedRemote to broaden its solutions portfolio and expand its presence in healthcare. These investments produced record dictation revenues for Nuance in 2005. The success that Nuance has experienced through its healthcare initiatives further validates a compelling opportunity for growth and leadership.
Favorable Industry Environment
Today, the healthcare industry is under pressure to streamline operations and reduce costs while at the same time find new ways to improve patient care. Analysts predict that clinical automation will become an essential component of healthcare delivery to address these mounting pressures. Gartner, a leading independent research and advisory firm, believes that self-edit or "once and done" speech-based transcription will achieve mainstream market acceptance in two to five years, in which time the benefits of the technology will have been demonstrated.1 Gartner predicts that care delivery organizations that implement speech-to-text supplementation of transcriptions will save up to 30 percent or more on transcriptions, and in radiology and pathology departments, the savings could be in excess of 50 percent.2
To that end, Nuance sees a significant opportunity based on industry dynamics that include:
Large Addressable Market
An estimated $10 billion per year in North America and $15 billion worldwide is spent by healthcare organizations to manually convert recorded dictation into electronic transcripts. Unprecedented speech recognition accuracy achieved in recent years has proven the ability of speech-based solutions to generate significant productivity gains compared to manual processing of recorded dictation. The company believes that speech-based transcription technology has penetrated only five to 10 percent of the healthcare market in North America.
Increasing Electronic Patient Data
An estimated one billion patient records are created each year in North America alone, a volume that is expected to increase as the population ages. The industry's move to EMRs demands the creation of robust clinical data repositories of patient information. Dictaphone's natural language processing technology permits extraction of key data from the large volume of narrative medical reports produced every year, offering customers the ability to enrich their data repositories significantly.
Accelerating Adoption
The ability of speech recognition to deliver real benefits in automating the processing of recorded dictation comes at an ideal time – when organizations have increasing patient reporting requirements, IT spending within healthcare is increasing, and the industry drivers for solutions that promote EMRs and patient safety are strong and growing. In recent years, hospitals, clinics, medical groups, physicians' offices, insurance providers and service organizations have increasingly turned to speech solutions to automate manual processes and accelerate the adoption of EMRs.
Government Investments and Mandates
Facing rising healthcare costs and aging populations, government agencies worldwide are increasing their investments in healthcare technology, including HealthConnect in Australia, the National Programme for IT in the NHS within the United Kingdom, and the United States National Health Information Infrastructure initiative.
Investor Conference Call Information
In conjunction with this announcement Nuance will broadcast a conference call over the Internet today at 8:30 a.m. ET. Those who wish to listen to the live broadcast should visit the Investor Relations section of the Nuance Web site (www.nuance.com) at least 15 minutes prior to the event and follow the instructions provided to ensure that the necessary audio applications are downloaded and installed. The conference call can be heard live by dialing (800) 230-1092 or (651) 224-7558, five minutes prior to the call and reference conference code 818371. A replay of the call will be available within 24 hours of the announcement. To access the replay, dial (800) 475-6701 or (320) 365-3844 and refer to access code 818371.
About Dictaphone
Dictaphone, ranked 31st in Healthcare Informatics ranking of top 100 companies by healthcare revenue, is the leading provider of dictation, transcription, speech recognition and natural language processing systems in the healthcare market. Dictaphone's Integrated Voice Systems division is the leading provider of highly scalable dictation systems focused upon the public safety and legal markets. Dictaphone is headquartered in Stratford, Connecticut, and has worldwide marketing, sales, service and support organizations throughout United States, the United Kingdom, Canada and Europe.
Nuance Communications, Inc.
Nuance (Nasdaq: NUAN) is the leading provider of speech and imaging solutions for businesses and consumers around the world. Its technologies, applications and services make the user experience more compelling by transforming the way people interact with information and how they create, share and use documents. Every day, millions of users and thousands of businesses experience Nuance's proven applications. For more information, please visit nuance.com.
Nuance, the Nuance logo, Dragon and NaturallySpeaking are trademarks or registered trademarks of Nuance Communications, Inc. or its affiliates in the United States and/or other countries. All other company names or product names may be the trademarks of their respective owners.
1 Gartner Research, "Hype Cycle for Healthcare Provider Technologies," by Barry Runyon, James Gabler, Thomas J. Handler, M.D., Barry R. Hieb, M.D., John-David Lovelock, Wes Rishel, Vi Shaffer. July 14, 2005.
2 Gartner Research, "Underlying Information Technologies in Healthcare in 2004," by Joanne Galimi, Cynthia E. Burghard, Janice Young. April 16, 2004.
SAFE HARBOR FOR FORWARD-LOOKING STATEMENTS
Statements in this document regarding the proposed transaction between Nuance and Dictaphone, amounts spent on manual transcription in the North American healthcare industry, benefits and synergies of the transaction, the expected timetable for completing the transaction, future financial and operating results, expectations that the merger will be accretive to Nuance's results, the method for financing the transaction, future opportunities for the combined company, the product portfolio of the combined company, the intellectual property portfolio of the combined company, the opportunity for automated speech solutions in the healthcare industry, and any other statements about Nuance or Dictaphone managements' future expectations, beliefs, goals, plans or prospects constitute forward looking statements within the meaning of the Private Securities Litigation Reform Act of 1995. Any statements that are not statements of historical fact (including statements containing the words "believes," "plans," "anticipates," "expects," estimates and similar expressions) should also be considered to be forward looking statements. There are a number of important factors that could cause actual results or events to differ materially from those indicated by such forward looking statements, including: the ability to consummate the transaction; the ability of Nuance to successfully integrate Dictaphone's operations and employees; the ability to realize anticipated synergies and cost savings; the failure to retain customers; and the other factors described in Nuance's Annual Report on Form 10 K/A for the year ended September 30, 2005. Nuance disclaims any intention or obligation to update any forward looking statements as a result of developments occurring after the date of this document.
Discussion of non-GAAP Financial Measures
Management utilizes a number of different financial measures, both GAAP and non-GAAP, in analyzing and assessing the overall performance of our business, for making operating decisions and for forecasting and planning for future periods. We consider the use of non-GAAP earnings per share particularly helpful in assessing the organic performance of our business from a cash perspective. While our management uses this non-GAAP financial measure as a tool to enhance their understanding of certain aspects of our financial performance and prospects for the future, our management does not consider this measure to be a substitute for, or superior to, the information provided by GAAP earnings per share. When evaluating the prospects of a transaction, one factor our management considers is the impact on, accretion or dilution of, our GAAP and non-GAAP earnings per share. Consistent with this approach, we believe that disclosing Accretion/Dilution of non-GAAP earnings per share provides useful supplemental data that, while not a substitute for Accretion/Dilution of GAAP earnings per share, allows for greater transparency in the review of our prospective financial and operational performance. In assessing the impact of the Dictaphone acquisition, our management has excluded certain acquisition related expenses, each of which are described below.
We excluded certain expense items resulting from acquisitions to allow more accurate comparisons of our financial results to our historical operations, forward looking guidance and the financial results of our peer companies. These items include the following: (i) amortization of intangible assets associated with the acquisition; (ii) acquisition-related costs; and (iii) stock-based compensation. The acquisition of Dictaphone will result in non-continuing operating expenses which would not otherwise have been incurred. We believe that providing non-GAAP information for certain expenses related to this acquisition allows the users of our financial statements to review both the impact of this transaction from a GAAP perspective, as well as from a non-GAAP perspective, thus providing for enhanced understanding of our future financial results. Additionally, had we internally developed the products acquired from Dictaphone, the amortization of intangible assets would have been expensed historically, and we believe the assessment of our operations excluding these costs is relevant to our assessment of internal operations and comparisons to industry performance.
The non-GAAP financial measures described above, and used in this press release, should not be considered in isolation from, or as a substitute for, measures of financial performance prepared in accordance with GAAP. Further, investors are cautioned that there are material limitations associated with the use of non-GAAP financial measures as an analytical tool. In particular, many of the adjustments to the Company's GAAP financial measures reflect the exclusion of items that are recurring and will be reflected in the Company's financial results for the foreseeable future. In addition, other companies, including other companies in the Company's industry, may calculate non-GAAP net income (loss) differently than the Company, limiting its usefulness as a comparative tool. Management compensates for these limitations by providing specific information regarding the GAAP amounts excluded from the non-GAAP financial measures. In addition, as noted above, the Company's management evaluates the non-GAAP financial measures together with the most directly comparable GAAP financial information.
Nuance Communications, Inc.
Reconciliation of Supplemental Financial Information
(in 000's, except per share amounts)
Unaudited
Estimated Per Share Impact of Dictaphone Acquisition
Twelve months ended Twelve months ended
September 30, 2006 September 30, 2007
Low High Low High
--------- --------- --------- ---------
Estimated Additional Total
revenue $ 80,000 $ 85,000 $180,000 $200,000
Accretion/Dilution of GAAP net
income (loss), per share $ (0.12) $ (0.11) $ (0.05) $ (0.02)
Amortization of intangible
assets, per share $ 0.05 $ 0.05 $ 0.09 $ 0.09
Acquisition-related costs, per
share $ 0.08 $ 0.08 $ -- $ --
Stock-based compensation, per
share $ 0.02 $ 0.02 $ 0.02 $ 0.02
---------------------------------------
Accretion/Dilution of Non-GAAP
net income (loss), per share $ 0.02 $ 0.03 $ 0.06 $ 0.09
Shares used in computing
Accretion/Dilution of non-
GAAP net income (loss) per
share:
Weighted average common
shares: basic 173,800 173,800 178,500 178,500
Weighted average common
and common equivalent
shares: diluted 173,800 173,800 178,500 178,500
Order Dragon Naturally Speaking
Schedule your FREE Medical Transcription Software Demo today.
View the History of Voice Recognition and Speech Recognition Software