Dragon Naturally Speaking Reviews

- 2006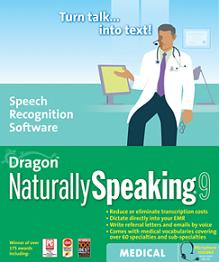 ---
Canada's Largest Communications Company Deploys Nuance SpeechAttendant System
Nuance Enhances Internal Communications for 5,200 Employees of Canada's Telecommunications Giant
BURLINGTON, Mass., February 15, 2006 – Nuance Communications, Inc. (Nasdaq: NUAN), a leading provider of speech and imaging solutions, today announced the installation of Nuance® SpeechAttendant® at Bell Canada, that nation's largest communications company. Bell Canada's system, referred to as MAYA, is being used in the company's Montreal (Quebec) and Toronto regional offices, serving over 5,200 Bell Canada employees.
By simply saying the name of the person, department or region they would like to reach, Bell Canada employees can instantly connect to their intended destination, eliminating the need to remember extensions, rely on a cumbersome touchtone "spell by name" system or wait for an operator. As an added feature, callers can interact with the system in English and Canadian French while using MAYA's highly accurate speech recognition technology developed by Nuance.
In addition to reducing hold time and operator costs, MAYA will also increase the productivity of employees who are working away from their offices. Those employees calling in will not have to search for the telephone numbers of their colleagues or wait for an operator, and calls can be routed directly to their remote location through MAYA.
"Bell Canada's deployment of SpeechAttendant within its regional offices demonstrates the level of confidence the company has in Nuance speech-enabled applications," said Richard Martel, general manager, Autoattendant Solutions, Nuance. "Nuance continues to drive the remarkable evolution of speech attendant systems by developing applications that benefit our customers and the industry as a whole."
Nearly 2,000 organizations use the Nuance SpeechAttendant system to route more than 1.5 billion calls every year. SpeechAttendant is the industry's most accurate and natural speech-enabled auto attendant application. Taking only days to implement in most cases, SpeechAttendant's innovative product design can seamlessly integrate into most leading corporate directory infrastructures. SpeechAttendant currently supports the following languages: US English, German, UK English, Dutch, Australian English, American Spanish, Canadian French and European French. SpeechAttendant can also be localized to support other languages on a custom basis.
About Nuance Communications, Inc.
Nuance (Nasdaq: NUAN) is the leading provider of speech and imaging solutions for businesses and consumers around the world. Its technologies, applications and services make the user experience more compelling by transforming the way people interact with information and how they create, share and use documents. Every day, millions of users and thousands of businesses experience Nuance's proven applications and professional services. For more information, please visit www.nuance.com.
Nuance, the Nuance logo, and SpeechAttendant are trademarks or registered trademarks of Nuance Communications, Inc. or its affiliates in the United States and/or other countries. All other company names or product names may be the trademarks of their respective owners.
The statements in this press release that relate to future plans, events or performance are forward-looking statements that involve risks and uncertainties, including risks associated with market trends, competitive factors, and other risks identified in Nuance's SEC filings. Actual results, events and performance may differ materially. Readers are cautioned not to put undue reliance on these forward-looking statements that speak only as of the date hereof.
Order Dragon Naturally Speaking
Schedule your FREE Medical Transcription Software Demo today.
View the History of Voice Recognition and Speech Recognition Software