Dragon Naturally Speaking Reviews

- 2006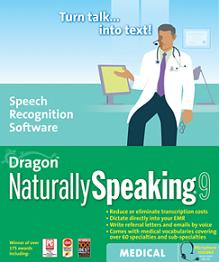 ---
Dragon NaturallySpeaking from Nuance Wins Prestigious CNET Editors' Choice Award
CNET Editors Cite Dragon NaturallySpeaking as "Excellent"; Leading Speech Solution Praised for Accuracy, Advanced Features and Ease of Use
BURLINGTON, Mass., February 27, 2006 – Nuance Communications, Inc. (Nasdaq: NUAN), a leading provider of speech and imaging solutions, today announced that it received a CNET Editors' Choice award for its Dragon NaturallySpeaking® Professional 8, the world's leading speech recognition solution. The coveted CNET Editors' Choice award recognizes outstanding personal technology and consumer electronic products that represent the best available choice for quality, performance, design, and service, and its logo is a mark of excellence denoting the best possible investment for technology buyers.
Dragon NaturallySpeaking 8 is the latest release of the world's leading speech recognition solution, enabling the automatic conversion of speech into text at up to 160 words per minute at accuracy levels up to 99%, and allowing the voice-control of software applications simply by speaking. CNET editors have awarded Dragon NaturallySpeaking the esteemed Editors' Choice Award for three consecutive years. In their latest review, CNET editors wrote, "Dragon NaturallySpeaking Professional 8 does a great job of letting you take care of most computing needs with voice commands instead of the keyboard--a godsend for those who suffer from repetitive stress injuries….. this is a great voice-recognition program for those who want to minimize use of the keyboard and the mouse." The review can be found at http://reviews.cnet.com/4505-3528_7-31228939.html.
CNET Editors' Choice winners are recognized as top products in their respective technology categories, and contribute to the standard by which all future products are judged. A key selection requirement is the difference it makes in the lives of its users, whether through innovative features, exceptional value for the price, remarkable ease of use, or a demonstrable boost to users' productivity.
"We are very excited about this honor from CNET as their Editors' Choice award has become the hallmark of technology quality and innovation, and its logo is a symbol consumers know and trust," said John Shagoury, president, Productivity Applications Division, Nuance. "This is an exceptional achievement and we are very proud to be recognized for our dedication and commitment to producing the highest quality products available today."
Dragon NaturallySpeaking converts speech into text at up to 160 words-per-minute, at accuracy levels of up to 99 percent, and allows users to control Microsoft Windows and many of their PC applications completely by voice. The product is tightly integrated with Microsoft Office, and allows users to create new documents and e-mails, navigate programs, and surf the Web, all by voice. For information on Dragon NaturallySpeaking and the CNET Editors' Choice award, please visit editorschoice.cnet.com.
Nuance (Nasdaq: NUAN) is the leading provider of speech and imaging solutions for businesses and consumers around the world. Its technologies, applications and services make the user experience more compelling by transforming the way people interact with information and how they create, share and use documents. Every day, millions of users and thousands of businesses experience Nuance's proven applications and professional services. For more information, please visit www.nuance.com.
Nuance, the Nuance logo, Dragon and NaturallySpeaking are trademarks or registered trademarks of Nuance Communications, Inc. or its affiliates in the United States and/or other countries. All other company names or product names may be the trademarks of their respective owners.
The statements in this press release that relate to future plans, events or performance are forward-looking statements that involve risks and uncertainties, including risks associated with market trends, competitive factors, and other risks identified in Nuance's SEC filings. Actual results, events and performance may differ materially. Readers are cautioned not to put undue reliance on these forward-looking statements that speak only as of the date hereof.
Order Dragon Naturally Speaking
Schedule your FREE Medical Transcription Software Demo today.
View the History of Voice Recognition and Speech Recognition Software