Dragon Naturally Speaking Reviews

- 2006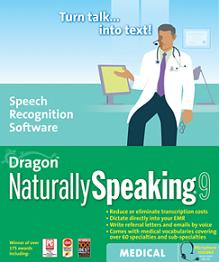 ---
Nuance Named in KMWorld List of 100 Companies that Matter in Knowledge Management
"100 Companies That Matter in Knowledge Management" List Highlights Industry Leaders
BURLINGTON, Mass., February 28, 2006 – Nuance Communications, Inc. (Nasdaq: NUAN), a leading provider of speech and imaging solutions, today announced that it has been named to KMWorld's 2006 "100 Companies That Matter in Knowledge Management" list.
Now in its sixth year, the list is compiled during a year-long, collaborative but informal process with vendors, analysts and colleagues to recognize organizations that are leaders in knowledge management. Nuance was selected based on its demonstrated leadership in the speech and imaging markets.
"The list is conceived as a way to recognize some of the organizations leading the way in the knowledge economy," said Hugh McKellar, editor-in-chief of KMWorld. "Criteria for inclusion differ, of course, as do the technologies recognized, but all of the companies share the following: Each has helped to create a market, redefine one or enhance one, and all of them demonstrate the capacity for customer-driven agile innovation."
Nuance comprises the world's largest portfolio of speech and imaging products backed by the expertise of its professional services organization and a partner network that can create solutions for businesses and organizations around the globe. Customers leverage Nuance® solutions to automate a wide range of document processes – increasing productivity, saving time and reducing costs. With products for enterprises, small-to-medium-sized businesses and home offices, Nuance solutions are used to put the power of PDF on every business desktop; automate the conversion of paper and PDF into documents that can be easily edited; and simplify scanning and document management using multifunction scanners and networked digital copier devices. In addition, through its dictation, embedded and network speech solutions, Nuance offers the world's preeminent portfolio of speech technologies, expertise and solutions that transform the way people interact with businesses, information and each other. These solutions help improve customer service and business productivity, and simplifying the way people work with documents.
"We are proud to be recognized as a leader by the editors of KMWorld," said Robert Weideman, senior vice president, Nuance Productivity Applications Division. "This acknowledgement provides further validation that Nuance is a true innovator, and is ahead of the curve in delivering what our customers and partners need to succeed within the speech and imaging markets."
About KMWorld
The leading information provider serving the Knowledge, Document and Content Management systems market, KMWorld informs more than 50,000 subscribers about the components and processes - and subsequent success stories - that together offer solutions for improving business performance. KMWorld is a publishing unit of Information Today, Inc.
Nuance Communications, Inc.
Nuance (Nasdaq: NUAN) is the leading provider of speech and imaging solutions for businesses and consumers around the world. Its technologies, applications and services make the user experience more compelling by transforming the way people interact with information and how they create, share and use documents. Every day, millions of users and thousands of businesses experience Nuance's proven applications and professional services. For more information, please visit http://www.nuance.com.
Nuance and the Nuance logo are trademarks or registered trademarks of Nuance Communications, Inc. or its affiliates in the United States and/or other countries. All other company names or product names may be the trademarks of their respective owners.
The statements in this press release that relate to future plans, events or performance are forward-looking statements that involve risks and uncertainties, including risks associated with market trends, competitive factors, and other risks identified in Nuance's SEC filings. Actual results, events and performance may differ materially. Readers are cautioned not to put undue reliance on these forward-looking statements that speak only as of the date hereof.
Order Dragon Naturally Speaking
Schedule your FREE Medical Transcription Software Demo today.
View the History of Voice Recognition and Speech Recognition Software