Dragon Naturally Speaking Reviews

- 2006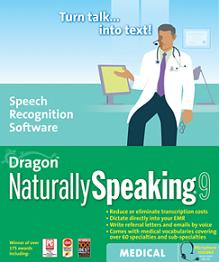 ---
Nuance Closes Acquisition of Dictaphone
Nuance Establishes Dictaphone Healthcare Division, Names Rob Schwager as President of Division
BURLINGTON, Mass., March 31, 2006 – Nuance Communications, Inc. (Nasdaq: NUAN), a leading provider of speech and imaging solutions, today announced that it has closed its acquisition of Dictaphone Corporation, the leading provider of dictation and speech recognition solutions for the healthcare industry. This acquisition significantly accelerates Nuance's strategy to automate manual transcription in healthcare, where an estimated $15 billion is spent worldwide each year.
The acquisition of Dictaphone expands Nuance's product portfolio, market reach and revenue streams within the large and rapidly growing healthcare vertical and brings together the companies' strong partnerships with leading electronic medical records (EMR) vendors, systems integrators and medical transcription service organizations (MTSOs). In addition, the combination of Dictaphone's large installed base and dedicated sales and service organization with Nuance's established network of Dragon Dictation Solutions VARs, positions Nuance to effectively serve the healthcare market through an expansive portfolio of technologies and applications, and a deep set of services and capabilities.
"Today marks an important milestone for our combined organization as we approach the sizable opportunity before us," said Paul Ricci, chairman and CEO at Nuance. "With the combined resources, experience and talents of Nuance and Dictaphone, we are in an enviable position to champion the strategic and vital role of speech in healthcare."
Under the terms of the agreement, net consideration for the transaction was $359 million in cash, after accounting for all closing adjustments. Concurrent with the closing of the acquisition, Nuance also closed a senior secured debt facility from UBS Investment Bank, Credit Suisse, Citigroup and Bank of America. The facility comprises a $355 million term loan and a $75 million revolving credit facility.
Dictaphone Healthcare Division
In order to address the significant opportunity in healthcare, Nuance also announced that it has established the Dictaphone Healthcare Division. Rob Schwager, former CEO of Dictaphone, will assume the role of division president reporting to Paul Ricci and based in Burlington, Massachusetts. Rob will be joined by several members of the Dictaphone management team to comprise the leadership for this division and their knowledge and expertise will help ensure customer, technology and operational continuity.
"We are excited to bring together the talents, experience and leadership of our two organizations," said Rob Schwager, president, Dictaphone Healthcare Division, Nuance Communications, Inc. "The formation of a healthcare division with the focused efforts of our combined resources position Nuance to lead the market in dictation and speech recognition for the healthcare industry."
Nuance Communications, Inc.
Nuance (Nasdaq: NUAN) is the leading provider of speech and imaging solutions for businesses and consumers around the world. Its technologies, applications and services make the user experience more compelling by transforming the way people interact with information and how they create, share and use documents. Every day, millions of users and thousands of businesses experience Nuance's proven applications and professional services. For more information, please visit www.nuance.com.
Nuance, the Nuance logo, Dragon and NaturallySpeaking are trademarks or registered trademarks of Nuance Communications, Inc. or its affiliates in the United States and/or other countries. All other company names or product names may be the trademarks of their respective owners.
SAFE HARBOR FOR FORWARD-LOOKING STATEMENTS
Statements in this document regarding the benefits and synergies of the acquisition of Dictaphone, amounts spent on manual transcription in the healthcare industry, benefits and synergies of the transaction, the opportunity for automated speech solutions in the healthcare industry, and any other statements about Nuance managements' future expectations, beliefs, goals, plans or prospects constitute forward looking statements within the meaning of the Private Securities Litigation Reform Act of 1995. Any statements that are not statements of historical fact (including statements containing the words "believes," "plans," "anticipates," "expects," estimates and similar expressions) should also be considered to be forward looking statements. There are a number of important factors that could cause actual results or events to differ materially from those indicated by such forward looking statements, including: the ability of Nuance to successfully integrate Dictaphone's operations and employees; the ability to realize anticipated synergies and cost savings; the failure to retain customers; and the other factors described in Nuance's Quarterly Report on Form 10-Q for the quarter ended December 31, 2005. Nuance disclaims any intention or obligation to update any forward looking statements as a result of developments occurring after the date of this document.
Order Dragon Naturally Speaking
Schedule your FREE Medical Transcription Software Demo today.
View the History of Voice Recognition and Speech Recognition Software