Dragon Naturally Speaking Reviews

- 2006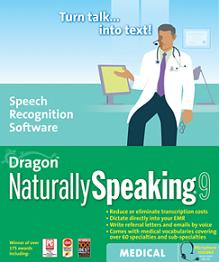 ---
SoftMed Systems Integrates Speech Recognition Into New Hosted Transcription Solution with Dragon NaturallySpeaking from Nuance
Top-Ranked HIS Provider Incorporates Leading Speech Recognition Technology into ChartScript.com; Continues Long-Standing Relationship with Nuance
BURLINGTON, Mass. AND SILVER SPRING, Md. – April 3, 2006 – SoftMed Systems, Inc., a leading provider of document creation solutions, and Nuance Communications, Inc. (Nasdaq: NUAN), a leading supplier of speech and imaging solutions, today announced that SoftMed will deploy Nuance's Dragon™ NaturallySpeaking® SDK (software developers toolkit) to integrate speech recognition capabilities into its new hosted transcription solution, ChartScript.Com™. SoftMed will also continue to use Nuance's Dragon NaturallySpeaking SDK to integrate speech recognition into its document management solutions for both server and PC-based applications. Dragon NaturallySpeaking saves healthcare organizations thousands of dollars per doctor each year in reduced or eliminated manual transcription costs by converting speech into text at up to twice the speed of the spoken word, eliminating the high cost and long turnaround time associated with the manual transcription of patient notes.
Since 2004, SoftMed Systems has utilized Nuance's Dragon NaturallySpeaking technologies to add the power of speech recognition to its full suite of document creation and distribution solutions, including its VoiceScript® and ChartScript® products. Under the new agreement, SoftMed is leveraging the Dragon NaturallySpeaking SDK to integrate speech recognition into ChartScript.Com, a hosted solution for transcription, speech recognition and computer-aided medical transcription. ChartScript.Com enables healthcare facilities and transcription providers to take advantage of the latest in transcription technology without the resource expense and capital investment costs of maintaining a large transcription portal and speech recognition server.
"We are pleased to continue working with Nuance, and look forward to a long-lasting relationship," said Don Segal, CEO of SoftMed Systems. "Our combined technologies help healthcare facilities increase productivity, reduce document turnaround time and decrease transcription costs. This agreement ensures that our clients continue to receive the most robust healthcare management solutions."
SoftMed's integration of Dragon NaturallySpeaking with its document management solutions enables its customers to quickly and painlessly create clinical reports by using their voice – diminishing the need for manual transcription and significantly reducing the costs and turnaround time of creating reports. The integration of the Dragon NaturallySpeaking SDK provides physicians and healthcare providers with the most accurate documentation solution available – and enables them to spend less time on administrative tasks and focus on patient care.
Dragon NaturallySpeaking is the world's leading speech recognition solution, enabling the automatic conversion of speech into text at up to 160 words per minute, and allowing the voice-control of software applications simply by speaking. Nuance's Dragon NaturallySpeaking SDK provides healthcare technology suppliers and integrators with the ability to quickly and easily speech-enable commercial and in-house PC- and Web-based Healthcare Information Systems (HIS) and Electronic Medical Records (EMR) applications, and delivers unrivaled speed and accuracy. Dragon NaturallySpeaking technology can save healthcare organizations thousands of dollars per doctor each year in reduced or eliminated manual transcription costs.
"Speech recognition has become a popular and time-saving technology for healthcare providers, enabling them to dramatically reduce transcription costs and provide faster, more accurate documentation for patient records," said John Shagoury, president, Productivity Applications Division, Nuance. "We're pleased to continue our relationship with SoftMed to provide Dragon NaturallySpeaking as the core speech technology behind its document management solutions, helping healthcare professionals reduce costs and improve the quality of patient care."
Nuance's Dragon Dictation Solutions apply highly accurate speech recognition to intelligent workflow processing solutions in order to reduce the costs associated with manually converting medical dictation into text, estimated at $10 billion in North America and $15 billion worldwide each year. Nuance delivers these solutions through its growing number of channel partners, including healthcare information systems vendors, systems integrators, digital dictation systems vendors and MTSOs. Dragon Dictation Solutions are used worldwide by physicians, records management and medical transcription teams within hospitals, clinics and physician practice organizations, as well as MTSOs to enhance their current transcription services businesses.
About SoftMed Systems, Inc.
SoftMed Systems, Inc. is the focused expert in delivering top-ranked healthcare information solutions. With over 2000 customers, SoftMed enables healthcare providers to enhance their operations, shorten their revenue cycle, improve patient care and achieve an electronic health record solution. Recognized for superior integration with all major IT vendors, SoftMed supports its customers' goals of expediting chart completion, ensuring accurate and timely reimbursements, expediting document imaging, streamlining document creation, and maximizing payor compliance and organizational quality.
In business for more than 20 years, SoftMed's products are found in nearly one-third of the facilities on "America's Best Hospital Honor Roll"1 and almost two-thirds of the Hospitals & Health Networks "100 Most Wired."2 Nearly half of the hospitals on Solucient's "100 Top Hospitals" list are SoftMed facilities while half of the "Top 10 Most Connected Healthcare Facilities"³ use SoftMed solutions. SoftMed achieved top ratings and overall scores by KLAS for the dictation, transcription and speech recognition market segments and is ranked highest by MD Buyline for its dictation solutions. For more information go to www.softmed.com.
Nuance Communications, Inc.
Nuance (Nasdaq: NUAN) is the leading provider of speech and imaging solutions for businesses and consumers around the world. Its technologies, applications and services make the user experience more compelling by transforming the way people interact with information and how they create, share and use documents. Every day, millions of users and thousands of businesses experience Nuance's proven applications and professional services. For more information, please visit www.nuance.com.
1US News and World Report, July 2005; 2H&HN, July 2005, 3 Health Imaging, September 2005. Products and services that are referred to in this press release are trademarks, registered trademarks, or service marks of their respective owners.
KLAS Enterprises, LLC. All rights reserved.
© MD Buyline, Inc. All Rights Reserved.
Nuance, the Nuance logo, Dragon and NaturallySpeaking are trademarks or registered trademarks of Nuance Communications, Inc. or its affiliates in the United States and/or other countries. All other company names or product names may be the trademarks of their respective owners.
The statements in this press release that relate to future plans, events or performance are forward-looking statements that involve risks and uncertainties, including risks associated with market trends, competitive factors, and other risks identified in Nuance's SEC filings. Actual results, events and performance may differ materially. Readers are cautioned not to put undue reliance on these forward-looking statements that speak only as of the date hereof.
Order Dragon Naturally Speaking
Schedule your FREE Medical Transcription Software Demo today.
View the History of Voice Recognition and Speech Recognition Software