Dragon Naturally Speaking Reviews

- 2006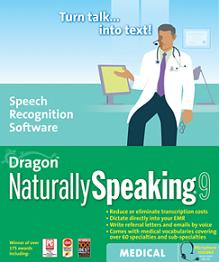 ---
Nuance Communications Changes the Way People Interact with Mobile Devices and Services
Nuance Mobile Bridges Mobile Search, Communication and Device Control
BURLINGTON, Mass., April 3, 2006 – Nuance Communications, Inc. (NASDAQ: NUAN), the world's leading supplier of speech and imaging solutions, today announced Nuance Mobile®, an innovative approach to mobile communications that unlocks the power of the phone to fundamentally change the way consumers operate in the mobile environment. Nuance will officially unveil and demonstrate select solutions in Booth # 5044 at CTIA Wireless 2006, being held this week in Las Vegas, Nev.
Whether it's using voice to send an email, downloading the latest U2 ringtone or using a phone without taking your eyes off the road, Nuance Mobile offers the ideal solution for device manufacturers, mobile operators, application publishers and content providers to enhance the consumer experience. Nuance Mobile enables seamless user interaction with mobile search and communications applications so that consumers can significantly increase the utility of their mobile devices, while handset vendors and service providers can tap into significant new sources of revenue.
The comprehensive mobile initiative includes technology, applications, services, marketing support, and a partner program that extends Nuance's own offerings. Existing partners include Promptu, a leading innovator of voice-enabled search and navigation solutions serving the mobile, cable and other emerging industries; V-Enable, a provider of mobile speech search solutions; and VoiceBox Technologies, a provider of conversational voice search and content navigation solutions. Nuance Mobile encompasses the assets and experience Nuance and its partners have amassed in network-based and embedded speech, the multimodal platforms space and dictation, representing the industry's most ambitious and advanced set of capabilities for today's mobile environment.
"Nuance Mobile reinforces our leadership position in the mobile marketplace," said Steve Chambers, president, Speech Division, Nuance. "Nuance Mobile embraces our vision for tomorrow's phone experiences: personalized, content rich, easily accessed, driven by integrated applications – all smoothly transitioning from network to device, and supported by new business models."
In conjunction with partners, the Nuance Mobile initiative is bringing the following applications to market:
Content Search: Consumers use their voices to search, browse and download mobile content including ringtones, music, videos, wallpapers, and games. A speech-based search interface transforms the content discovery experience and ultimately leads to an increased number of downloads per user.

Local Search: Users can quickly search local information databases such as business listings, yellow pages, restaurant guides, movie schedules and more, by naturally speaking their requests. With pay-per-call and advertising models on the rise, new revenue sources can be easily tapped with a high-usability multimodal interface.

Mobile Dictation: From SMS messages to mobile instant messaging and mobile email dictation, Nuance Mobile gives users a more natural way to enter a message—up to 5X faster than with the keypad.

Mobile Operator Voice Portals: Speech-enabled applications allow wireless subscribers to access their personal or public address books, calendar and a range of information services using simple speech commands. Users can also request sports and lottery results, download ringtones, picture messages and logos, utilize location-based services to find the nearest amenities, recommended restaurants, etc.

Voice-Controlled MP3 Player Applications: More than 40 percent of the phones on the market today include MP3 playing capabilities, allowing users to store and play hundred of songs. Nuance's speech-controlled MP3 provides a simple voice-activated interface to select a song, an artist or a playlist.

Hands-Free and Driver Mode: Rather than navigate complex menus and sort through hundreds of contacts, voice-activated dialing allows users to call anyone with just one command. Text-to-speech technology powers audio output of incoming calls or messages, as well as verbal alerts of low battery or roaming status.

Enhanced Access to Handset Features for Blind and Low-Vision Users Hundreds of millions of visually impaired people around the world cannot fully leverage the basic functions available now in all mobile phones, like caller ID and text messaging. The Nuance Accessibility Suite, with its screen reader and magnification capabilities, offers a simple and effective solution.
Through Nuance and Nuance Mobile partners, dozens of groundbreaking new mobile solutions have already been deployed or are currently in trials. The company continues to aggressively recruit new partners, forming an unrivalled alliance that delivers a diverse assortment of applications optimized for the mobile marketplace.
About Nuance Communications, Inc.
Nuance is the leading provider of speech and imaging solutions for business and consumers around the world. Its technologies, applications, and services make the user experience more compelling by transforming the way people interact with information and how they create, share, and use documents. Every day, millions of users and thousands of businesses experience Nuance's proven applications. For more information, please visit www.nuance.com.
Nuance and the Nuance logo are trademarks or registered trademarks of Nuance Communications, Inc. or its affiliates in the United States and other countries. All other company names or product names may be the trademarks of their respective owners.
Order Dragon Naturally Speaking
Schedule your FREE Medical Transcription Software Demo today.
View the History of Voice Recognition and Speech Recognition Software