Dragon Naturally Speaking Reviews

- 2006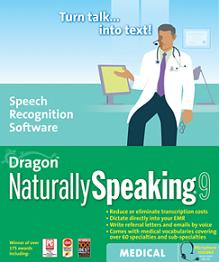 ---
Nuance Communications Announces Dictation Technology for Mobile Devices
Continuous Speech Dictation System Enables Mobile Users to Dictate Text Naturally … So … You … Don't … Have … to … Talk … Like … This
BURLINGTON, Mass., April 4, 2006 – Nuance Communications, Inc. (NASDAQ: NUAN), the world's leading supplier of speech and imaging solutions, today announced Nuance's Dragon™ Mobile Dictation, a new Nuance® Mobile technology for mobile device users to dictate SMS messages using continuous speech. Nuance will demonstrate the new functionality in Booth # 5044 at CTIA Wireless 2006, being held this week in Las Vegas, Nevada.
Leveraging the award-winning Dragon™ NaturallySpeaking® technology within the mobile environment, Nuance's Dragon Mobile Dictation gives mobile phone users a more natural way to enter SMS messages, up to five times faster than using a keypad or predictive text. With continuous speech technology, users aren't required to pause between words when dictating text.
"Mobile subscribers sent over a trillion SMS messages last year alone. They are now ready to use their voice, rather than thumbs, to send text," said Dan Miller, senior analyst, Opus Research. "Dictation is just part of Nuance's arsenal of embedded and server side-solutions. In concert with mobile carriers and handset makers, the company is ready to demonstrate that the convenience of accurate dictation will drive user adoption and repeat usage even further."
"From voice-activated dialing to SMS message dictation and read-out, our goal is to overcome traditional keypad constraints to deliver new levels of convenience and accessibility for mobile phone users," said Craig Peddie, vice president and general manager, Embedded Speech Solutions, Nuance. "Previous mobile dictation solutions forced users to pause awkwardly between words and speak in an unnatural way. Nuance's Dragon Mobile Dictation offers a significant usability improvement, allowing mobile users to compose text messages by speaking naturally."
Mobile dictation not only overcomes traditional keypad constraints for data entry, but also enables hands-free use of mobile devices for improved convenience, safety and accessibility. Powered by the robust VoCon® 3200 embedded speech engine, the Nuance system combines high-recognition performance with an easy-to-use correction interface to provide the best user experience. Nuance will be delivering the first release of Dragon Mobile Dictation to several OEM partners in May.
The new dictation capabilities extend Nuance's existing portfolio of embedded speech solutions for mobile applications, currently available on more than 50 million handsets worldwide, including models from LG, Motorola, Nokia, Samsung, Sanyo and Siemens and supported by major carriers such as Orange, Sprint, T-Mobile and Vodafone. This functionality includes voice-activated dialing, voice commands for rapid access to phone features, and audio readout of caller identities, email or SMS messages in a variety of languages and voices.
About Nuance Communications, Inc.
Nuance is the leading provider of speech and imaging solutions for business and consumers around the world. Its technologies, applications, and services make the user experience more compelling by transforming the way people interact with information and how they create, share, and use documents. Every day, millions of users and thousands of businesses experience Nuance's proven applications. For more information, please visit www.nuance.com.
Nuance, the Nuance logo, Dragon, Naturally Speaking and VoCon are trademarks or registered trademarks of Nuance Communications, Inc. or its affiliates in the United States and other countries. All other company names or product names may be the trademarks of their respective owners.
Order Dragon Naturally Speaking
Schedule your FREE Medical Transcription Software Demo today.
View the History of Voice Recognition and Speech Recognition Software