Dragon Naturally Speaking Reviews

- 2006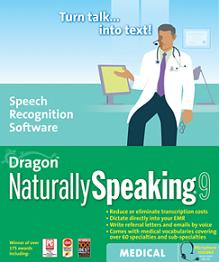 ---
Nuance Communications Automates Free Nationwide Directory Assistance Service for 1-800-FREE411
Nuance DA System Drives Voice Activation for Jingle Networks; Achieves 50% Automation Rate
BURLINGTON, Mass., April 19, 2006 – Nuance Communications, Inc. (NASDAQ: NUAN), the world's leading supplier of speech and imaging solutions, today announced that Jingle Networks, developer of the first nationwide free telephone directory assistance service (1-800-FREE411), has selected automated directory assistance (DA) solutions from Nuance to help provide a high quality consumer 411 service to millions of consumers.
The 1-800-FREE411 service introduces a performance advertising model: consumers get free directory assistance, saving them from $0.75 to $3.49 per call, and Jingle gets paid by advertisers who play 10-12 second audio advertising messages with a special offer targeted at the specific type of business the consumer is requesting.
Jingle launched its service last year utilizing Nuance's automated DA solutions, including the industry's leading automatic speech recognition (ASR) and text-to-speech (TTS) technologies, innovative voice user interfaces and patented pre-processing methodologies for rapid voice search. The system, which achieved automation rates of 50 percent for national business, government and residential listings, was rolled out within two months.
Jingle has now deployed all Nuance ASR and TTS applications for its premise-based DA automation platform, built to accommodate significant growth in call volume. The Nuance professional services organization continues to work with Jingle on custom voice development and voice user interface optimization, along with customized applications that will continue to improve automation rates.
"Our free service offers a win-win solution for consumers and advertisers – but it's vital that the caller interaction is accurate and efficient and that's why we rely on Nuance's technology to help deliver a high quality service," said Scott Kliger, founder and chief technology officer, Jingle Networks. "We selected Nuance to automate our DA efforts because of its unique ability to deliver the highest automation rates and accurate access to more than 160 million listings, thereby controlling our costs without sacrificing the level of the overall customer experience."
"The speech-enabled DA system from Nuance delivers a dynamic and friendly speech-enabled DA experience, enabling Jingle to offer superior DA service at a lower cost," said Mike Thompson, vice president and general manager, Directory Assistance, Nuance. "The comprehensive solution from Nuance includes complete DA capabilities, integration to major systems platforms, and an unrivaled track record of success around the globe."
About Nuance Communications, Inc.
Nuance is the leading provider of speech and imaging solutions for business and consumers around the world. Its technologies, applications, and services make the user experience more compelling by transforming the way people interact with information and how they create, share, and use documents. Every day, millions of users and thousands of businesses experience Nuance's proven applications. For more information, please visit www.nuance.com.
About Jingle Networks
The 1-800-FREE411 service from Jingle Networks, Inc. revolutionizes the 411 (directory assistance) marketplace by offering consumers a FREE alternative to the high cost service provided by traditional carriers. FREE411 is supported by national and local advertisers who use FREE411 as both a branding and direct-response media channel to target messages to callers within the context of a normal-length 411 call. In addition, FREE411.COM on the Internet provides consumers with an easy to use Web-based resource for telephone number lookups. For more information, visit: www.free411.com .
Nuance and the Nuance logo are trademarks or registered trademarks of Nuance Communications, Inc. or its affiliates in the United States and/or other countries. All other company names or product names may be the trademarks of their respective owners.
Order Dragon Naturally Speaking
Schedule your FREE Medical Transcription Software Demo today.
View the History of Voice Recognition and Speech Recognition Software