Dragon Naturally Speaking Reviews

- 2006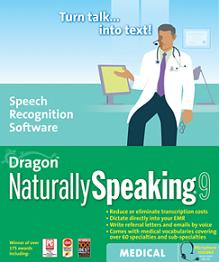 ---
Leading Community Health Systems Hospitals Select Dictaphone PowerScribe from Nuance
Easton Hospital and Brandywine Hospital to Use Leading Speech Recognition System to Speed Reporting, Reduce Transcription Costs
BURLINGTON, Mass., May 10, 2006 – Nuance Communications, Inc. (Nasdaq: NUAN), a leading supplier of speech and imaging solutions, today announced that it has entered into agreements with two Pennsylvania hospitals - Easton Hospital of Easton and Brandywine Hospital of Coatesville, to supply its Dictaphone® PowerScribe® speech recognition system for use in radiology reporting. Both members of the Community Health Systems, Inc. (NYSE:CYH) network, the hospitals are using PowerScribe to speed the process from dictation to finalized report, reducing costs and allowing vital information to be shared far more quickly.
At Easton Hospital, radiologists, radiation therapy doctors and cardiologists deliver a significantly more timely report by eliminating a number of steps in the process including transcription. PowerScribe converts physician dictation automatically into text and presents it onscreen for review, correction, and electronic signature. The solution, which leverages Nuance's award-winning Dragon™ NaturallySpeaking® technology, goes beyond transcription efficiencies and actually reduces radiologists' dictation time by offering the ability to create templates and report "Normals" for frequent and recurring studies.
Staff radiologist Dr. Stuart Jones has been using speech recognition technology off and on over the past 15 years, making him one of the true pioneers of this innovative technology. "Selecting PowerScribe was really a no-brainer — it's so far superior to other options." said Dr. Jones. "People worry about the accuracy of speech recognition technology, but interestingly enough the technology makes the same type of mistakes that regular transcriptionists make, only far fewer. The technology has become very intelligent."
At Brandywine Hospital, technological sophistication has been a boon to physician recruiting efforts. The hospital has state-of-the-art radiology diagnosis and treatment equipment and the ability to capture, review and share radiological images electronically. Consequently, speech recognition was a critical component of the hospital's 100 percent paperless strategy, according to Leann Hertzler, who now serves as the administrative manager at the offshoot Diagnostic Imaging of Brandywine Valley.
"We are pleased that hospitals from major national networks such as Community Health Systems continue to select PowerScribe to meet the demanding needs of radiology reporting," said Rob Schwager, president of the Dictaphone Healthcare Solutions division of Nuance. "Easton and Brandywine hospitals join the hundreds of academic and community hospitals throughout North America using PowerScribe every day to streamline the documentation process."
Community Health Systems
Located in the Nashville, Tennessee, suburb of Brentwood, Community Health Systems is a leading operator of general acute care hospitals in non-urban communities throughout the country. Through its subsidiaries, the company currently owns, leases or operates 71 hospitals in 21 states. Its hospitals offer a broad range of inpatient and outpatient medical and surgical services. Shares in Community Health Systems, Inc., are traded on the New York Stock Exchange under the symbol "CYH."
Dictaphone Healthcare Solutions Division
Nuance's Dictaphone Healthcare Solutions Division provides comprehensive dictation and transcription solutions and services that improve the way patient data is captured, processed and used changing the way people process and work with medical information. Through the integration of speech recognition and natural language processing within existing health information management workflow, Nuance's Dictaphone Healthcare Solutions offerings help healthcare organizations save money and improve patient care by improving the turn around time, accuracy and usability of their medical documentation. For more information, please visit nuance.com/Dictaphone.
Nuance Communications, Inc.
Nuance (Nasdaq: NUAN) is the leading provider of speech and imaging solutions for businesses and consumers around the world. Its technologies, applications and services make the user experience more compelling by transforming the way people interact with information and how they create, share and use documents. Every day, millions of users and thousands of businesses experience Nuance's proven applications and professional services. For more information, please visit www.nuance.com .
Nuance, the Nuance logo, Dictaphone, Dragon, NaturallySpeaking and PowerScribe are registered trademarks or trademarks of Nuance Communications, Inc. or its affiliates in the United States and/or other countries. All other company names or product names may be the trademarks of their respective owners.
The statements in this press release that relate to future plans, events, performance or market acceptance of Nuance's products are forward-looking statements that involve risks and uncertainties, including risks associated with market trends, competitive factors, and other risks identified in Nuance's SEC filings. Actual results, events, performance and market acceptance may differ materially. Readers are cautioned not to put undue reliance on these forward-looking statements that speak only as of the date hereof.
Order Dragon Naturally Speaking
Schedule your FREE Medical Transcription Software Demo today.
View the History of Voice Recognition and Speech Recognition Software