Dragon Naturally Speaking Reviews

- 2006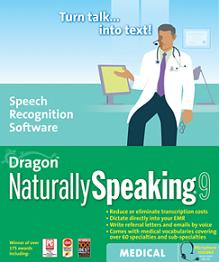 ---
Nuance's Dragon NaturallySpeaking Wins 2006 World Class Award from PC World
BURLINGTON, Mass., May 31, 2006 – Nuance Communications, Inc. (Nasdaq: NUAN), a leading provider of speech and imaging solutions, today announced that Dragon™ NaturallySpeaking® was honored by PC World with a 2006 World Class Award—one of The 100 Best Products of the Year. Winners were announced in the July 2006 issue of PC World (online now and available on newsstands June 13).
Dragon NaturallySpeaking is the world's leading speech recognition solution, enabling the automatic conversion of speech into text at up to 160 words per minute at accuracy levels up to 99%, and allowing the voice-control of software applications simply by speaking. Dragon NaturallySpeaking is tightly integrated with Microsoft Office, and allows users to create new documents and e-mails, navigate programs, and surf the Web, all by voice. In addition to the coveted World Class Award from PC World, Dragon NaturallySpeaking has garnered awards and accolades from many respected publications worldwide, including C|Net, Computer Reseller News, Forbes, The New York Times, PC Magazine and SmartComputing.
Celebrating its 24th year, the respected World Class Awards honor products that meld practical features with innovation and reflect the rapidly changing technology marketplace. To select the winners, PC World's editors examined hundreds of products, including those that have appeared in the magazine over the past 12 months. The 100 winning products and services were selected for their exemplary design and usability, features, performance, innovation, and price.
"Products that win PC World's World Class Awards set the standard for excellence in the IT and consumer electronics industries," stated Harry McCracken, editor in chief of PC World. "From notebook computers and security software to music players and Web sites, the editors reward the most outstanding performers in this annual awards program. Congratulations to Dragon NaturallySpeaking."
Nuance Communications, Inc.
Nuance (Nasdaq: NUAN) is the leading provider of speech and imaging solutions for businesses and consumers around the world. Its technologies, applications and services make the user experience more compelling by transforming the way people interact with information and how they create, share and use documents. Every day, millions of users and thousands of businesses experience Nuance's proven applications and professional services. For more information, please visit www.nuance.com.
Nuance, the Nuance logo, Dragon and NaturallySpeaking are trademarks or registered trademarks of Nuance Communications, Inc. or its affiliates in the United States and/or other countries. All other company names or product names may be the trademarks of their respective owners.
The statements in this press release that relate to future plans, events or performance are forward-looking statements that involve risks and uncertainties, including risks associated with market trends, competitive factors, and other risks identified in Nuance's SEC filings. Actual results, events and performance may differ materially. Readers are cautioned not to put undue reliance on these forward-looking statements that speak only as of the date hereof.
Order Dragon Naturally Speaking
Schedule your FREE Medical Transcription Software Demo today.
View the History of Voice Recognition and Speech Recognition Software