Dragon Naturally Speaking Reviews

- 2006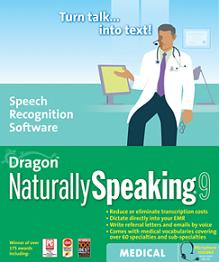 ---
Nuance Mobile Powers Information Delivery of T-Com's Voice Application for 2006 World Cup in Germany
Nuance Communications, Avaya and Mundwerk Implement System for T-Com's Voice Service Offering A Broad Range of New Services to Subscribers
BURLINGTON, Mass. and GHENT, Belgium, June 15, 2006 -- In conjunction with the 2006 World Cup in Germany, Nuance Communications, Inc. (NASDAQ: NUAN), a global leader in speech and imaging solutions, today announced that Nuance® Mobile speech solutions power the new T-Com voice application, an innovative speech enabled information and entertainment service which is accessible via call completion by German's digital directory assistance 11864 for 79 Euro cent from T-Com's fixed network. Once callers in Germany have dialled the service number 11864, Nuance speech technology enables them to navigate the system simply by speaking into their phone.
The service, launched in May 2006, is the first service in Europe to offer directory assistance, address look-up, and via call completion additional information and entertainment services. Just in time for the Football World Cup from June 8 to July 9, when football teams from 32 different countries will compete across Germany to become the 2006 world champion, the T-Com services will offer specialized event services for fans. Users will be able to access World Cup's information service for game schedules, results, news and live updates on matches, or activate a celebrity wake-up service featuring the voices of German football stars. This special World Cup service will help to meet the challenge of distributing information to such a large and distributed audience and is expected to be used by millions of football fans in Germany.
Nuance Mobile enables the system to deliver a personalized, content rich, easily accessed phone experience, driven by integrated applications – all smoothly transitioning from network to device. A team of companies contributed to the portal's design, including Nuance's global partner, Avaya, and Berlin-based Mundwerk, which was responsible for the portal's user interface and application development work.
"Voice applications are an exciting new business model for T-Com and offer exceptional services to those seeking information and entertainment around the wonderful experience that is the World Cup. It has been created with the tournament in mind and I am sure users will really enjoy its offerings," said Rüdiger Gräve, spokesman of T-Com.
"Nuance is excited to be an integral part of such a valuable and high-profile project," said Peter Hauser, general manager and senior vice president, Nuance Communications International. "This is the second consecutive World Cup in which Nuance technology has powered the official voice information platform, which proved a great success at the 2002 World Cup. This service further demonstrates how important speech recognition is becoming to every day tasks. We are looking forward to adding to the excitement and providing easy access to information at this year's tournament."
About Ayava
Avaya Inc. designs, builds and manages communications networks for more than one million businesses worldwide, including over 90 percent of the FORTUNE 500®. Focused on businesses large to small, Avaya is a world leader in secure and reliable IP telephony systems and communications software applications and services. Driving the convergence of voice and data communications with business applications - and distinguished by comprehensive worldwide services - Avaya helps customers leverage existing and new networks to achieve superior business results. For more information visit the Avaya website: www.avaya.com .
About Nuance Communications Inc.
Nuance is the leading provider of speech and imaging solutions for business and consumers around the world. Its technologies, applications, and services make the user experience more compelling by transforming the way people interact with information and how they create, share, and use documents. Every day, millions of users and thousands of Nuance's proven applications. For more information, please visit www.nuance.com.
Trademark reference: Nuance and the Nuance logo are registered trademarks or trademarks of Nuance Communications, Inc. or its affiliates in the United States and other countries. All other company or product names mentioned may be the trademarks of their respective owners.
The statements in this press release that relate to future plans, events, or performance or to market acceptance of Nuance's products are forward-looking statements that involve risks and uncertainties, including risks associated with market trends, competitive factors, and other risks identified in Nuance's SEC filings in the United States. Actual results, events, and performance and actual market acceptance of Nuance's products may differ materially. Readers are cautioned not to put undue reliance on these forward-looking statements that speak only as of the date hereof.
Order Dragon Naturally Speaking
Schedule your FREE Medical Transcription Software Demo today.
View the History of Voice Recognition and Speech Recognition Software