Dragon Naturally Speaking Reviews

- 2006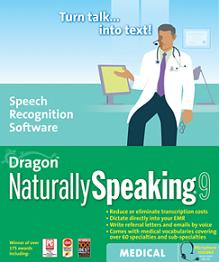 ---
Nuance Introduces New Version of Dictaphone Enterprise Suite, Extends Leadership and Portfolio in Healthcare Transcription
First Dictaphone Product Introduction within Nuance Underscores Commitment to Virtually Eliminate Manual Transcription by the End of the Decade
Burlington, MA, July 20, 2006 – Nuance Communications, Inc. (Nasdaq: NUAN), a leading provider of speech and imaging solutions, today announced a new release of its Dictaphone® Enterprise Suite, the market-leading dictation and speech-based transcription processing solution for healthcare organizations. This proven solution, comprising Dictaphone's Enterprise Express® VoiceSystem, Enterprise Express® TextSystem, EXSpeech®, and Enterprise Workstation™, is used by over 4,000 healthcare organizations to streamline and automate the way that they capture and convert dictation into online clinical information and manage all stages of the workflow process.
A leader in enterprise speech recognition and documentation, Nuance is driving the digitization of patient information with the world's most accurate speech technologies. As the first major product announcement since the acquisition of Dictaphone earlier this year, this new release furthers Nuance's goal to automate manual transcription within healthcare – a $15 billion industry worldwide – and underscores the company's commitment to its Dictaphone Healthcare Solutions products and customers.
"Dictaphone has long been a leader in speech recognition and documentation for healthcare, and with continued investment by Nuance that leadership will continue," said Robert Schwager, president of the Dictaphone Healthcare Solutions division for Nuance. "This release of the Enterprise Suite shows that even with the dramatic transcription productivity and efficiency gains we have achieved in recent years, there is still much more time and money to be saved for our healthcare enterprise customers. Nuance is committed to continuing to pursue those benefits on behalf of the industry and to advance the state of the art in healthcare dictation and speech recognition."
With innovative speech recognition from Nuance's Dictaphone Healthcare Solutions, hospitals and healthcare organizations can reduce documentation costs across the enterprise while improving patient care through faster access to electronic patient information. Today, hospital transcription teams can benefit from the speech recognition afforded by the Dictaphone Enterprise Suite to achieve transcription productivity gains of 50 percent or more. These physician-friendly tools put caregivers in control of their own reporting, saving time and money, frequently delivering a technology payback in one year or less.
The new release of the Dictaphone Enterprise Suite delivers significant enhancements that increase automation rates, improve report quality and simplify how organizations manage their workflow process. This suite leverages the proven solutions and expertise within Nuance that combine both front- and back-end speech solutions which capture data directly from caregivers or which are part of a transcription processing system. In a recent KLAS report, Nuance emerged as the only vendor to offer solutions in both of these areas, providing hospitals as well as doctors with the most flexible dictation solutions available.
The Enterprise Suite comprises new versions of Dictaphone's industry standard dictation and transcription system and includes:
EXSpeech 5.0 – Dictaphone EXSpeech from Nuance offers highly accurate speech recognition fully integrated with the Dictaphone Enterprise Express voice and text management system. The result is a powerful, proven, and flexible speech recognition solution designed to manage reporting workflow across a wide range of healthcare enterprises. The new version improves automation and increases production volume by using Nuance's highly accurate speech recognition to automate the conversion of recorded speech into medical transcripts. EXSpeech now determines which recordings will deliver highly accurate drafts, allowing the system to automatically sort which recordings are processed through speech and sent to trained editors, and which should flow directly to manual editing.

Enterprise Workstation 3.0 – Nuance's browser-based Enterprise Workstation lets physicians dictate, self-correct, and electronically sign reports generated by Nuance's speech recognition applications. Care providers can also use pre-defined templates which automate the creation of reports, and use the integrated Lab Results viewer that makes patient data available to the physician while dictating. The new Enterprise Workstation expands interoperability with enterprise and clinical applications, providing single-login capabilities using LDAP (Lightweight Directory Access Protocol) and data connectivity to PACS, EMR, and home-grown portal systems using industry-standard CCOW (Clinical Content Object Workgroup) and proprietary application programming interfaces. The new release also adds a number of features and user interface improvements designed to speed the documentation process for physicians, and Enterprise Workstation 3.0 enhances support for dictation capture platforms, including the Dictaphone PowerMic II, Microsoft Tablet PC devices, and headset-foot pedal systems.

Enterprise Express VoiceSystem 7.0/TextSystem 7.0 – Dictaphone Enterprise Express 7.0 provides new quality assurance functionality through Automatic Concurrent Review which automates transcription workflows within complex production environments. MTSOs and large healthcare facilities will benefit from new workflows that meet American Association for Medical Transcription standards and increase medical documentation accuracy.
For more information on the Dictaphone Enterprise Suite go to Nuance.com/dictaphone/hospitals/. For sales and pricing information, please call 1-888-350-4836.
Dictaphone Healthcare Solutions Division
Nuance's Dictaphone Healthcare Solutions Division provides comprehensive dictation and transcription solutions and services that improve the way patient data is captured, processed and used changing the way people process and work with medical information. Through the integration of speech recognition and natural language processing within existing health information management workflow, Nuance's Dictaphone Healthcare Solutions offerings help healthcare organizations save money and improve patient care by improving the turn around time, accuracy and usability of their medical documentation. For more information, please visit nuance.com/Dictaphone.
Nuance Communications, Inc.
Nuance (Nasdaq: NUAN) is the leading provider of speech and imaging solutions for businesses and consumers around the world. Its technologies, applications and services make the user experience more compelling by transforming the way people interact with information and how they create, share and use documents. Every day, millions of users and thousands of businesses experience Nuance's proven applications and professional services. For more information, please visit www.nuance.com.
Nuance, the Nuance logo, Dictaphone, Enterprise Express, EXSpeech, and Enterprise Workstation are registered trademarks or trademarks of Nuance Communications, Inc. or its affiliates in the United States and/or other countries. All other company names or product names may be the trademarks of their respective owners.
The statements in this press release that relate to future plans, events, performance or market acceptance of Nuance's products are forward-looking statements that involve risks and uncertainties, including risks associated with market trends, competitive factors, and other risks identified in Nuance's SEC filings. Actual results, events, performance and market acceptance may differ materially. Readers are cautioned not to put undue reliance on these forward-looking statements that speak only as of the date hereof.
Order Dragon Naturally Speaking
Schedule your FREE Medical Transcription Software Demo today.
View the History of Voice Recognition and Speech Recognition Software