Dragon Naturally Speaking Reviews

- 2006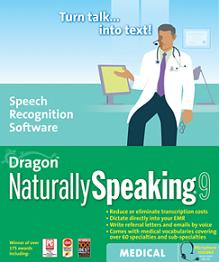 ---
Telekom Austria Deploys Nuance Speech Solution for its Customer Care Service
Systems Integrator CreaLog Relies on Text-to-Speech and Speech Recognition Solutions from Nuance to Automate Customer Care Center, Handling over 30,000 Calls per Day
AACHEN, Germany, July 21, 2006 – Nuance Communications, Inc. (NASDAQ: NUAN), a global leader in speech and imaging solutions, today announced that its software solutions are being used to power an innovative speech portal that manages more than 30,000 customer enquiries daily for Telekom Austria. The project was implemented by CreaLog, a leading solution-house for voice portals, CTI solutions and unified messaging for telecommunications call centers, banks and insurance and utility companies.
Through this Nuance-powered service, Telekom Austria's customers can now receive the information they require more easily, with everything being delivered through the caller's voice commands and dynamic, computer-generated responses. As an example, callers can check costs of services, check the status of downloads or order information material. This implementation demonstrates Nuance's strong capabilities in high-end speech recognition and text-to-speech software, and further establishes the unmatched performance of Nuance® technology to handle high call volumes.
Telekom Austria conducted a thorough competitive process before ordering the Nuance-based solution from CreaLog. The system, after an extensive testing process, was then implemented by CreaLog in three different locations, all of them controllable by the caller's voice. Each portal uses Nuance's high-end text-to-speech and speech recognition software.
Telekom Austria focused on several key requirements for the new voice portal solution:

A flexible system that where the configuration and dialog design can be easily modified

A trouble free CTI must be integrated with the existing networked Aspect ACD solution

Speech recognition must be of excellent quality and accuracy and the speech synthesis (text-to-speech) must closely correspond to natural language.
Alois Miedl, regional manager customer care, Telekom Austria, said, "The new capabilities and performance that this speech application brings to our hotlines means that we can handle volumes of around 30,000 customers every day, with the potential to handle many more callers. This is a great step for us in delivering much better customer service and experience for our customers."
Michael Kloos, managing director, CreaLog, said, "The order of Telekom Austria demonstrates again our leading position in providing Voice Portals for telcos, after implementing Europe's largest mass-calling platform for the Vodafone company ARCOR, second largest fixed-line telco provider in Germany, only a few months ago."
Peter Hauser, general manager and senior vice president, Nuance Communications International, said, "This service further demonstrates how important speech technology has become for handling every day tasks easily while providing immediate value to callers. We are looking forward to working closely with Telekom Austria alongside our Voice Portal Partner CreaLog and we are very pleased to be part of such a high-profile and integral project."
About Telekom Austria
With total managed revenues of roughly EUR 4.4 billion and roughly 15,600 employees in the financial year 2005, Telekom Austria is the largest telecommunications company in Austria and also one of the leading corporations in this country. Telekom Austria AG has been listed on both the Vienna and New York stock exchanges since November 2000. For more information, please visit www.telekom.at.
About CreaLog
CreaLog is the leading provider of Voice Portal solutions in Europe, with references in 16 countries. CreaLog's VoiceXML-based and web-controlled Voice Portals are running at more than 320 leading customers across 30 sectors. They use natural-language speech recognition and next generation Text-to-Speech. CreaLog's Voice Portals, Unified Messaging and CTI-Solutions for Enterprises and Carriers with more than 31.000 installed Lines, achieved the "Best of CeBit 2005 and 2006 Award". CreaLog's customer Sparda Bank received the "Bankmarketingpreis 2005"-Award for their best-in-class Phonebanking Solution "CreaVoice Banking". For more information, please visit www.Crealog.com.
About Nuance Communications, Inc.
Nuance is the leading provider of speech and imaging solutions for business and consumers around the world. Its technologies, applications and services make the user experience more compelling by transforming the way people interact with information and how they create, share, and use documents. Every day, millions of users and thousands of Nuance's proven applications. For more information, please visit www.nuance.com.
Trademark reference: Nuance and the Nuance logo are registered trademarks or trademarks of Nuance Communications, Inc. or its affiliates in the United States and/or other countries. All other company or product names mentioned may be the trademarks of their respective owners.
Order Dragon Naturally Speaking
Schedule your FREE Medical Transcription Software Demo today.
View the History of Voice Recognition and Speech Recognition Software