Dragon Naturally Speaking Reviews

- 2006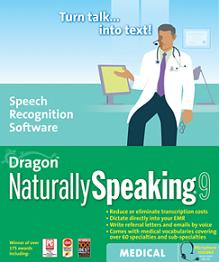 ---
Nuance Introduces Dragon NaturallySpeaking Medical 9 – Advanced Speech Recognition that Eliminates High Cost of Manual Transcription
Leading Speech Recognition Solution Quickly Erodes Transcription Costs and Report Turnaround Time, Eases EMR Adoption; New Release Boasts Dramatic Accuracy Gains and Elimination of Voice Training
BURLINGTON, Mass., July 25, 2006 – Nuance Communications, Inc. (Nasdaq: NUAN), a leading provider of speech and imaging solutions, today introduced Dragon™ NaturallySpeaking® Medical version 9, a new release of the world's most accurate speech recognition solution designed specifically for medical professionals. Already in use at thousands of healthcare facilities, departments and physician practices worldwide, Dragon NaturallySpeaking Medical 9 converts speech into text at up to 160 words per minute, automating the documentation of patient information and reducing or eliminating the high cost and long turnaround time associated with the manual transcription of clinical notes.
The new release of Dragon NaturallySpeaking Medical boosts accuracy by as much 30 percent, moving accuracy levels up to 99%, and also removes one of the most significant issues that has typically created resistance to trying speech recognition – "training" or "enrollment." Dragon NaturallySpeaking 9 is the first-ever desktop speech recognition product to eliminate this up-front training while still delivering highly accurate results. Also new in this release is enhanced network support which allows users to access Dragon NaturallySpeaking Medical from any workstation on an organization's LAN, even thin-client Citrix terminals, making it equally well-suited for individual practitioners and large hospitals.
Dragon NaturallySpeaking Medical adds speech to virtually all Microsoft Windows applications, and this new release includes features that expand support for electronic medical records (EMR) systems, allowing medical professionals to dictate notes and receive the transcription instantly. By using Dragon NaturallySpeaking Medical to automate the capture of patient data, healthcare professionals can eliminate the time and expense associated with manual transcription services – which represents over $10 billion per year in North America alone. By allowing medical professionals to use a familiar method of input (dictation) to enter data and notes into the EMR, Dragon NaturallySpeaking Medical also helps to increase the adoption of EMRs in a healthcare facility, and ultimately improves patient care.
"Dragon NaturallySpeaking is an extremely accurate and flexible speech recognition product that permits efficient documentation in the ambulatory medical setting and saves us money," said Robert Frank, M.D. with Advanced Healthcare in Milwaukee. "Using Dragon NaturallySpeaking we are able to obtain a significant reduction in transcription utilization and the cost of transcription overhead to the entire organization."
A Breakthrough in Speech Recognition
Dragon NaturallySpeaking Medical 9 makes speech recognition even better for small practices or large healthcare organizations with a number of new features and improvements:
Key Benefits
Most Accurate Ever – Significant improvements to the Dragon NaturallySpeaking recognition system have yielded an accuracy improvement of up to 30 percent over the previous release, and nearly 40 percent over version 7 – resulting in speech recognition accuracy levels as high as 99 percent.

First to Eliminate Training – Dragon NaturallySpeaking Medical 9 is the first desktop speech recognition solution to truly remove the time need to "train" the software – and still deliver accurate results.

Enterprise Features – Dragon NaturallySpeaking Medical 9 can be accessed from anywhere on a network, even thin client Citrix terminals. Improved network tools allow administrators to easily manage Dragon NaturallySpeaking Medical deployments over a network to multiple clients.

Optimized for Medical Environments – Dragon NaturallySpeaking Medical 9 provides expanded, seamless speech input and control capabilities with any existing EMR system and the most popular applications. Simply install Dragon NaturallySpeaking Medical and you have added speech input and control to your EMR and to virtually all of your Microsoft Windows applications. The new release includes specific integration with Microsoft Office, Outlook and Internet Explorer, as well as Corel WordPerfect™ and Mozilla Firefox and Thunderbird.

Custom Vocabularies – With 14 medical specialty vocabularies covering 60 subspecialties, and powerful tools to further customize vocabularies, Dragon NaturallySpeaking Medical 9 ensures the highest levels of accuracy in any medical specialty environment.

New-found Mobility, Portability – New support for Nuance-approved Bluetooth headsets gives users the freedom to dictate wirelessly, without being tethered to a PC. In addition, users can capture dictation with mobile devices such as digital recorders, Palm Tungsten and Tablet PCs for automatic transcription by Dragon NaturallySpeaking Medical when synched with the PC.
The new release also allows network administrators to install and manage Dragon NaturallySpeaking Medical over a network. A new user interface and improved network management tools make it easy for administrators to manage user profiles, vocabularies and installations.
"Speech recognition has become an essential component of the healthcare industry's drive toward cost reduction and clinical automation," said John Shagoury, president, Productivity Applications Division, Nuance. "The accuracy improvements, the elimination of voice training, and the additional network support that we have achieved with Dragon NaturallySpeaking Medical 9 make it an obvious choice for healthcare organizations that need to eliminate the high cost of manual transcription while at the same time providing a simple, natural interface to their EMR and improving patient care."
Through its Dictaphone Healthcare Solutions division, Nuance delivers a broad portfolio of dictation and speech-based transcription processing solutions that leverage the award-winning speech recognition in Dragon NaturallySpeaking. Depending on the size and scope of a healthcare organization's needs, Nuance can provide a solution tailored to fit those needs. Hospitals and clinics throughout North America generate over one million reports a day, and can leverage Dictaphone® healthcare solutions from Nuance to reduce report backlog, decrease report turnaround times, and reduce transcription costs dramatically.
The latest release of Dragon NaturallySpeaking comes from the world's expert in speech recognition – Nuance. Nuance speech technology touches millions of people every day as they interact with their bank or airline reservation system by voice, dial by voice from their cell phone, or interact with their car's navigation system.
Availability
Dragon NaturallySpeaking Medical 9 is available immediately through Nuance's professional sales organization and global network of value added reseller partners. The suggested retail price is $1199 for individual users, with multi-seat and site license discounts available. For additional information on features, pricing and volume licensing programs, please visit Nuance.com/NaturallySpeaking or call (1) 800-443-7077.
Nuance Communications, Inc.
Nuance (Nasdaq: NUAN) is the leading provider of speech and imaging solutions for businesses and consumers around the world. Its technologies, applications and services make the user experience more compelling by transforming the way people interact with information and how they create, share and use documents. Every day, millions of users and thousands of businesses experience Nuance's proven applications and professional services. For more information, please visit www.nuance.com.
Nuance, the Nuance logo, Dragon, NaturallySpeaking and Dictaphone are trademarks or registered trademarks of Nuance Communications, Inc. or its affiliates in the United States and/or other countries. All other trademarks referenced herein may be the property of their respective owners.
The statements in this press release that relate to future plans, events or performance are forward-looking statements that involve risks and uncertainties, including risks associated with market trends, competitive factors, and other risks identified in Nuance's SEC filings. Actual results, events and performance may differ materially. Readers are cautioned not to put undue reliance on these forward-looking statements that speak only as of the date hereof.
Order Dragon Naturally Speaking
Schedule your FREE Medical Transcription Software Demo today.
View the History of Voice Recognition and Speech Recognition Software