Dragon Naturally Speaking Reviews

- 2006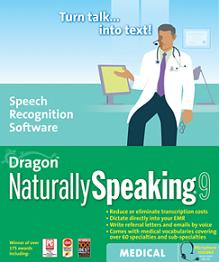 ---
Nuance Speaker Verification Delivers Biometric Security without Expensive Equipment or Special Hardware
Nuance Communications Combats Fraud and Identity Theft with Biometric Security Options for Telephone Self-Service Applications
BURLINGTON, Mass., August 3, 2006 – Nuance Communications, Inc. (NASDAQ: NUAN), the world's leading supplier of speech and imaging solutions, is helping contact centers battle the threat of fraud and identity theft by delivering biometric security options for self-service telephone applications. Speaker verification solutions from Nuance automatically confirm a customer's identity using the unique characteristics of each caller's voice.
In large-scale, mainstream consumer applications such as banking, brokerage, or telecommunication services, having an authentication method that can be used by all customers from their home, office or car is a critical requirement. One of the main problems with finger, iris, or facial biometrics is the inconvenience and significant investment required for scanners and other hardware devices. Because voice authentication is completed over the telephone with no additional hardware or software required for the end-user, it is the only biometric that can be implemented today for an entire customer base.
"Speaker verification is a natural fit for phone-based applications because the system can be seamlessly integrated into the existing self-service experience of the caller," said Peter Mahoney, vice president, worldwide marketing, Nuance. "Because of its convenience and ease of use, it may be perceived that voice is less accurate than other biometrics, but third-party research has proven that voice biometrics meet or exceed fingerprint, iris and facial scanning systems."
How Does Nuance Speaker Verification Work?
During a brief enrollment process, callers speak their ID and password. The Nuance speaker verification system captures and analyzes the speech to create a voiceprint that is stored in the system database. Voiceprints are not audio samples, but a matrix of numbers that measure behavioral characteristics of the way the person speaks, as well as physical characteristics of the person's vocal tract. During verification, the caller speaks a password, which is then compared and scored against the voiceprint database.
Nuance Speaker Verification performs well even with transient voice changes (caused by colds, different emotional states or background noise), and delivers consistent performance over wireline, wireless or VoIP channels. Nuance also offers safeguards against recordings played over the telephone, or impressionists mimicking a user's voice.
Driving Improved Levels of Security for Banking Self-Service Applications
Financial institutions that require authentication solutions for customer self-service applications are expressing a heightened interest in Nuance Speaker Verification. The continued growth of electronic banking activities has resulted in the release of federal guidance on authentication controls to protect the identity of customers accessing financial services over electronic channels. The FFIEC guidance specifically requires the introduction of multi-factor authentication technologies for Internet-based services before the end of the year. Large banks are anticipating similar levels of security requirements for telephone-based banking.
"Federal guidance clearly indicates that current phone-based authentication techniques are not sufficient to protect banking customers," said Mahoney. "We understand the general security infrastructure deployed by banks and the issues they face when trying to balance effective security procedures with convenient service. With 16 speaker verification patents and a market leadership position for delivering custom solutions, we are well-positioned to meet the growing need for this vertical market."
Several large US-based financial institutions have initiated successful pilots of Nuance speaker verification solutions in anticipation of federal multi-factor authentication requirements.
About Nuance Communications, Inc.
Nuance is the leading provider of speech and imaging solutions for business and consumers around the world. Its technologies, applications, and services make the user experience more compelling by transforming the way people interact with information and how they create, share, and use documents. Every day, millions of users and thousands of businesses experience Nuance's proven applications. For more information, please visit www.nuance.com.
The statements in this press release that relate to future plans, events, or performance or to market acceptance of Nuance's products are forward-looking statements that involve risks and uncertainties, including risks associated with market trends, competitive factors, and other risks identified in Nuance's SEC filings. Actual results, events, and performance and actual market acceptance of Nuance's products may differ materially. Readers are cautioned not to put undue reliance on these forward-looking statements that speak only as of the date hereof.
Nuance and the Nuance logo are trademarks or registered trademarks of Nuance Communications, Inc. or its affiliates in the United States and/or other countries. All other trademarks referenced herein are the property of their respective owners.
Order Dragon Naturally Speaking
Schedule your FREE Medical Transcription Software Demo today.
View the History of Voice Recognition and Speech Recognition Software