Dragon Naturally Speaking Reviews

- 2006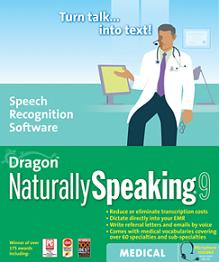 ---
klickTel Navigator Guides Drivers Safely to Their Destination with Nuance Speech Technology
Nuance speech technology decreases distractions at the wheel by speaking all satellite navigation information and relaying voice commands
IFA, Berlin, Germany, September 6, 2006 – Nuance Communications (Nasdaq: NUAN), a leading provider of speech and imaging solutions, today announced it has been selected to provide its text-to-speech (TTS) technology RealSpeak™ for all models of the klickTel Navigator. The klickTel Navigator, the first navigation system with integrated white and yellow pages is a product of klickTel AG, a leading provider of inter-media yellow and white pages.
With the text-to-speech capabilities delivered by Nuance technology, drivers using the klickTel Navigator face far fewer distractions at the wheel. With the new Navigator K600 series, which is scheduled to be launched at the beginning of 2007, all driving instructions – including detailed street and city names – are spoken by the TTS system. In addition to using TTS for directions, the klickTel Navigator, with its advanced traffic information system based on the newest TMCpro technology, will read out up-to-date traffic information affecting the planned route. Furthermore, safety-related information, like speed limits, dangerous road sections and speed cameras, will be announced.
Drivers, even in potentially dangerous traffic situations, can now pay full attention to the traffic, keeping their eyes on the road, while being informed in a natural sounding and intelligible voice about what is happening in front of them. The new klickTel Navigator series includes RealSpeak TTS in the following languages: German, Dutch, English, French, Italian, Spanish and Turkish.
klickTel's new Navigator K600 series works with Nuance's PromptSculptor™, a unique tool for fine-tuning voice prompts created from textual data to a very sophisticated level to meet the high expectation of their customers. This means there are no costly recordings of prompts made in studios, and there is no dependence on the availability of the same voice talent for every system update.
A recent survey commissioned by Nuance confirmed the demand for these new features in satellite navigation devices. In this survey, over 300 drivers in Germany described their patterns of behaviour around the main functions in the car and they were asked to rate a range of speech-based features. Detailed spoken instructions inclusive street names and destination entry by voice were identified as the most important features by German respondents of which 86 percent indicated that speech-enabled navigation increases safety and 88 percent indicated that it increased the ease of use of the navigation equipment in the car.
Boris Polenske, CEO, klickTel, said: "The klickTel Navigator provides an innovative security assistant, whose functions are enhanced by Nuance's speech technology. With RealSpeak, our solution supports drivers to reach their destination safely by delivering clear and detailed spoken instructions and safety related alerts."
Peter Hauser, senior vice president and general manager, Nuance International, adds: "In the light of triple digit-growth rates and fierce competition in the mobile navigation market segment, speech technology became a key differentiating factor supporting a number of innovative features. These range from detailed driving instruction including street names, reading out of traffic alerts, destination entry by voice to voice activated dialling and voice controlled MP3 players coming with some navigation devices."
About Nuance Communications, Inc.
Nuance is the leading provider of speech and imaging solutions for businesses and consumers around the world. Its technologies, applications and services make the user experience more compelling by transforming the way people interact with information and how they create, share and use documents. Every day, millions of users and thousands of businesses experience Nuance's proven applications and professional services. For more information, please visit www.nuance.com.
About klickTel AG
klickTel AG is one of the leading German providers of inter-media white and yellow pages. Its local search service is targeted towards consumers and businesses. With its comprehensive product portfolio, klickTel offers digital information directories, navigation systems, and route planning - as CD-ROM, network and intranet version as well as through the information portal www.klicktel.de and mobile devices.
The dynamically growing company concluded the fiscal year 2005 with aggregate sales of around EUR 16 million. klickTel's main sources of sales are subscription and contractual transactions with software licenses as well as promotional operations through the klickTel infoEintrag. This high-performance form of advertising appears in all klickTel media and all of their associated products, through which businesses can achieve an extremely broad scope of coverage. klickTel currently employs a total of 350 personnel at its locations in Essen and Hanover. For more information, please visit www.klicktel.de.
Nuance, the Nuance logo, PromptSculptor and RealSpeak are trademarks or registered trademarks of Nuance Communications, Inc. or its affiliates in the United States and/or other countries. All other trademarks referenced herein are the property of their respective owners.
Order Dragon Naturally Speaking
Schedule your FREE Medical Transcription Software Demo today.
View the History of Voice Recognition and Speech Recognition Software