Dragon Naturally Speaking Reviews

- 2006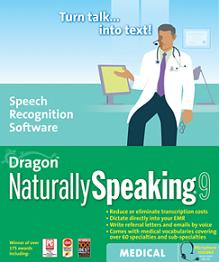 ---
Dragon NaturallySpeaking from Nuance Selected for ABC's "Extreme Makeover: Home Edition"
World's Leading Speech Recognition Solution Helps Family with Auditory and Visual Impairments in Their "Extreme Home"
BURLINGTON, Mass., September 14, 2006 – Nuance Communications (Nasdaq: NUAN), a leading provider of speech and imaging solutions, today announced that its Dragon™ NaturallySpeaking® software, the world's leading speech recognition solution, was selected for a a special two-hour episode of ABC's Emmy Award-winning reality television show, "Extreme Makeover: Home Edition" scheduled to air September 17 at 8:00 p.m. ET.
Dragon NaturallySpeaking 9, the latest release of the world's most popular speech recognition solution, converts speech into text at up to 160 words-per-minute, at accuracy levels of up to 99 percent, and allows users to control Microsoft Windows and to create new documents and e-mails, navigate programs, and surf the Web, all by voice. Dragon NaturallySpeaking was selected by Extreme Makeover: Home Edition's design team to be installed in the "Extreme Home" of the Llanes family of Bergenfield, New Jersey. The Llanes family was selected among thousands of applicants to have their home completely renovated to accommodate the many disabilities that they face, including vision and hearing impairments as well as cancer. The special two-hour episode featuring the Llanes family is scheduled to be broadcast on Sunday, September 17, and will be hosted by actress Marlee Matlin.
Also installed in the Llanes home is iCommunicator™ from PPR, Inc., one of the most advanced software systems available for enabling effective two-way communications for persons who are deaf, hard-of-hearing or who experience unique communication challenges. iCommunicator utilizes Dragon Naturally Speaking Professional speech recognition technology to capture dictation and translate real-time speech to text; speech/text to video sign-language, or speech/text to computer generated voice, promoting independent communication for persons who are deaf, hard-of-hearing or with unique communication challenges.
"We are pleased to be part of such a terrific program as ABC's Extreme Makeover: Home Edition," said Robert Weideman, senior vice president of marketing, Productivity Applications Division, Nuance. "Since its introduction nearly ten years ago, Dragon NaturallySpeaking has helped thousands of people to gain hands-free control of their PC. It's wonderful to see how Dragon is being leveraged with iCommunicator to help the Llanes family to communicate with one another and enhance their quality of life."
For more information about Dragon NaturallySpeaking, please visit Nuance.com/NaturallySpeaking/.
About Nuance Communications, Inc.
Nuance is the leading provider of speech and imaging solutions for businesses and consumers around the world. Its technologies, applications and services make the user experience more compelling by transforming the way people interact with information and how they create, share and use documents. Every day, millions of users and thousands of businesses experience Nuance's proven applications and professional services. For more information, please visit www.nuance.com.
About Extreme Makeover: Home Edition
"Extreme Makeover: Home Edition," which has won back-to-back Emmy Awards as Best Reality Program (non-competitive), will enter its 4th season on ABC. The program is produced by Endemol USA, a division of Endemol Holding. Denise Cramsey is the executive producer; and David Goldberg is the president of Endemol USA.
Nuance, the Nuance logo, Dragon and NaturallySpeaking are trademarks or registered trademarks of Nuance Communications, Inc. or its affiliates in the United States and/or other countries. All other trademarks referenced herein are the property of their respective owners.
Order Dragon Naturally Speaking
Schedule your FREE Medical Transcription Software Demo today.
View the History of Voice Recognition and Speech Recognition Software