Dragon Naturally Speaking Reviews

- 2006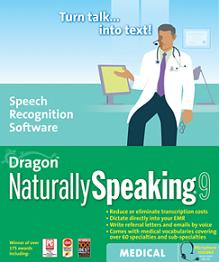 ---
Universal Health Services Standardizes on Dictaphone Healthcare Solutions from Nuance to Reduce Transcription Costs
Leading Hospital Network Takes Steps to Slash Documentation Costs with Dictaphone's Enterprise-wide Speech Recognition
AHIMA Conference – DENVER, October 10, 2006 – Nuance Communications, Inc. (Nasdaq: NUAN), a leading provider of speech and imaging solutions, today announced that Universal Health Services, Inc., one of the nation's leading hospital companies, will implement the Dictaphone® enterprise-level speech recognition software suite across 22 acute-care hospitals in North America to reduce mounting outsourced transcription costs, improve reporting turnaround times and enhance the quality of its clinical documentation. Dictaphone's speech recognition and transcription workflow technology will provide the platform for Universal Health Services' strategy to streamline its medical documentation process substantially by ultimately delivering the benefits of speech recognition to thousands of physicians.
Universal Health Services will implement the full Dictaphone integrated Enterprise software solution, which includes Enterprise Express® Voice & Text Systems for robust dictation/transcription workflow management, EXSpeech® for background speech recognition in which transcriptionists become productive editors of draft documents rather than typing from scratch, and Enterprise Workstation®, which lets physicians dictate, self-edit and electronically sign reports generated by Nuance's speech recognition, bypassing the transcription step entirely. This system suite allows the organization to support its existing dictation workflow while introducing speech recognition with maximum flexibility for users. Physicians can interact with the system in whatever method they are most comfortable with – dictating via phone, microphone or mobile recording device – and can choose to delegate the final editing of the speech-recognized report to a transcriptionist or self-complete the document.
"Dictaphone's emphasis on flexibility was important to us," said Bruce A. Marcolongo, Clinical Technology Manager at Universal Health Services. "We're committed to bringing speech recognition to as wide a base as possible throughout our system, and the kind of choice and fit with current work patterns that Dictaphone offers greatly increases the likelihood of user adoption. That in turn will lead to an optimal ROI for us."
Universal Health Services will deploy the Dictaphone system in a centralized data center that supports its 22 hospitals, each of which currently generates massive monthly outsourced transcription costs. Implementation will begin with a few hundred caregivers at several hospitals and then roll out progressively to the rest of the network, totaling thousands of physicians and healthcare professionals.
"Our goal at Dictaphone is to bring speech recognition to the entire healthcare enterprise, not just a few departments," said Peter Durlach, senior vice president, marketing and product strategy, Dictaphone Healthcare Solutions, Nuance. "The key is to provide a solution that gives physicians of all backgrounds and work styles a comfortable and workable path to a new way of doing things. We're pleased that an organization of the size and scope of Universal Health has endorsed that strategy."
Dictaphone Healthcare Solutions, a division of Nuance, is located in AHIMA booth #1434.
Dictaphone Healthcare Solutions Division
Nuance's Dictaphone Healthcare Solutions Division provides comprehensive dictation and transcription solutions and services that improve the way patient data is captured, processed and used changing the way people process and work with medical information. Through the integration of speech recognition and natural language processing within existing health information management workflow, Nuance's Dictaphone Healthcare Solutions offerings help healthcare organizations save money and improve patient care by improving the turn around time, accuracy and usability of their medical documentation. For more information, please visit www.nuance.com/Dictaphone .
Universal Health Services
Universal Health Services, Inc. is one of the nation's leading hospital companies, operating acute care and behavioral health hospitals and ambulatory centers nationwide and in Puerto Rico. It acts as the advisor to Universal Health Realty Income Trust, a real estate investment trust (NYSE:UHT). For additional information on the Company, visit our web site: www.uhsinc.com.
Nuance Communications, Inc.
Nuance (Nasdaq: NUAN) is a leading provider of speech and imaging solutions for businesses and consumers around the world. Its technologies, applications and services make the user experience more compelling by transforming the way people interact with information and how they create, share and use documents. Every day, millions of users and thousands of businesses experience Nuance's proven applications and professional services. For more information, please visit www.nuance.com.
Nuance, the Nuance logo, Dictaphone, Enterprise Express Enterprise Workstation and EXSpeech are registered trademarks or trademarks of Nuance Communications, Inc. or its affiliates in the United States and/or other countries. All other trademarks referenced herein are the property of their respective owners.
Order Dragon Naturally Speaking
Schedule your FREE Medical Transcription Software Demo today.
View the History of Voice Recognition and Speech Recognition Software