Dragon Naturally Speaking Reviews

- 2006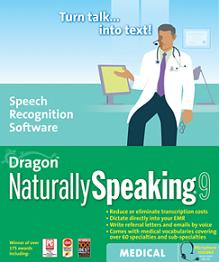 ---
Countdown to Conversations: Nuance Communications to Host Speech Industry's Premier Conference
Keynotes to Include Vodafone, Cox Communications, Orange and Customer Experience Expert Jeffrey Rayport
BURLINGTON, Mass., October 10, 2006 – Nuance Communications, Inc. (NASDAQ: NUAN), a leading supplier of speech and imaging solutions, today announced that Cox Communications, Orange and Vodafone will be the featured customer keynotes at Conversations 2006, the company's annual international speech conference. In addition, customer experience expert Jeffrey Rayport, author of "Best Face Forward: Why Companies Must Improve Their Service Interfaces with Customers," will address the role speech technologies play in breakthrough service strategies. The event will take place October 22-25, 2006 at the JW Marriott Grande Lakes in Orlando, Fla.
Conversations 2006, now in its eighth year, brings together leading companies and speech experts from around the globe, enabling peers to share ideas and best practices for launching effective speech services. Participants receive a behind-the-scenes look at Nuance's speech initiatives and gain an understanding of new applications and partner roles.
"This year's conference features more customer presentations and case studies than ever before. These real-world examples are invaluable to both business and technical attendees representing companies that are new to speech or are expanding their speech strategy," said Peter Mahoney, vice president, worldwide marketing, Nuance. "Since this year's conference is focused on helping companies elevate the customer experience, Jeffrey Rayport will make an excellent addition to the conference agenda. His innovative views on the role of technology in delivering customer service will give conference attendees clear takeaways to help improve the current levels of customer care."
Conference attendees will participate in numerous interactive sessions, led by Nuance customers and industry experts, covering four distinct tracks:
Caller Experience – This track combines sessions on business strategy with information on technology and design improvements to help attendees win the battle for customer loyalty.

Business Experience – In this track, leaders in the field teach attendees how to get the most out of speech investments through best practices in performance measurement and strategic planning.

Applications Experience – This track explores real-world examples of speech technology across the enterprise – from call centers, to help desks, to the everyday employee.

Technology Experience – This track provides details on Nuance technology and applications to drive performance improvements -- from the speech engines themselves to the dialog management and development tools that support them.
For the first time, Conversations also includes a dedicated program focused exclusively on the mobile communications industry. The co-located Conversations Mobile event brings together wireless carriers and device manufacturers, as well as content and portal providers, to address the technology, trends and business opportunities fueling the growing interest in voice-driven search, content download, email and text messaging.
Sponsors for Conversations 2006 include primary sponsor Genesys; principal sponsors Avaya, Cisco, and Nortel; and supporting sponsors AT&T, ClickFox, Convergys, ELoyalty, Envox, Holly, Intervoice and West.
Complete program information and a detailed conference agenda are available online at www.conversations2006.com.
About Nuance Communications, Inc.
Nuance is a leading provider of speech and imaging solutions for business and consumers around the world. Its technologies, applications, and services make the user experience more compelling by transforming the way people interact with information and how they create, share, and use documents. Every day, millions of users and thousands of businesses experience Nuance's proven applications. For more information, please visit www.nuance.com.
Nuance and the Nuance logo are trademarks or registered trademarks of Nuance Communications, Inc. or its affiliates in the United States and/or other countries. All other trademarks referenced herein are the property of their respective owners.
Order Dragon Naturally Speaking
Schedule your FREE Medical Transcription Software Demo today.
View the History of Voice Recognition and Speech Recognition Software