Dragon Naturally Speaking Reviews

- 2006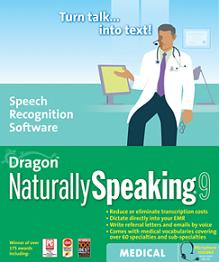 ---
Nuance Customer Conference Breaks Attendance Records
Sold-Out Event at 8th Annual Conversations Conference Marks Growing Interest in Speech Solutions Across Industries
ORLANDO, Fla., October 23, 2006 – Nuance Communications, Inc. (NASDAQ: NUAN), a leading supplier of speech and imaging solutions, announced that the sold-out Conversations User Conference opened today at the JW Marriott Grande Lakes in Orlando, Fla. Spurred by growing interest in speech solutions across all industries, Conversations 2006 shatters previous attendance records for the second year in a row. The speech industry's premier user conference hosts a packed house of more than 800 customers, partners and speech industry thought leaders.
In addition to keynote presentations from Cox Communications, Disney, Orange, Vodafone, and customer experience expert Jeffrey Rayport, the conference features case studies from additional Nuance customers with real-world best practices. Interactive sessions address how attendees can "elevate their experience," with conference tracks dedicated to the caller and business experience, as well as the applications and technology experience.
"From customer service to mobile communications, speech technologies are increasingly being applied to a variety of business needs across every industry," said Adam Spence, group self service development manager, Vodafone. "The Nuance Conversations event brings together key players in the speech industry to share best practices, highlight real-world examples and discover new ways to apply speech to meet strategic goals. This event offers an excellent opportunity to network with other Nuance customers, and I'm pleased that Vodafone has the opportunity to formally share its experience with our industry peers."
The co-located Conversations Mobile conference boasts a speaker list that resembles a who's who of mobile industry leaders, with representatives from Google, Motorola, Nokia and Sprint, as well as mobile search leaders such as Ingenio, Jingle, Promptu and V-Enable. Industry observers Peggy Anne Salz, author of the Mobile Search & Content Discovery, and Matt Booth, author of the Kelsey Group's Wireless Voice Search: The Multi-Modal Revolution, also take the stage to share the latest industry trends and forecasts.
"As more and more companies turn to Nuance and its partners to support speech as a competitive advantage, Conversations has become a critical event for the speech industry," said Peter Mahoney, vice president, worldwide marketing, Nuance. "Speech has evolved within and beyond the traditional contact center environment, and we have developed the content and program of Conversations to meet the growing information needs of a diverse audience. I'm certain that this will be one of the most successful events in Nuance history."
About Nuance Communications, Inc.
Nuance is a leading provider of speech and imaging solutions for business and consumers around the world. Its technologies, applications, and services make the user experience more compelling by transforming the way people interact with information and how they create, share, and use documents. Every day, millions of users and thousands of businesses experience Nuance's proven applications. For more information, please visit www.nuance.com.
Nuance and the Nuance logo are trademarks or registered trademarks of Nuance Communications, Inc. or its affiliates in the United States and/or other countries. All other trademarks referenced herein are the property of their respective owners.
The statements in this press release that relate to future plans, events, or performance or to market acceptance of Nuance's products are forward-looking statements that involve risks and uncertainties, including risks associated with market trends, competitive factors, and other risks identified in Nuance's SEC filings. Actual results, events, and performance and actual market acceptance of Nuance's products may differ materially. Readers are cautioned not to put undue reliance on these forward-looking statements that speak only as of the date hereof.
Order Dragon Naturally Speaking
Schedule your FREE Medical Transcription Software Demo today.
View the History of Voice Recognition and Speech Recognition Software