Dragon Naturally Speaking Reviews

- 2006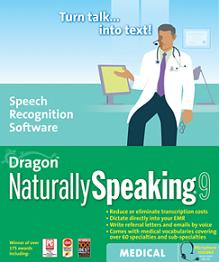 ---
MobileVoiceControl's Narrator Gives Email a Voice on the BlackBerry Pearl
New Service Enables Emails to be Automatically Read Aloud as They Arrive
CINCINNATI, December 19, 2006 – MobileVoiceControl, Inc. today announced the availability of its Narrator service designed for the BlackBerry® Pearl™ smartphone from Research In Motion (RIM) (NASDAQ:RIMM). Narrator enables incoming email messages on a BlackBerry Pearl to be read aloud to users through the handset's speakerphone, a headset or hands free car kit.
MobileVoiceControl recently signed an agreement to be acquired by Nuance Communications, Inc. (NASDAQ: NUAN), a leading provider of speech and imaging solutions.
"Countless emails have been read by users on their BlackBerry Pearl, but this is the first time email can be read aloud to the user from their handset," said Steve Burns, president of MobileVoiceControl, Inc. "The convenience of not having to look at the screen is great for users on the go."
Increased productivity and safety are the primary benefits of spoken notifications. Narrator enables users to keep both their "Eyes and Hands Free" while listening to incoming emails. This unique functionality further extends the ability to communicate while on the go.
Narrator designed for the BlackBerry Pearl includes the following features:
Easily switch from "Narrator" Mode to Normal Mode;

Download Over-the-Air for Quick Installation;

Works via Speaker Mode or Headset Mode;

Automatically detects wireless headset if connected;

Works with many hands-free car kits;

Configuration setting allows users to select Male or Female voice for email read back;
Availability
Narrator for English language only is available today for $19.99 for a one year subscription 1Additional language support is expected in early 2007. To download Narrator designed for the BlackBerry Pearl, visit http://www.mobilevoicecontrol.com/narrator.
About MobileVoiceControl, Inc.
MobileVoiceControl, Inc. is a leading provider of Speech products for the mobile environment. Products include award winning MobileVoiceControl™ and Narrator. With one of the world's most versatile and accurate mobile speech systems, MobileVoiceControl makes it easy for consumers to control their mobile phones as well as enjoy simple access to all web content just by asking. More information is available at http://www.mobilevoicecontrol.com/
About Nuance Communications, Inc.
Nuance is the leading provider of speech and imaging solutions for business and consumers around the world. Its technologies, applications, and services make the user experience more compelling by transforming the way people interact with information and how they create, share, and use documents. Every day, millions of users and thousands of businesses experience Nuance's proven applications. For more information, please visit www.nuance.com.
1 Within wireless service coverage area only. Availability and coverage depends upon carrier and the geographic scope of international roaming agreements.
The BlackBerry and RIM families of related marks, images and symbols are the exclusive properties and trademarks of Research In Motion Limited.
---
Order Dragon Naturally Speaking
Schedule your FREE Medical Transcription Software Demo today.
View the History of Voice Recognition and Speech Recognition Software