Dragon Naturally Speaking Reviews

- 2005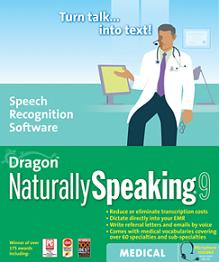 ---
ScanSoft Speech Technology Drives CULLMANN's Universal Hands-free Kit for Mobile Phones
variocom VC4 voice card Extends Hand-free Phone and Navigation Kit with Voice Control; Available in English, German and French
Peabody, MASS. and Ghent, BELGIUM - January 10, 2005 - ScanSoft, Inc. (Nasdaq: SSFT), a global leader of speech and imaging solutions, today announced that CULLMANN GmbH, the global provider of high-quality car accessories, has selected ScanSoft VoCon® speech recognition solution to speech-enable the variocom VC4 - a new modular and cordless universal hands-free kit for mobile telephones.
The variocom VC4 is an in-car, hands-free system that offers a variety of functions - including GPS navigation, voice output and optional voice dialing for mobile phones. The addition of ScanSoft® speech technology enables motorists to interact with their mobile devices in a convenient and safe way, and helps the Cullmann hands-free system to fully comply with statutory requirements that govern the use of mobile phones in vehicles around the world. ScanSoft speech technology is embedded into the VC4 voice card, a popular optional feature for the variocom VC4 system, and is available in English, German and French. Advanced voice capabilities available with the voice card make the system easier, more intuitive and faster to use, and provides hands-free interaction with the device by enabling motorists to access phone numbers using only their voice.
"Offering speech as an add-on to our variocom VC4 was a logical next step for our product, particularly since global legislation mandates hands-free use of mobile telephones around the world. A high priority has been given to the safety and comfort of the driver, and ScanSoft's technology enables users to interact with the CULLMANN system without the need to operate it by hand or read information from it," said Jürgen Burgis, marketing, CULLMANN GmbH. "ScanSoft's technology enabled us to create a customized embedded solution that guarantees high quality recognition and fast response times, even in automobiles, where noise interference is a primary concern."
"We are pleased to be able to partner with CULLMANN, widely known for its high-quality automotive accessories. Our professional services team worked closely with CULLMANN engineers on this project and the result is a high-performance, hands-free unit that greatly simplifies in-car cell phone use and, even more importantly, ensures safety for drivers and compliance with global legislation," said Peter Hauser, senior vice president and general manager for ScanSoft International. "This collaboration is another example of our ongoing commitment to deliver innovative speech solutions that meet the unique requirements of the automotive industry."
About CULLMANN GmbH
CULLMANN in Cadolzburg, Germany was worldwide the first to offer universal handsfree-kits for mobile telephones and is market leader and system supplier for the automotive industry. CULLMANN delivers complete solutions and supplies the industry worldwide with high-quality electronic parts, functional and user-friendly cradles for mobile telephones, consoles and cable harnesses. OEM partners are among others Audi, VW, Skoda, Seat, Porsche, Renault, Opel und MAN. CULLMANN also works very closely with Tier 1 partners, such as Delphi, Johnson Controls, Temic und Faurécia. For the after market variocom VC4 is an absolute novelty. CULLMANN proves special competence in recording and processing signals from radio, GSM, GPRS and GPS networks for mobile telephones and telematics as well as in transmitting and processing signals using high-frequency technology. CULLMANN is certificated according ISO 9001 and manufactures universal hands free-kits and navigation systems "Made in Germany" according to the VDA guidelines and the technical requirements of the automotive industry. More information can be found on www.cullmann.de
About ScanSoft, Inc.
ScanSoft, Inc. (Nasdaq: SSFT) is a global leader of speech and imaging solutions that are used to automate a wide range of manual processes -- saving time, increasing worker productivity and improving product usability, safety, and accessibility. For more information regarding ScanSoft® products and technologies, please visit www.ScanSoft.com
Trademark reference: ScanSoft, the ScanSoft logo, SpeechWorks, and VoCon are registered trademarks or trademarks of ScanSoft Inc. or its subsidiaries in the United States and other countries. All other company names or product names referenced herein may be trademarks of their respective owners.
The statements in this press release that relate to future plans, events or performance are forward-looking statements that involve risks and uncertainties, including risks associated with market trends, competitive factors, and other risks identified in ScanSoft's SEC filings. Actual results, events and performance may differ materially. Readers are cautioned not to put undue reliance on these forward-looking statements that speak only as of the date hereof.
Order Dragon Naturally Speaking
Schedule your FREE Medical Transcription Software Demo today.
View the History of Voice Recognition and Speech Recognition Software