Dragon Naturally Speaking Reviews

- 2005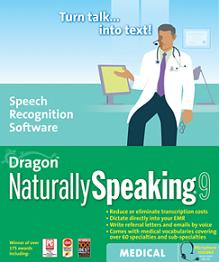 ---
ScanSoft Dragon NaturallySpeaking Becomes De-Facto Standard Speech Recognition Solution for Healthcare Industry
Unrivaled Accuracy, Specialty Vocabularies and Patent-Pending Roaming User Capabilities Combine to Deliver the Productivity Gains Needed to Make Speech a Reality for Care Providers
HIMSS 2005, DALLAS - February 14, 2005 - ScanSoft, Inc. (Nasdaq: SSFT), the global leader of speech and imaging solutions, today announced that ScanSoft® Dragon NaturallySpeaking® Medical and SDK (software developer kit) solutions have become the de facto standard speech recognition solution for healthcare. Already in use at thousands of healthcare facilities worldwide, Dragon NaturallySpeaking converts speech into text at up to 160 words per minute, automating the clinical documentation process and eliminating the high cost and long turnaround time associated with the manual transcription of patient notes.
ScanSoft provides the healthcare industry with an unmatched set of speech recognition solutions, including Dragon NaturallySpeaking Medical, the world's best selling front-end speech recognition solution for electronic medical records systems, and the Dragon NaturallySpeaking Server SDK, which enables the server-based processing and workflow of recorded patient information. The Dragon NaturallySpeaking family of products includes 14 pre-made medical specialty vocabularies, supports the creation of custom vocabularies, and delivers patent-pending roaming user capabilities to enable use within distributed care provider facilities.
A growing number of healthcare vendors and integrators have joined with ScanSoft to speech enable their healthcare solutions, including: 1450, Inc.; 21st Century Eloquence; Allscripts Healthcare Solutions; Cerner CoPath, ChartLogic, Inc; Clinical Content Consultants, LLC; Content Solutions, Inc.; Dolbey; DR Systems, Inc.; Expresiv Technologies; IDX Systems Corporation; Med Mgt; Misys Healthcare Systems.; Mountain Medical Technologies, Inc.; Northbase; Physician Micro Systems, Inc.; ProVation Medical, Inc.; SoftMed Systems; STI Computer Systems, Inc.; SynaMed; Tech 2; Tech S2; Inc.; Vianeta Communications; and Voicebrook. In addition, ScanSoft Dragon NaturallySpeaking has garnered accolades from respected publications worldwide, including C|Net, Computer Reseller News, The New York Times, PC Magazine, PC World, and SmartComputing.
Recently, IDX Systems Corporation, a leading provider of health information systems, announced its selection of ScanSoft Dragon NaturallySpeaking as the front- and back-end speech recognition standard for its IDX Imagecast product line. (Please see IDX Imagecast™ Integrates Speech Recognition Into Diagnostic Workflow With ScanSoft® Dragon NaturallySpeaking®).
"Integrating next-generation speech recognition technology within Imagecast is an important part of our strategy to drive greater accuracy and efficiency in diagnostic reporting and is an extension of our recent acquisition of PointDx, Inc., a structured reporting technology company" said Debra Stenner, Vice President of Business Planning and Business Strategy, IDX Imagecast Operating Unit. "We believe ScanSoft Dragon NaturallySpeaking technology will support our customers' pursuit of operational and clinical excellence."
ScanSoft's focus on enabling healthcare organizations to improve the quality of patient care, and reduce or eliminate manual transcription costs, has resulted in dramatic return on investment for many healthcare organizations. For example, Penn State Milton S. Hershey Medical Center automated transcription processing within its Department of Radiology with Dragon NaturallySpeaking. By providing its radiologists with speech recognition Hershey Medical Center reduced medical report turnaround times by 80%, enhanced the quality of patient care and is saving over $300,000 annually in manual transcription costs. (Please see "Penn State Milton S. Hershey Medical Center Reduces Medical Transcription Time and Improves Patient Care with ScanSoft's Dragon NaturallySpeaking").
"The healthcare sector is adopting speech recognition at a record pace, due to the dramatic reduction in costs and the improvement in the quality of care that speech can deliver," said John Shagoury, President, ScanSoft Productivity Applications Division. "We are pleased to work with the world-class technology integrators and healthcare organizations both large and small that have selected Dragon NaturallySpeaking as their standard speech solution."
ScanSoft Dragon NaturallySpeaking Medical
ScanSoft's Dragon NaturallySpeaking Medical helps healthcare professionals to eliminate the high cost and long turnaround time associated with manual transcription of patient notes by enabling clinical dictation to be instantly and automatically transcribed on a PC. With its unrivaled speed and accuracy, Dragon NaturallySpeaking technology can save healthcare organizations thousands of dollars per doctor each year in reduced or eliminated manual transcription costs. Tens of thousands of physicians worldwide use ScanSoft's Dragon technology to achieve substantial time and money savings, enabling them to focus on patient care.
ScanSoft Dragon NaturallySpeaking Client and Server SDK
The ScanSoft Dragon NaturallySpeaking SDK is used by developers and integrators to rapidly add both front-end and back-end speech recognition capabilities including speech-to-text and voice command capabilities directly into in-house and commercial applications. The Dragon NaturallySpeaking SDK provides everything needed to add cutting-edge speech recognition technology to any workflow application. This toolkit enables everything from free text dictation to command and control functionality, and can be deployed as part of a server or client based solution.
About ScanSoft, Inc.
ScanSoft, Inc. (Nasdaq: SSFT) is the global leader of speech and imaging solutions that are used to automate a wide range of manual processes - saving time, increasing worker productivity and improving customer service. For more information regarding ScanSoft® products and technologies, please visit www.ScanSoft.com.
Trademark reference: ScanSoft, the ScanSoft logo, Dragon, and NaturallySpeaking are registered trademarks or trademarks of ScanSoft, Inc. or its subsidiaries in the United States and/or other countries. All other company or product names mentioned may be the trademarks of their respective owners.
The statements in this press release that relate to future plans, events or performance are forward-looking statements that involve risks and uncertainties, including risks associated with market trends, competitive factors, and other risks identified in ScanSoft's SEC filings. Actual results, events and performance may differ materially. Readers are cautioned not to put undue reliance on these forward-looking statements that speak only as of the date hereof.
Order Dragon Naturally Speaking
Schedule your FREE Medical Transcription Software Demo today.
View the History of Voice Recognition and Speech Recognition Software