Dragon Naturally Speaking Reviews

- 2005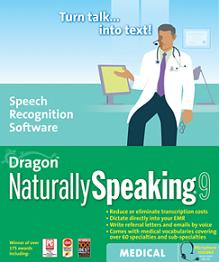 ---
ScanSoft Launches OpenSpeech Dialog to Deliver Natural, Intelligent Speech Applications
Advanced Dialog Manager Enhances Interoperability and Enables Flexible, Conversational Speech Applications; Repeatable Modules Reduce Time to Market and Cost of Deployment
Peabody, Mass. - February 17, 2005- ScanSoft, Inc., a global leader of speech and imaging solutions, (Nasdaq: SSFT), today announced the availability of OpenSpeech® Dialog, its premier dialog manager that enables more efficient, rapid development of intelligent speech applications. Designed to be integrated into partner tools and platforms, OpenSpeech Dialog enables businesses to reduce costs, risk and time-to-market while enabling more natural and powerful speech applications that fit seamlessly into existing operations and skill sets.
OpenSpeech Dialog provides support for next-generation dialogs and has a host of features that enable intelligent, conversational applications to be developed economically - an industry first. By leveraging OpenSpeech Dialog, applications can allow callers to provide more open-ended and natural input, generate responses dynamically in response to information received from the caller, and make confirmations and corrections more naturally and efficiently. The result is a more natural, pleasing, and efficient conversation. OpenSpeech Dialog's intelligent technology allows caller input to be confirmed and - if necessary - corrected more effectively. For example, after a caller says a city name, the system can dynamically build the next prompt to respond with, "Okay, when would you like to travel to Boston?" If the caller responds saying "tomorrow," the system automatically confirms that "Boston" is the correct city. If the caller instead replies with "Not Boston. Austin," this information will be corrected and the application will continue.
OpenSpeech Dialog has been adopted by platform providers and application development tools vendors and is ScanSoft's reference implementation of the recently announced xHMI™initiative - an open, XML-based dialog configuration language that enables efficient development of more natural, conversational applications. By describing an application in a common, open format, xHMI decouples applications from the tool environments used to build them, enabling customers to independently select their choice of leading tools and runtime environments to develop, configure, extend, run and manage these applications. As a reference implementation of xHMI, OpenSpeech Dialog:

Reflects a modern MVC 2 Web application architecture which allows for clean separation of application logic, data and rendering - minimizing development and maintenance cost and maximizing reusability.

Centralizes dialog management and automates advanced dialog features which makes for easy reuse within and across applications, thereby speeding design and reducing costs.

Supports an open and flexible development model which enables developers to work at an appropriate level of abstraction, but allows modification and extension at all levels.
"We are pleased that Envox 6 was the first platform to be integrated with OpenSpeech Dialog and that it was selected by Logica CMG for their first xHMI-based deployment," said Mark D. Flanagan, president of Envox Worldwide. "Logica's decision reinforces our view that by coupling Envox 6's rapid development capabilities with xHMI and VoiceXML support and the power of OpenSpeech Dialog, our customers will be able to create, deploy and maintain state-of-the-art speech solutions with unmatched ease."
OpenSpeech Dialog provides developers with access to all xHMI-based applications and application components without the need to re-train on multiple sets of tools, promoting a high degree of interoperability. With OpenSpeech Dialog, application developers can develop and deploy both state of the art and next-generation speech applications within the OpenSpeech Dialog application framework.
"ScanSoft technology is very important for the development of our natural dialog speech applications. Working with OpenSpeech Dialog over the last few months has proved to us that xHMI really provides powerful components to develop speech applications that enhance customer satisfaction and ease of use," said Marcel Smoorenburg, manager of LogicaCMG Voice Portal Solutions. "In addition ScanSoft text-to-speech is an important and distinct advantage to our uOne™ Unified Messaging solution platform. We are pleased to continue to work with ScanSoft, as their expertise and collaborative nature make them an important partner in our strategy."
"As we move toward a future where speech will become the expected interface for automated customer interactions, applications need to be comfortable and easy to use," said Peter Mahoney, vice president of worldwide marketing for SpeechWorks, a division of ScanSoft. "OpenSpeech Dialog applies our decades of collective experience to provide application developers with the tools needed to deliver the most natural, conversational speech applications available, and to enable their customers to enjoy their customer service experiences."
About the SpeechWorks Division of ScanSoft
ScanSoft delivers field-proven speech solutions. Its unmatched portfolio and expertise help thousands of companies around the world to improve the way we communicate. Through a global partner network, the company delivers solutions that use the human voice to interact with information systems and devices. Today, thousands of companies and millions of users around the world depend on SpeechWorks® solutions from ScanSoft to deliver vital business information and simplify every day life
About ScanSoft, Inc.
ScanSoft, Inc. (Nasdaq: SSFT) is a global leader of speech and imaging solutions that are used to automate a wide range of manual processes -- saving time, increasing worker productivity and improving customer service. For more information regarding ScanSoft® products and technologies, please visit www.ScanSoft.com.
Trademark reference: ScanSoft, the ScanSoft logo, SpeechWorks, OpenSpeech, and xHMI are registered trademarks or trademarks of ScanSoft, Inc. or its subsidiaries in the United States and/or other countries. All other company names or product names referenced herein may be the trademarks of their respective owners.
The statements in this press release that relate to future plans, events or performance are forward-looking statements that involve risks and uncertainties, including risks associated with market trends, competitive factors, and other risks identified in ScanSoft's SEC filings. Actual results, events and performance may differ materially. Readers are cautioned not to put undue reliance on these forward-looking statements that speak only as of the date hereof.
Order Dragon Naturally Speaking
Schedule your FREE Medical Transcription Software Demo today.
View the History of Voice Recognition and Speech Recognition Software