Dragon Naturally Speaking Reviews

- 2005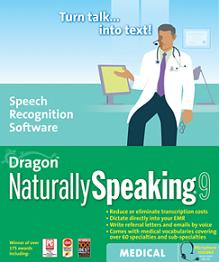 ---
ScanSoft Launches SpeechPAK Healthcare Suite 2.0
Latest Release in SpeechPAK Family Enables Rapid Deployment of Premier Healthcare Speech Applications
Peabody, Mass. - February 17, 2005 - ScanSoft, Inc., a global leader of speech and imaging solutions, (Nasdaq: SSFT), today announced the availability of its SpeechPAK™ Healthcare Suite 2.0, the latest release of its vertically-focused packaged application kits to help healthcare customers such as healthcare plan providers and pharmacies ease the development of speech applications, while increasing caller satisfaction and return on investment.
Today's enterprise customers demand speech applications that can be deployed more quickly, leveraging best practices in user interface design, call flow implementation and speech science learned through extensive caller research, and proven through the successful implementation and deployment of many of the best healthcare applications in the industry. SpeechPAK Healthcare Suite packages ScanSoft SpeechWorks Solutions' best practices expertise - including user interface designs, prompts and grammars tuned and optimized for common healthcare applications. The result is a customizable, extensible, modular application that reduces the deployment time for healthcare applications by up to 40%.
Healthcare contact center calls are particularly expensive, costing more than $15 per call on average. Many of these calls involve common, repetitive tasks that can be automated through speech technology solutions. SpeechPAK Healthcare Suite is a faster and easier way to automate these tasks while delivering the same exceptional caller satisfaction for which SpeechWorks Solutions is known. SpeechPAK-based applications deliver significant cost savings versus live operators, and accelerate return on investment when compared to completely customized applications, without sacrificing the ability to customize and extend the application.
The SpeechPAK Healthcare Suite addresses a broad range of applications that can be easily customized for different calling populations served by health plan managers, including nurses, doctors, pharmacists, plan participants and their authorized family members. Application modules include Provider Identification, Member Identification, Claim Status, Order ID Card, Check Eligibility and Prescription Refill.
SpeechPAK kits are designed using pre-packaged application components that are essential to delivering natural, effective speech applications for specific vertical industries. They leverage SpeechWorks Solutions' rich history and leadership in developing best-of-breed applications.
"Organizations such as health insurance providers, prescription benefits management specialists, drug stores and pharmacies are eager for repeatable, packaged applications that ease their deployment of speech applications," said Peter Mahoney, vice president of worldwide marketing for SpeechWorks, a division of ScanSoft. "Our extensive experience in delivering speech applications, coupled with our deep healthcare expertise, enable us to deliver a suite of solutions that make the deployment of field-proven, customizable healthcare applications easier than ever before."
SpeechPAK Healthcare Suite is completely standards-based, and is designed with partners in mind - it is easily integrated into a variety of partner tools and runtime environments. SpeechPAK applications can be configured, customized and maintained using any standard development tool. Development costs and schedules can be further reduced by using a dedicated speech development tool that supports xHMI™. SpeechPAK kits enhance profitability for partners by providing a new revenue stream and enabling more rapid deployment of complete applications for their customers.
SpeechPAK kits are built leveraging the same proven methodology that SpeechWorks Professional Services organization uses to deploy successful speech applications across the world. The SpeechWorks® Engagement Methodology (SEM) enables the delivery of premium quality custom solutions on time and within budget, and SpeechPAK kits deliver significant cost savings in all key areas of SEM, spanning:
Discovery: ScanSoft® SpeechPAK™ kits are based on common business needs, and can help to guide the process of uncovering the specific needs of an application

Design: While SpeechPAK kits can be extended or customized, pre-designed user interface and call flow options and suggestions are built-in to the application

Realization: Implementation and integration is simplified considerably through pre-packaged components and design best practices and included reference applications that provide a working model for developers to build to

Optimization: SpeechPAK kits come with a pre-tuned user interface, based on ScanSoft's extensive expertise and experience in fine tuning speech applications

Customers can extend the value of ScanSoft SpeechPAK kits to suit their individual needs leveraging SpeechWorks Solutions Professional Services organization, or by working directly with a member of ScanSoft's network of partners.
SpeechPAK Healthcare Suite enables application developers to:

Leverage Industry Best Practices: The SpeechPAK Healthcare Suite was designed using best practices and knowledge gained from SpeechWorks Solutions' vast experience developing dozens of healthcare applications, resulting in an effective, easy to use application with faster time to market.

Provide an Efficient, Consistent Interface: SpeechPAK Healthcare Suite takes advantage of a clear, easy-to-use interface design that has been road tested in dozens of speech deployments and provides a pleasant, conversational experience for callers. The user interface is optimized for each calling population - providers and members - to reflect each group's unique requirements.

Configure and Customize Quickly and Easily: Developers can easily replace or modify prompts, grammars, call flow and other user interface options by simply setting easy to manage configuration parameters. SpeechPAK Healthcare Suite can be extended to create as complete and customized application as needed to achieve desired results.

Choose the Development Tool to Best Suit Their Needs: Because SpeechPAK products are based on xHMI, developers can use any development tool and runtime that supports xHMI to configure, customize, and deploy SpeechPAK-based applications. Alternatively, developers can use standard J2EE development tools like JBuilder or Eclipse.
About the SpeechWorks Division of ScanSoft
ScanSoft delivers field-proven speech solutions. Its unmatched portfolio and expertise help thousands of companies around the world to improve the way we communicate. Through a global partner network, the company delivers solutions that use the human voice to interact with information systems and devices. Today, thousands of companies and millions of users around the world depend on SpeechWorks® solutions from ScanSoft to deliver vital business information and simplify every day life.
About ScanSoft, Inc.
ScanSoft, Inc. (Nasdaq: SSFT) is a global leader of speech and imaging solutions that are used to automate a wide range of manual processes -- saving time, increasing worker productivity and improving customer service. For more information regarding ScanSoft® products and technologies, please visit www.ScanSoft.com.
Trademark reference: ScanSoft, the ScanSoft logo, SpeechWorks, SpeechPAK, and xHMI are registered trademarks or trademarks of ScanSoft, Inc. or its subsidiaries in the United States and/or other countries. All other company names or product names referenced herein may be the trademarks of their respective owners.
The statements in this press release that relate to future plans, events or performance are forward-looking statements that involve risks and uncertainties, including risks associated with market trends, competitive factors, and other risks identified in ScanSoft's SEC filings. Actual results, events and performance may differ materially. Readers are cautioned not to put undue reliance on these forward-looking statements that speak only as of the date hereof.
Order Dragon Naturally Speaking
Schedule your FREE Medical Transcription Software Demo today.
View the History of Voice Recognition and Speech Recognition Software