Dragon Naturally Speaking Reviews

- 2005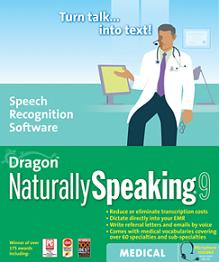 ---
ScanSoft Solutions Empower Next-Generation Contact Center Solutions for Voice-over-IP (VoIP) Environments
ScanSoft and VoIP Platform Partners Deliver on Vision of the Virtual Call Center; Offer Unmatched Flexibility, Quality and Accuracy in Speech Applications
Peabody, Mass., March 1, 2005 - ScanSoft, Inc. (Nasdaq: SSFT), a global leader of speech and imaging solutions, has delivered a portfolio of solutions, services and technologies optimized for Voice-over-Internet Protocol (VoIP) that enable next-generation speech-based applications. These solutions are available immediately through ScanSoft and its network of leading channel partners, including Aspect, Avaya, Cisco, Edify, Genesys, Nortel, VoiceGenie and others.
VoIP technologies give rise to a new generation of solutions and opportunities for high-quality, cost-effective conversational speech applications. These solutions take advantage of existing IP infrastructure, which allows businesses to more quickly and easily deploy applications and services. ScanSoft's conversational speech solutions, designed for contact centers and enterprise services, capitalize on the convergence of voice and data to efficiently provide a host of self-service options for customers without sacrificing quality or personalized service.
"ScanSoft continues to set the standard for next-generation speech applications and solutions," said Mike Phillips, chief technology officer at ScanSoft. "Through our ongoing R&D efforts and experience in speech deployments in VoIP environments, we have invested in ensuring our speech recognition engines and applications deliver the industry's highest levels of quality and accuracy for VoIP. With unrivaled expertise, a broad portfolio of solutions and committed resources of the world's largest networking companies, ScanSoft is driving the acceptance and proliferation of conversational speech applications in a myriad of VoIP environments."
VoIP made great strides among US-based businesses in 2004, according to In-Stat/MDR, as the percentage of companies using the network technology grew from 3 percent in 2003 to 12 percent in 2004. In-Stat/MDR found higher rates of penetration within the larger business segments and forecasts that VoIP penetration will be at 43% in the large business segment by the end of 2005. There are now over 400 Service Providers and 450 VoIP Carrier Network and Equipment Suppliers in the US and Canada alone.
As VoIP installations become more prolific among businesses, ScanSoft's speech solutions are optimized to ensure the highest levels of quality, accuracy and interoperability. These solutions, designed to be easily deployed within a VoIP environment, comprise a host of technologies, services and partner resources that enable the rapid development of natural, intelligent and conversational speech applications:
Standards-based Speech Technologies - ScanSoft's market-leading foundation speech technologies, including OpenSpeech® Recognizer, RealSpeak™ text-to-speech and SpeechSecure™ speaker verification, are optimized to deliver exceptional accuracy and reliability in VoIP implementations, across a wide range of codecs, including G711, G723 and G729. In particular, ScanSoft's OpenSpeech Recognizer 3.0, the world's most widely used speech recognition engine, is tuned for the most challenging environments and the fastest growing speech applications in today's market, such as auto attendant, automated directory assistance and natural language customer self-service.

Proven, Partner-Friendly Solutions - ScanSoft® solutions are designed to be open and interoperable for all major VoIP platforms. The proliferation of VoIP deployments is being driven by ScanSoft channel partners, the stalwarts of the telecommunications and networking industries including Aspect, Avaya, Cisco, Edify, Genesys, Nortel, VoiceGenie and a host of others. Together, ScanSoft and it vast channel partner network offer years of experience in deploying speech applications in virtually every IT environment and offer the expertise to deliver the industry's foremost conversational speech applications for VoIP environments.

Standards-based Dialog Technologies - Partners and customers benefit from ScanSoft's unrivaled suite of dialog technologies - intelligent software modules that can manage natural language conversations and speed the development of state-of-the-art applications in a VoIP environment. ScanSoft's OpenSpeech Dialog solution is ScanSoft's reference implementation of the revolutionary new xHMI™ language, an open, XML-based dialog configuration language that enables efficient development of more powerful conversational applications.

Multimodal Support - Through X|mode®, ScanSoft's VoIP-based multimodal applications platform, customers and partners can extend speech applications to the mobile environment and enable sophisticated user interactions that combine speech with visual capabilities on many of today's mobile devices, over mobile IP networks such as GPRS, 1xRTT, and 1xEVDO. X|mode can be combined with ScanSoft's OpenSpeech Dialog solution and VoiceXML platforms available from ScanSoft partners to enable sophisticated, natural applications such as multimodal directory assistance, customer care and location-based services.

Award-Winning Applications - ScanSoft offers an array of application choices that accelerate the delivery of speech-based VoIP solutions and leverage best practices in user interface design, call flow implementation and speech science. Specific, pre-built components from ScanSoft, including SpeechPAK™ application development kits, can significantly shorten implementation cycles and accelerate that rate at which businesses can generate returns from their VoIP and speech investments.
Today, thousands of companies around the world trust ScanSoft to develop and deliver on their speech strategies. With a leading position in core speech technologies, applications and services, ScanSoft solutions successfully automate more than five billion telephone conversations annually. The company's ability to develop and deploy applications on all major speech platforms and devices in multiple languages has made it the preferred speech provider of large enterprises around the world.
About the SpeechWorks Division of ScanSoft
ScanSoft delivers field-proven speech solutions. Its unmatched portfolio and expertise help thousands of companies around the world to improve the way we communicate. Through a global partner network, the company delivers solutions that use the human voice to interact with information systems and devices. Today, thousands of companies and millions of users around the world depend on SpeechWorks® solutions from ScanSoft to deliver vital business information and simplify every day life.
About ScanSoft, Inc.
ScanSoft, Inc. (Nasdaq: SSFT) is a global leader of speech and imaging solutions that are used to automate a wide range of manual processes -- saving time, increasing worker productivity and improving customer service. For more information regarding ScanSoft® products and technologies, please visit www.ScanSoft.com.
Trademark reference: ScanSoft, the ScanSoft logo, SpeechWorks, OpenSpeech, RealSpeak, SpeechSecure, X|mode, SpeechPAK, and xHMI are registered trademarks or trademarks of ScanSoft, Inc. or its subsidiaries in the United States and/or other countries. All other company names or product names referenced herein may be the trademarks of their respective owners.
The statements in this press release that relate to future plans, events or performance are forward-looking statements that involve risks and uncertainties, including risks associated with market trends, competitive factors, and other risks identified in ScanSoft's SEC filings. Actual results, events and performance may differ materially. Readers are cautioned not to put undue reliance on these forward-looking statements that speak only as of the date hereof.
Order Dragon Naturally Speaking
Schedule your FREE Medical Transcription Software Demo today.
View the History of Voice Recognition and Speech Recognition Software