Dragon Naturally Speaking Reviews

- 2005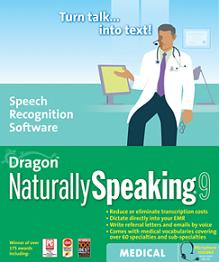 ---
ScanSoft to Host 2005 EMEA Partner Forum on Speech
Forum to Empower ScanSoft Partners in Fast-Growing Speech Technology Sector
Ghent, BELGIUM, March 17, 2005 – ScanSoft, Inc., the global leader of speech and imaging solutions, will demonstrate its strength in the speech market when it hosts its second annual EMEA Partner Forum in Malta April 20 – 22, 2005. Following the success of last year's event, ScanSoft partners are invited back to the premier gathering of speech expertise and industry know-how in EMEA. The event is free for the ScanSoft partner network, and Intel and Eicon are primary sponsors.
"Our partners continue to be the cornerstone for our success in Europe, and cater to the cultural diversity and unique business needs in each country," said Michael Thompson, vice president of International Marketing for ScanSoft International. "Last year we had ScanSoft partners attend from the UK, Germany, Austria, Switzerland, France, Benelux, Italy, Iberia, Nordics, Israel, India, South Africa, and more."
ScanSoft continues to deliver on its strategy for a future where natural, human conversations will be the predominant way that people retrieve information and interact with automated systems. Datamonitor, a leading analyst firm, predicts that voice technology will soar in 2005 to quickly become one of the most important business sectors in customer relationship management.
EMEA Partner Forum attendees will have full access to new sales tools and programs and will learn best practices in professional services through specific customer case studies. In addition, they will gain greater insight into ScanSoft's product roadmap and technical differentiators. For additional information, please contact ScanSoft at partnerforum@nuance.com.
About ScanSoft's SpeechWorks Division
ScanSoft delivers field-proven speech solutions. Its unmatched portfolio and expertise help thousands of companies around the world to improve the way we communicate. Through a global partner network, the company delivers solutions that use the human voice to interact with information systems and devices. Today, thousands of companies and millions of users around the world depend on SpeechWorks® solutions from ScanSoft to deliver vital business information and simplify every day life.
About ScanSoft, Inc. ScanSoft, Inc. (Nasdaq: SSFT) is the global leader of speech and imaging solutions that are used to automate a wide range of manual processes – saving time, increasing worker productivity and improving customer service. For more information regarding ScanSoft® products and technologies, please visit www.scansoft.com
ScanSoft, the ScanSoft logo, and SpeechWorks are trademarks or registered trademarks of ScanSoft, Inc. or its subsidiaries in the United States and other countries. All other company names or product names may be the trademarks of their respective owners.
The statements in this press release that relate to future plans, events or performance are forward-looking statements that involve risks and uncertainties, including risks associated with market trends, competitive factors, and other risks identified in ScanSoft's SEC filings. Actual results, events and performance may differ materially. Readers are cautioned not to put undue reliance on these forward-looking statements that speak only as of the date hereof.
Order Dragon Naturally Speaking
Schedule your FREE Medical Transcription Software Demo today.
View the History of Voice Recognition and Speech Recognition Software