Dragon Naturally Speaking Reviews

- 2005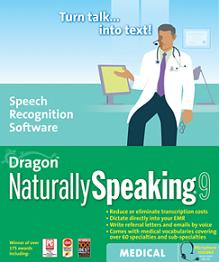 ---
ScanSoft OpenSpeech Dialog Wins Prestigious Industry Award
Leading Edge Advanced Dialog Manager Enhances Interoperability, Enables Flexible, Conversational Speech Applications
Peabody, MASS. March 22, 2005 – ScanSoft, Inc. (Nasdaq: SSFT), the global leader of speech and imaging solutions, today announced that OpenSpeech® Dialog, its revolutionary dialog manager that enables more efficient, rapid development of intelligent speech applications, has won an AVIOS-SpeechTEK 2005 Award in the "Best Tools" category. Designed to be integrated into partner tools and platforms, OpenSpeech Dialog is ScanSoft's reference implementation of xHMI™, an open dialog configuration language, and enables businesses to reduce costs, risk and time-to-market while enabling more natural and powerful speech applications that fit seamlessly into existing operations and skill sets.
OpenSpeech Dialog provides support for next-generation dialogs and has a host of features that enable intelligent, conversational applications to be developed economically – an industry first. By leveraging OpenSpeech Dialog, applications can allow callers to provide more open-ended and natural input, generate responses dynamically based on information received from the caller, and make confirmations and corrections more naturally and efficiently. The result is a more natural, pleasing, and efficient conversation.
"As we move toward a future where speech will become the expected interface for automated customer interactions, applications need to be comfortable and easy to use," said Peter Mahoney, vice president of worldwide marketing for SpeechWorks, a division of ScanSoft. "This award validates our belief that our technologies and solutions such as OpenSpeech Dialog will enable organizations to deliver the most conversational, natural speech applications to enable customers to enjoy their service interactions."
Award winners were selected by a panel of expert judges attending the recent AVIOS-SpeechTEK conference. Judges looked not only for cutting-edge technology, but also for overall business value for each of the technologies. Recently named by Gartner as the global market share leader, and awarded Frost & Sullivan's 2004 Market Share Leadership Award, ScanSoft delivers speech applications for the real world – field-proven solutions that use the human voice to interact with information systems and devices. ScanSoft continues to gain market share through a commitment to open solutions and a partner network that spans the globe, maintaining strategic relationships with hundreds of leading technology companies, consulting organizations and system integrators.
For more information on ScanSoft and xHMI, please visit www.nuance.com/xhmi.
About ScanSoft's SpeechWorks Division
ScanSoft delivers field-proven speech solutions. Its unmatched portfolio and expertise help thousands of companies around the world to improve the way we communicate. Through a global partner network, the company delivers solutions that use the human voice to interact with information systems and devices. Today, thousands of companies and millions of users around the world depend on SpeechWorks® solutions from ScanSoft to deliver vital business information and simplify every day life.
About ScanSoft, Inc.
ScanSoft, Inc. (Nasdaq: SSFT) is the global leader of speech and imaging solutions that are used to automate a wide range of manual processes – saving time, increasing worker productivity and improving customer service. For more information regarding ScanSoft® products and technologies, please visit www.scansoft.com.
ScanSoft, the ScanSoft logo, SpeechWorks, xHMI and OpenSpeech Dialog are trademarks or registered trademarks of ScanSoft, Inc. or its subsidiaries in the United States and other countries. All other company names or product names may be the trademarks of their respective owners.
The statements in this press release that relate to future plans, events or performance are forward-looking statements that involve risks and uncertainties, including risks associated with market trends, competitive factors, and other risks identified in ScanSoft's SEC filings. Actual results, events and performance may differ materially. Readers are cautioned not to put undue reliance on these forward-looking statements that speak only as of the date hereof.
Order Dragon Naturally Speaking
Schedule your FREE Medical Transcription Software Demo today.
View the History of Voice Recognition and Speech Recognition Software