Dragon Naturally Speaking Reviews

- 2005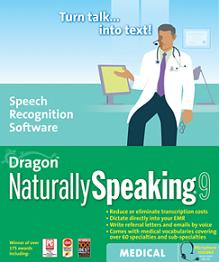 ---
VoiceObjects to Integrate ScanSoft OpenSpeech Dialog Modules and Extend Partnership Agreement
Peabody, MASS and Ghent, BELGIUM – April 20, 2005 -- ScanSoft, a global leader of speech and imaging solutions and VoiceObjects, a global leader of Voice Application Management Systems, today announced a formal strategic partnership. VoiceObjects will integrate ScanSoft's successful OpenSpeech® DialogModules (OSDMs) into the latest release of VoiceObjects X5. The companies also agreed to expand joint sales and marketing activities.
ScanSoft® OSDMs are intelligent dialog technology objects that accelerate time to market by packaging application functionality for VoiceXML speech applications. By delivering all the prompts, grammars, call flow, and other parameters required to address frequent speech application tasks, OSDMs allow businesses to accelerate time to market, streamline application development, and deliver a consistent user interface for speech-enabled VoiceXML content. As part of this agreement, VoiceObjects will fully integrate current and future versions of OSDMs into VoiceObjects X5.
"The majority of VoiceObjects customers today use ScanSoft® OpenSpeech® Recognizer 3.0 and RealSpeak™ 4.0," said Peter Hauser, general manager and senior vice president, ScanSoft International. "With the integration of OSDMs into VoiceObjects X5, we are excited to further strengthen our technology collaboration at the application and professional services level."
With VoiceObjects X5, companies have the capabilities to create, test, deploy and analyze voice application services through one single tightly integrated environment, while unique voice application server technology offers full multi-service, multi-tenant capabilities and cluster management. Enterprise organizations are empowered to efficiently manage the complexities involved in operating voice applications through the whole life cycle.
"The agreement with ScanSoft, market share leader for voice recognition technology and a business expert for key industries, is the logical next step for VoiceObjects software technology. The combination of carrier grade server technologies for VAMS with ScanSoft's technology and business market leadership is setting new standards and raising the bar. VoiceObjects X5, in combination with the OSDM integration, provides customers with openness and flexibility in this fast moving market," said Christian Dugast, Head of Business Development at VoiceObjects.
VoiceObjects is a sponsor at ScanSoft's EMEA Partner Forum in Malta 20-22 April. For details on the event visit www.scansoft.com/news/events/partnerforum. ScanSoft and VoiceObjects are both founding members of Voice Community in Germany (www.voicecommunity.de).
About ScanSoft's SpeechWorks Division
ScanSoft delivers field-proven speech solutions. Its unmatched portfolio and expertise help thousands of companies around the world to improve the way we communicate. Through a global partner network, the company delivers solutions that use the human voice to interact with information systems and devices. Today, thousands of companies and millions of users around the world depend on SpeechWorks® solutions from ScanSoft to deliver vital business information and simplify every day life.
About ScanSoft, Inc.
ScanSoft, Inc. (Nasdaq: SSFT) is the global leader of speech and imaging solutions that are used to automate a wide range of manual processes – saving time, increasing worker productivity and improving customer service. For more information regarding ScanSoft® products and technologies, please visit www.scansoft.com.
VoiceObjects – all business is vocal
VoiceObjects is the worldwide leader in Voice Application Management Systems (VAMS). The VoiceObjects X5 product portfolio enables companies to easily create, test, deploy and analyze voice applications with the industry's best IDE on a carrier-grade, server-based platform. The company has strategic partners worldwide, including Comverse, Danet, Genesys, IBM, NextiraOne, SAP, ScanSoft, Softlab, T-Com, T-Systems, and VoiceGenie. VoiceObjects was founded in 2001 and is privately held and venture-backed. The company is headquartered in Cologne, Germany and has offices in the United States and in the United Kingdom. For more information, please visit www.voiceobjects.com.
ScanSoft, the ScanSoft logo, SpeechWorks, OpenSpeech, and RealSpeak are trademarks or registered trademarks of ScanSoft, Inc. or its subsidiaries in the United States and other countries. All other company names or product names may be the trademarks of their respective owners.
The statements in this press release that relate to future plans, events or performance are forward-looking statements that involve risks and uncertainties, including risks associated with market trends, competitive factors, and other risks identified in ScanSoft's SEC filings. Actual results, events and performance may differ materially. Readers are cautioned not to put undue reliance on these forward-looking statements that speak only as of the date hereof.
Order Dragon Naturally Speaking
Schedule your FREE Medical Transcription Software Demo today.
View the History of Voice Recognition and Speech Recognition Software