Dragon Naturally Speaking Reviews

- 2005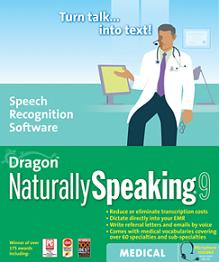 ---
ScanSoft Acquires MedRemote, Expands into Complete Transcription Processing Solutions for Healthcare
New Dragon™ MT Workflow System Leverages Speech Recognition and Web Standards to Reduce the $15 Billion Spent Each Year on Medical Transcription Processing
PEABODY, Mass., May 16, 2005 - ScanSoft, Inc. (Nasdaq: SSFT), a global leader of speech and imaging solutions, today announced the completion of its acquisition of MedRemote, Inc., an innovator in medical informatics and transcription workflow solutions for approximately 1.54 million shares of its Common Stock, and approximately $6.2 million in cash (net of cash on hand at closing). Through this transaction, ScanSoft introduces the Dragon MT Workflow System, a complete transcription processing solution for deployment within hospitals and medical transcription service organizations (MTSOs), and Dragon MT Remote, a hosted subscription-based solution that is powered by the Dragon MT Workflow System and ideal for any size organization. Both solutions, available immediately, leverage ScanSoft's highly accurate Dragon speech recognition technology to automate the conversion of recorded dictation into electronic transcripts, significantly reducing manual transcription tasks.
MedRemote, a private company based in Chicago, is a recognized leader in providing complete Web-based transcription processing and workflow systems that efficiently leverage speech recognition and integrate with existing healthcare information systems. The MedRemote solution speeds access to patient data while reducing transcription processing costs by up to 70%, and has been proven by customers throughout North America, including Fallon Clinic and Valley Baptist Health System. ScanSoft will integrate the MedRemote organization in Chicago and expand its development, sales and marketing resources targeting the healthcare opportunity worldwide.
"MedRemote brings to ScanSoft an array of products, technologies and partners that expand ScanSoft's leadership in healthcare, a set of customers that have proven the value of the MedRemote solution, and employees that are skilled in developing and delivering speech-enabled healthcare solutions," said Paul Ricci, chairman and CEO at ScanSoft. "Combined with ScanSoft Dragon NaturallySpeaking Medical, we gain an enviable solution set that automates the way healthcare organizations capture and process their transcription data."
MedRemote is an important component in ScanSoft's healthcare product strategy, which is to apply highly accurate speech recognition to intelligent workflow processing solutions in order to reduce the costs associated with manually converting medical dictation into text, estimated at $10 billion in North America and $15 billion worldwide each year. ScanSoft will deliver the solutions through its growing number of channel partners, including healthcare information systems vendors, systems integrators, digital dictation systems vendors and MTSOs. The ScanSoft solutions will be used by physicians, records management and medical transcription teams within hospitals, clinics and physician practice organizations, as well as MTSOs to enhance their current transcription services businesses.
"With speech recognition gaining wide acceptance within healthcare organizations, and with many healthcare professionals moving towards EMR solutions, our combined offerings are a natural fit to help reduce costs, speed turnaround time for patient data and most importantly improve patient care," said Kulmeet Singh, President of MedRemote. "We are impressed by the speech recognition accuracy delivered by Dragon NaturallySpeaking, as well as the strength and depth of ScanSoft's customers and business partners. The combination of MedRemote and ScanSoft is clearly great news for the entire healthcare industry."
The ScanSoft Dragon MT Workflow System is built upon the proven MedRemote platform to automate the capture, conversion, verification and processing of recorded dictation. The platform delivers a profound level of productivity gain for all medical transcription teams, including those within MTSOs and large hospitals, as well as individual physicians and remote transcriptionists. Highlights of the ScanSoft-MedRemote combination include:
Innovative and Flexible Solutions
The ScanSoft Dragon MT Workflow System is developed using secure XML and Web standards, enabling each of its modules to be accessed from any location through standard Web browsers. The platform is tightly integrated with the Dragon MT Speech Server, which automates 80% or more of the dictation-to-transcription process when compared to manual-only approaches. Components can be combined with existing Web-based applications, and completed documentation and transcripts can be seamlessly connected to existing healthcare information systems via standard HL7 interfaces or custom connections.
Strong Partner Relationships
ScanSoft and MedRemote have established mutually beneficial business relationships with leading healthcare technology and service providers. MedRemote's partner network comprises leading providers of healthcare systems and services that recognize the value of integrating cutting edge workflow tools as part of their solutions portfolio. Combined, the organization maintains a partner roster comprising leading technology healthcare providers and organizations.
Proven Customer Solutions
ScanSoft's Dragon NaturallySpeaking Medical is the de-facto speech recognition solution for electronic medical records (EMR) systems, and is the most widely used desktop solution for hospitals throughout the world. When combined with MedRemote, ScanSoft can provide healthcare organizations with complete transcription processing solutions for desktop and server environments, with proven deployments at thousands of practices and facilities.
Industry Expertise
Both ScanSoft and MedRemote are leaders in providing healthcare organizations with solutions that increase productivity and reduce costs. The combined organization has an unrivaled depth of understanding and experience within healthcare services and information technology for transcription cost auditing, workflow automation toolsets, dictation capture, speech recognition and integration with Healthcare Information Systems (HIS), Radiology Information Systems (RIS) and EMR systems.
"Having rolled out MedRemote across our entire facility, we have been able to significantly streamline our transcription workflow with unprecedented ease," said Edward Nazzaro, CIO, Fallon Clinic. "Fallon Clinic has embraced MedRemote's web-based ASP solution as the technology platform for all of our multiple transcription vendors resulting in a 33 percent transcription savings and reduced IT support. Moreover, as we look to implement Epic as our EMR, we hope to use the experience of MedRemote's workflow solutions with the expertise of ScanSoft's speech recognition products to further erode our transcription costs."
In connection with the acquisition of MedRemote and in accordance with NASDAQ Marketplace Rule 4350, ScanSoft granted 446,663 shares of its common stock, in the form of stand alone restricted stock grants, as an inducement material to 14 individuals entering into employment arrangements with ScanSoft. The shares of restricted stock were granted with the approval of the Compensation Committee of ScanSoft's Board of Directors, and vest over a three year period, subject to acceleration upon the achievement of certain performance targets. These shares are in addition to the approximately 1.54 million shares issued in the transaction.
Pricing and Availability
The ScanSoft Dragon MT Workflow System and Dragon MT Remote hosted service are available immediately. For more information on the solution and pricing options please visit http://www.scansoft.com/mtworkflow or call 800-443-7077.
About MedRemote
MedRemote, an innovator in health care informatics, delivers state-of-the-art web-based solutions for dictation, transcription, speech recognition, document management, and data mining. MedRemote's comprehensive dictation-transcription solution comprises modules for dictation, workflow management, transcription, electronic signature, document distribution, reporting and billing, speech recognition and text extraction. MedRemote solutions are installed at integrated delivery networks (IDN), hospitals, and medical groups through an ASP or a licensing model. MedRemote also embeds its industry leading technology in radiology, clinical and hospital information systems.
About ScanSoft, Inc.
ScanSoft, Inc. (Nasdaq: SSFT) is the global leader of speech and imaging solutions that are used to automate a wide range of manual processes - saving time, increasing worker productivity and improving customer service. For more information regarding ScanSoft products and technologies, please visit www.scansoft.com.
Trademark reference: ScanSoft, the ScanSoft logo, Dragon, MT Workflow, MT Remote, MT Speech Server and NaturallySpeaking are registered trademarks or trademarks of ScanSoft, Inc. or its subsidiaries in the United States and/or other countries. All other company or product names mentioned may be the trademarks of their respective owners.
The statements in this press release that relate to future plans, events or performance are forward-looking statements that involve risks and uncertainties, including risks associated with market trends, competitive factors, and other risks identified in ScanSoft's SEC filings. Actual results, events and performance may differ materially. Readers are cautioned not to put undue reliance on these forward-looking statements that speak only as of the date hereof.
SAFE HARBOR FOR FORWARD-LOOKING STATEMENTS
Statements in this document regarding the proposed transaction between ScanSoft and MedRemote, benefits and synergies of the transaction, future opportunities for the combined company, the future demand for, performance of, and opportunities for growth in ScanSoft's speech solutions and productivity applications, the growth of the speech industry and the demand for speech solutions, the continued strength of existing products, services and relationships as well as the introduction of new products, services and relationships, ScanSoft's strategic and operational plan, and future prospects regarding product lines, sales channels and international operations constitute forward-looking statements within the meaning of the Private Securities Litigation Reform Act of 1995. Any statements that are not statements of historical fact (including statements containing the words "believes," "plans," "anticipates," "expects," estimates and similar expressions) should also be considered to be forward-looking statements. There are a number of important factors that could cause actual results or events to differ materially from those indicated by such forward-looking statements, including the ability of ScanSoft to successfully integrate MedRemote's operations and employees; the ability to realize anticipated synergies; fluctuations in demand for ScanSoft's existing and future products; economic conditions in the United States and abroad; ScanSoft's ability to control and successfully manage its expenses, inventory and cash position; the effects of competition, including pricing pressure; possible defects in ScanSoft's products and technologies; ScanSoft's dependence on OEM customers; and the other factors described in ScanSoft's Annual Report on Form 10-K for the year ended September 30, 2004 and its most recent quarterly reports on Form 10-Q filed with the SEC. ScanSoft disclaims any intention or obligation to update any forward-looking statements as a result of developments occurring after the date of this document.
Order Dragon Naturally Speaking
Schedule your FREE Medical Transcription Software Demo today.
View the History of Voice Recognition and Speech Recognition Software