Dragon Naturally Speaking Reviews

- 2005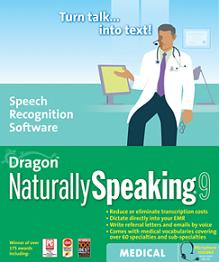 ---
Active Voice and ScanSoft to Deliver New Speech-Enabled Automated Attendant System
Quick, Easy Voice Access to Company Directory Information Can Help Organizations Improve Productivity and Reduce Costs
Seattle and Peabody, Mass—June 7, 2005—Active Voice, LLC, a global provider of unified messaging, computer telephony and voice messaging solutions, and ScanSoft, Inc., a global leader of speech and imaging solutions, today announced an agreement to provide a speech-enabled automated attendant application for organizations worldwide.
Seven 2.0 is the latest version in Active Voice's portfolio of automated voice solutions, and provides a personalized front-end speech-based interface to greet and route callers, as well as manage internal calls from employee to employee or department. Unlike touch-tone driven menus, Seven easily handles complex menu options without forcing callers to listen to a litany of choices, and virtually eliminates dial-by-name and zero-out frustration.
Seven leverages ScanSoft® SpeechAttendant®, a packaged, easy-to-implement automated attendant solution that includes the industry's premier speech recognition and text-to-speech technologies for a natural, easy-to-use solution. Vital to deploying Seven, ScanSoft's advanced natural language capabilities accommodate callers who speak more naturally to the system and helps improve overall system performance. For example, callers can say "I want to speak with John Smith" instead of just "John Smith." The barge-in feature allows experienced callers to save time by speaking over the Seven greetings and prompts. Because of the ease of use and friendly interaction with Seven, organizations can experience increased caller satisfaction, faster adoption and swift acceptance of the system. The Seven system supports US English, UK English, Australian English, Canadian French, European French, German, Dutch, and American Spanish, and can be deployed in multilingual environments.
"Seven truly represents the 'store-front' for an organization because it's often the first customer interaction point," said Mike Ridgeway, director of marketing, Active Voice. "This latest version of Seven provides increased scalability, name capacity, and powerful features that help to improve inbound caller satisfaction and present an overall positive company image."
"Active Voice is well known throughout the industry for providing high-quality, scalable solutions to enterprises, and their partners will provide a valuable means to bring our applications into new markets," said Peter Mahoney, vice president of worldwide marketing, SpeechWorks, a division of ScanSoft. "We look forward to working with Active Voice to bring the power of speech to more enterprises throughout the world."
"One of the most compelling applications of speech technologies today is an automated attendant system that answers and manages all incoming calls," said Blair Pleasant, president and principal analyst of technology research and consulting firm, COMMfusion. "Speech technologies such as Active Voice's Seven solution allow for a 'labor-free' automated attendant that makes it easy for internal and external callers to use. Products like Seven help companies save money, while enabling callers to reach their desired destinations more quickly and easily."
Increase Caller Satisfaction and Improve Productivity
For internal callers, Seven can help employees become more productive by providing them with speech access to the employee directory and frequently dialed external numbers. This eliminates the need to call the receptionist to look up numbers in directories, or having to remember colleagues' extensions, making it an ideal solution for both internal employees and remote workers. Callers on the road are easily transferred without any additional manual input. Seven can also benefit organizations by eliminating the need for costly directory services because it gives every caller easy access to the person they need to reach. Businesses no longer need to spend valuable resources updating and publishing lengthy company directories when using Seven.
"Seven also helps organizations utilize valuable operator time more efficiently," added Ridgeway. "Employees often rely on the operator to answer and route calls, which can disrupt their ability to take care of more important calls, live customers, or other responsibilities. The Seven system helps keep operators focused on more business-critical tasks."
Other Seven version 2.0 features include:

Robust Phonetic Dictionary: The phonetic dictionary contains the different pronunciations of nearly one million proper nouns. It greatly decreases tuning time for accents or varying pronunciations and quickly adjusts for unrecognized or mispronounced names. This proprietary dictionary ensures optimal performance in today's growing multilingual, multi-accented environments, increasing the accuracy of interaction, and making the system virtually maintenance-free.
SpeechContacts?: The SpeechContacts module allows secure speech-enabled access to personal and Microsoft Outlook contacts. Users can add contacts via a web browser, which are then imported into the Seven server.
Call Redirect: With Call Redirect, users can forward their calls to any one of eight selected destination numbers—mobile phones, pagers, home phones—specified in their directory entry, ensuring they can always be reached.
Info Center: Allows callers to have self service access to frequently requested directory information such as directions, announcements, notifications, business hours, etc.
SpeechAuthenticator?: This module uses voice biometric technology from ScanSoft to provide secure access to certain menus, information and directories. Users can create a voiceprint that validates their identity and provides the user with access to controlled areas, such his or her personal directory.
Multi-Level Menu Structure: Using multiple directory menus, a system administrator can create a conversation tree that allows callers to quickly "speech navigate" through Seven. For example, a submenu called "Cell Phones" can be created in which only a list of employees' cell phones is stored.
For more information on Seven, please visit http://www.activevoice.com/products/seven/index.html.
About Active Voice
Active Voice, LLC, a subsidiary of NEC Unified Solutions, Inc., is a global provider of unified messaging, computer telephony, and voice messaging solutions, powering the communications infrastructure of businesses worldwide. The Seattle-based company has offices in the United States, Australia, and the Netherlands. Over 170,000 Active Voice systems have been installed in more than 60 countries. Active Voice's products are sold and supported through a network of independent telecommunications manufacturers, dealers, computer resellers, and strategic partners. For more information, visit our Web site at www.activevoice.com, or contact Active Voice's Sales Support at 1-877-864-8948 or by e-mail at sales@activevoice.com.
About ScanSoft, Inc.
ScanSoft, Inc. (Nasdaq: SSFT) is a global leader of speech and imaging solutions that are used to automate a wide range of manual processes -- saving time, increasing worker productivity and improving product usability, safety, and accessibility. For more information regarding ScanSoft products and technologies, please visit www.ScanSoft.com
Trademark Reference: ScanSoft, the ScanSoft logo, SpeechContacts, OpenSpeech, and SpeechAuthenticator are registered trademarks or trademarks of ScanSoft, Inc. and/or its subsidiaries in the United States and other countries. All other company or product names used herein may be the trademarks of their respective owners.
Order Dragon Naturally Speaking
Schedule your FREE Medical Transcription Software Demo today.
View the History of Voice Recognition and Speech Recognition Software