Dragon Naturally Speaking Reviews

- 2005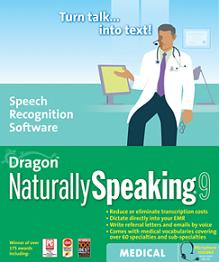 ---
Mount Carmel St. Ann's Hospital Selects ScanSoft Dragon NaturallySpeaking Medical 8
Leading Speech Recognition Solution Helps Large Emergency Department to Lower Costs by $600,000 Annually and Decrease Reliance on Transcription by 97%
PEABODY, Mass., June 24, 2005 – ScanSoft, Inc. (Nasdaq: SSFT), a global leader of speech and imaging solutions, today announced that Mount Carmel St. Ann's Hospital, a large healthcare provider in central Ohio, has implemented ScanSoft® Dragon NaturallySpeaking® Medical 8, the leading speech recognition solution for medical professionals, to automate transcription within its Emergency Department. Since implementing Dragon NaturallySpeaking Medical, the department has reduced reliance on manual transcription services by 97 percent and in doing so has saved $600,000 per year. In addition, doctors, nurses, and other emergency room staff no longer need to wait several hours or days for patient records to be transcribed – this information is available immediately, saving valuable time and speeding critical care to patients.
Using ScanSoft Dragon NaturallySpeaking Medical, healthcare professionals in Mount Carmel St. Ann's Emergency Department can quickly create patient notes, reports, letters, and other documents in real-time, all by voice. In addition, the new Roaming User feature and added mobility in Dragon NaturallySpeaking Medical 8 allows doctors, nurses, and other medical personnel to dictate on-the-go using a variety of input methods – PCs, tablets, digital voice recorders – and transcription is virtually instantaneous. Prior to deploying Dragon NaturallySpeaking, Mount Carmel St. Ann's contracted with transcription organizations to transcribe dictations, which meant not only a longer turnaround time for patient records – typically 24-48 hours – but also a higher incidence of medical record errors. Using Dragon NaturallySpeaking – which boasts 99% accuracy, enhanced medical vocabularies, and the ability to create macros and templates – Mount Carmel St. Ann's has increased efficiency in the Emergency Department, reducing reliance on transcription services by 97 percent and dramatically reducing medical record errors.
"Using ScanSoft Dragon NaturallySpeaking has really improved how we work in the Emergency Department," said Dr. Loren Leidheiser, chairman and director of emergency medicine, Mount Carmel St. Ann's Emergency Department. "Our staff is now able to dictate notes using a variety of input methods – PC, tablet, digital voice recorder – making it even easier to get patient information into our EMR, and increasing productivity and efficiency overall. In addition, we have significantly reduced costs by eliminating the need for manual transcription, and using Dragon NaturallySpeaking has also greatly reduced the number of errors in patient records. All of this translates to improved care for our number one priority – our patients."
ScanSoft Dragon NaturallySpeaking Medical 8 has built-in understanding for more than 300,000 words, and includes 14 pre-made specialty vocabularies, including Emergency Medicine, General Medicine, Pathology, Radiology, Cardiology and Surgery disciplines. Healthcare organizations such as Mount Carmel St. Ann's can also easily add their own words to the solution to create fully customized vocabularies. In addition, Dragon NaturallySpeaking Medical 8 provides seamless speech input capabilities with existing electronic medical records (EMR) systems such as the A4 HEALTHMATICS ED EMR application that Mount Carmel St. Ann's has deployed. Care providers can take advantage of voice-activated shortcuts, allowing a single word or phrase to automatically populate fields within a document. Dragon NaturallySpeaking can save healthcare organizations thousands of dollars per doctor each year in reduced or eliminated manual transcription costs. Tens of thousands of physicians worldwide use ScanSoft Dragon NaturallySpeaking to achieve substantial time and money savings, enabling them to focus on patient care.
"The continued acceptance of speech recognition within healthcare organizations is a testament to the real results that are being delivered today, both in terms of increased productivity and cost savings as well as improved patient care," said John Shagoury, president, ScanSoft Productivity Applications Division. "Whether in an individual department, such as Mount Carmel St. Ann's Emergency, a small practice, or across an entire healthcare organization, ScanSoft Dragon NaturallySpeaking is proven to dramatically reduce costs associated with transcription services and other repetitive tasks, boosting productivity and freeing up healthcare professionals to focus on patient care."
About Mount Carmel St. Ann's Hospital
Mount Carmel St Ann's Hospital is a 230 Bed Community Hospital in Westerville Ohio, a suburb of Columbus. It is part of Mount Carmel Health System and Trinity Health, the third largest Catholic healthcare system in the United States.
About ScanSoft, Inc.
ScanSoft, Inc. (Nasdaq: SSFT) is the global leader of speech and imaging solutions that are used to automate a wide range of manual processes – saving time, increasing worker productivity and improving customer service. For more information regarding ScanSoft® products and technologies, please visit www.scansoft.com
Trademark reference: ScanSoft, the ScanSoft logo, Dragon, and NaturallySpeaking are registered trademarks or trademarks of ScanSoft, Inc. or its subsidiaries in the United States and/or other countries. All other company or product names mentioned may be the trademarks of their respective owners.
The statements in this press release that relate to future plans, events or performance are forward-looking statements that involve risks and uncertainties, including risks associated with market trends, competitive factors, and other risks identified in ScanSoft's SEC filings. Actual results, events and performance may differ materially. Readers are cautioned not to put undue reliance on these forward-looking statements that speak only as of the date hereof.
Order Dragon Naturally Speaking
Schedule your FREE Medical Transcription Software Demo today.
View the History of Voice Recognition and Speech Recognition Software