Dragon Naturally Speaking Reviews

- 2005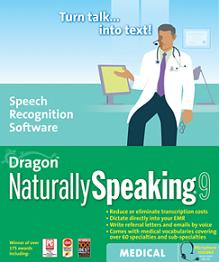 ---
ScanSoft's Speech Powers German Radio Station's New Traffic Information System
ScanSoft Text-to-Speech Deployed as Part of SWR's New Automated Phone-Accessed Traffic Information Service
Burlington, MASS. and Ghent, BELGIUM – June 30, 2005 – ScanSoft, Inc. (NASDAQ: SSFT), a global leader of speech and imaging solutions, today announced that the German radio station SWR (Südwestfunk) has launched a new automated traffic information system using ScanSoft's German RealSpeak® text-to-speech (TTS) technology to read out updated traffic information.
Launched in May, the new service called Traffic Hotline provides motorists with real-time traffic information for motorways and national highways in Germany, Austria and Switzerland. It is accessible in Germany by dialing 01805/797100 or 01805/92990 and costs 0,12 Euro per minute. The traffic information system has been very well-received by callers, and will be expanded to other SWR channels in the near future.
ScanSoft's RealSpeak has been deployed by SpeechConcept GmbH, a specialist in voice portal and speech-controlled telephony applications. SpeechConcept's application design utilizes Clarity's Communication Center that can handle up to 120 calls at any time. SpeechConcept has optimized ScanSoft's text-to-speech engine by applying advanced intonation modeling in SSML (standards-based Speech Synthesis Markup Language) in addition to including a special dictionary for city names and specific traffic information abbreviations. This tuning has resulted in an even more natural sounding computer generated voice.
"By using ScanSoft's automated text-to-speech solution, we are now able to deliver updated traffic information in real-time," said Wolfram Strobl, IT manager at SWR radio. "Previously, traffic updates had to be received, passed on to a speaker, recorded as a voice segment and then uploaded to the system. With the implementation of an automated speech system, costs and processing time have been significantly reduced, and SWR is able to provide drivers with the most up-to-date traffic information in mere seconds. The system even allows us to easily integrate other information such as the weather forecast or football results."
"ScanSoft is pleased to leverage its experience in developing traffic information solutions with its partners SpeechConcept and Clarity, to enable the deployment of SWR's compelling speech-based service," said Peter Hauser, senior vice president and general manager, ScanSoft International. "Speech provides access to information over the phone making it the ideal interface for motorists seeking up to the minute travel information."
SpeechWorks® Solutions from ScanSoft have been deployed as part of similar speech-based traffic information services for a range of customers including Cofiroute in France and CARS-511 Consortium in the United States.
About SpeechConcept GmbH & CoKG
SpeechConcept was formed as part of interLinx GmbH and realizes complex voice-portal solutions and speech controlled telephony applications, as well as speech consulting for users and providers. SpeechConcept is based near Heidelberg in Germany. More information about SpeechConcept can be found on http://www.speechconcept.com.
About Clarity AG
Clarity is a specialist in voice automation, offering a range of targeted solutions for small and medium independent and in-house call centers, hotlines and enterprises. Clarity products improve customer interaction and business processes. Clarity's Call Logger enables public services, governments and finance to monitor and record conversations. Clarity's auto-attendant Contact Manager is a voice-enabled virtual assistant that improves internal and external communication.
For more information see http://www.clarity-ag.net.
About ScanSoft, Inc.
ScanSoft, Inc. (Nasdaq: SSFT) is a global leader of speech and imaging solutions that are used to automate a wide range of manual processes – saving time, increasing worker productivity and improving customer service. For more information regarding ScanSoft® products and technologies, please visit www.scansoft.com.
Trademark reference: ScanSoft, SpeechWorks, and RealSpeak are registered trademarks or trademarks of ScanSoft, Inc. and/or its subsidiaries in the United States and other countries. All other company names or product names may be the trademarks of their respective owners.
The statements in this press release that relate to future plans, events or performance are forward-looking statements that involve risks and uncertainties, including risks associated with market trends, competitive factors, and other risks identified in ScanSoft's SEC filings. Actual results, events and performance may differ materially. Readers are cautioned not to put undue reliance on these forward-looking statements that speak only as of the date hereof.
Order Dragon Naturally Speaking
Schedule your FREE Medical Transcription Software Demo today.
View the History of Voice Recognition and Speech Recognition Software