Dragon Naturally Speaking Reviews

- 2005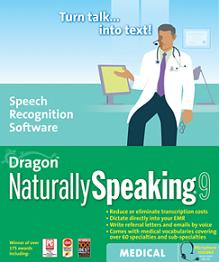 ---
ScanSoft and Nuance Close Merger
BURLINGTON, Mass. and MENLO PARK, Calif., September 15, 2005 – ScanSoft, Inc. (Nasdaq: SSFT), and Nuance Communications, Inc. (Nasdaq: NUAN), today announced that the companies have closed the merger of Nuance with ScanSoft. As consideration, Nuance shareholders will receive 0.77 shares of ScanSoft common stock and $2.20 of cash for each share of Nuance common stock that they own.
The combination of ScanSoft and Nuance brings together the industry's most comprehensive portfolio of speech applications, technologies and expertise that will enable customers to effectively deploy innovative speech-based solutions. The combined organization will have the technical resources and intellectual property required to develop new and innovative speech solutions that deliver enhanced value to customers. With leading technology, a premier partner network and an organization dedicated to speech, the company will be able to compete more effectively in new and expanding markets and provide value for its most important stakeholders – its customers, partners, investors and employees.
"ScanSoft and Nuance have realized great individual successes over the past years, and both have contributed significantly to establishing the speech industry. The combination of our resources, talents and capabilities as a result of this merger puts us in an excellent position to amplify these successes, as well as to drive the industry to new heights. We are fully committed to speech and helping customers and partners realize the true value of this exciting technology," noted Chuck Berger, former president and CEO of Nuance Communications, Inc. and a new member of the Board of Directors of ScanSoft.
In conjunction with the closing of the Nuance transaction, ScanSoft also announced that it has closed its previously announced financing transaction with Warburg Pincus, whereby the global private equity firm has purchased approximately 14.2 million shares of ScanSoft common stock at a per share price of $4.24 per share, for an aggregate purchase price of approximately $60.0 million, and acquired a warrant to purchase approximately 3.18 million shares of ScanSoft common stock, exercisable at a price of $5.00 per share. Proceeds from the Warburg Pincus financing transaction will be used to fund the merger of Nuance with ScanSoft and for other corporate purposes.
About Nuance
In an era where a focus on the customer is essential to business success, Nuance provides leading companies with voice-automation solutions that enable both an outstanding customer experience and corporate cost efficiency. Nuance is a leader in the voice automation market, providing software and solutions to more than 1,000 companies worldwide. Nuance (Nasdaq: NUAN) is headquartered in Menlo Park, Calif., and has offices around the world. For more information, visit www.nuance.com or call 1-888-NUANCE-8.
About ScanSoft, Inc.
ScanSoft, Inc. (Nasdaq: SSFT) is a global leader of speech and imaging solutions that are used to automate a wide range of manual processes – saving time, increasing worker productivity and improving customer service. For more information regarding ScanSoft products and technologies, please visit www.scansoft.com.
Statements in this document regarding the benefits and synergies of the acquisition of Nuance, future opportunities for the combined company, expectations that the acquisition will be accretive to ScanSoft's results, the growth of the speech industry and the demand for speech solutions and any other statements about ScanSoft managements' future expectations, beliefs, goals, plans or prospects constitute forward looking statements within the meaning of the Private Securities Litigation Reform Act of 1995. Any statements that are not statements of historical fact (including statements containing the words "believes," "plans," "anticipates," "expects," estimates and similar expressions) should also be considered to be forward looking statements. There are a number of important factors that could cause actual results or events to differ materially from those indicated by such forward looking statements, including: the ability of ScanSoft to successfully integrate Nuance's operations and employees; the ability to realize anticipated synergies and cost savings; the failure of the acquisition to be materially accretive in a timely manner; the failure to retain customers; and the other factors described in the Joint Proxy Statement/Prospectus of ScanSoft and Nuance, dated August 1, 2005, and ScanSoft's Annual Report on Form 10 K for the year ended September 30, 2004 and its most recent quarterly reports filed with the SEC. ScanSoft disclaims any intention or obligation to update any forward looking statements as a result of developments occurring after the date of this document.
Order Dragon Naturally Speaking
Schedule your FREE Medical Transcription Software Demo today.
View the History of Voice Recognition and Speech Recognition Software