Dragon Naturally Speaking Reviews

- 2005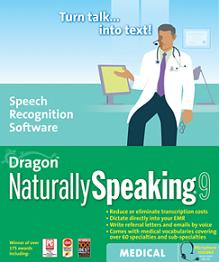 ---
ScanSoft Dragon NaturallySpeaking Speech Recognition Technology Reduces Diagnostic Reporting Times by 50% in a trial at King's College Hospital
Leading Speech Recognition Solution Plays Pivotal Role in Helping Hospital Meet New Targets for Cancer Treatment
BURLINGTON, Mass. and LONDON, United Kingdom, September 26, 2005 - ScanSoft, Inc. (Nasdaq: SSFT), a global leader in speech and imaging solutions, and Hands Free Computing, a provider of speech recognition solutions, today announced that ScanSoft® Dragon NaturallySpeaking®, the world's leading speech recognition solution, has helped reduce diagnostic reporting times by about 50% in a recent cancer treatment trial at King's College Hospital. The trial, conducted by the South East London Cancer Network, was designed to find a solution that would reduce report creation times in order to meet new NHS waiting time targets.
Already in use at thousands of healthcare facilities worldwide, Dragon NaturallySpeaking converts speech into text at up to 160 words per minute, automating the clinical documentation process and eliminating the high cost and long turnaround time associated with the manual transcription of patient notes. During the trial at King's College Hospital, the Histopathology department reduced reporting times from six days to three. Thanks to the dramatic improvement in performance, the South East London Cancer Network secured funding to complete the roll-out in the Histopathology and Radiology department and to extend the project to another five trusts. The South East London Cancer Network plans to purchase in excess of 100 additional licences for Radiology and Histopathology services across South East London.
Under the terms of the NHS Cancer Plan (2000), the Cancer Waiting Times target is to treat people diagnosed with cancer within 62 days of a general practitioner (GP) referral and 31 days for urgent cases. The target requires that the diagnostic phase of the patient journey be as quick as possible, as delays in report turnaround times slow the patients' journey toward treatment. Radiology and Pathology services have therefore seen speech recognition technology as a way of speeding-up report creation process. The pilot at King's College Hospital audited the difference between conventional reporting (dictation to tape or written notes that are then typed) compared to using speech recognition for the same task.
Speech recognition software such as ScanSoft Dragon NaturallySpeaking enables healthcare professionals to create letters, spreadsheets and emails, browse the Web and work with virtually any Windows-based program, using everyday speech. The Professional version also enables the generation of specialty-specific medical dictionaries, to facilitate the comprehension of complex medical terminology. Dragon NaturallySpeaking software turns speech into text at up to 160 words-per-minute – far faster than most people can type- leading to greater levels of productivity.
Simon Howard, ScanSoft's Professional & Healthcare Solutions Manager, EMEA for Dragon NaturallySpeaking, said: "With sensitive patient data, the medical environment – where accuracy is absolutely critical - is the ideal proving ground for speech recognition technology. This project shows that it is being used successfully in such a demanding environment, and is a reflection on how far the technology has progressed, and how accurate it now is."
Lawrence Howard, Managing Director of Hands Free Computing, said: "As well as demonstrating the technology's accuracy, this project provides tangible proof of the real-world productivity increases it can deliver in busy, document intensive environments."
Under the terms of the project, West Sussex-based Hands Free Computing will provide training and support for all the sites.
Many NHS sites across the country also benefit from using Dragon NaturallySpeaking. A full list of these sites, and more information about Dragon NaturallySpeaking, can be found at http://www.scansoft.com/ukhealthcare/
About Hands Free Computing
Hands Free Computing Ltd, the largest provider of Dragon software in the UK, is a leading player in delivering speech recognition solutions into both primary and secondary care. Its range of specialist medical vocabularies ensure that healthcare professionals within many disciplines who use Dragon NaturallySpeaking achieve very high accuracy within minutes of installation. These technical and implementation skills have contributed to Hands Free Computing being awarded the Top Dragon Partner Award for the last 3 years, Top Dragon Integration Partner Award for the last 2 years and the Top Dragon Licensing Partner Award 2004. For more information regarding Hands Free Computing please visit www.hands-free.co.uk
About ScanSoft Inc.
ScanSoft, Inc. (Nasdaq: SSFT) is a leading supplier of imaging, speech and language solutions that are used to automate a wide range of manual processes – saving time, increasing worker productivity and improving customer service. For more information regarding ScanSoft® products and technologies, please visit www.scansoft.com.
Trademark reference: ScanSoft, the ScanSoft logo, Dragon, and NaturallySpeaking are registered trademarks or trademarks of ScanSoft Inc. and its subsidiaries in the United States and/other are registered trademarks or trademarks of ScanSoft Inc. in the United States and other countries. All other company names or product names referenced herein may be trademarks of their respective owners.
The statements in this press release that relate to future plans, events or performance are forward-looking statements that involve risks and uncertainties, including risks associated with market trends, competitive factors, and other risks identified in ScanSoft's SEC filings. Actual results, events and performance may differ materially. Readers are cautioned not to put undue reliance on these forward-looking statements that speak only as of the date hereof.
Order Dragon Naturally Speaking
Schedule your FREE Medical Transcription Software Demo today.
View the History of Voice Recognition and Speech Recognition Software