Dragon Naturally Speaking Reviews

- 2005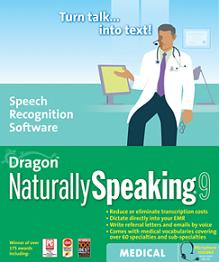 ---
Tegic Taps ScanSoft for Speech and Handwriting Input on Cell Phones and Smartphones
Makes It Easier to Use Advanced Mobile Services, Helps Drive User Adoption, Operator Revenues
SEATTLE, WA and BURLINGTON, MA – September 27, 2005 – Tegic Communications, the leading provider of predictive text input software and a subsidiary of America Online, Inc., today announced that it has signed an agreement with ScanSoft, Inc., a global leader in speech and imaging solutions, to license its speech and handwriting technologies for use on cell phones and mobile devices.
The use of mobile communications services continues to grow worldwide, helped by the ease-of-use Tegic's predictive text input software delivers to users of cell phones and smartphones. Building on the role of T9® Text Input software (http://www.t9.com) as a standard for numeric text input and leveraging ScanSoft's leadership in speech and handwriting solutions, Tegic can provide the mobile industry with an all-in-one, easy-to-use mobile communications solution.
Consumer adoption of SMS text messaging, wireless email and Web browsing from a mobile device has grown dramatically despite limitations imposed by existing user interfaces. Tegic seeks to solve the limiting and awkward nature of text input by integrating a variety of text entry options, including keypad, touch screen, speech recognition and handwriting recognition. The resulting multi-modal user interface will be designed to meet user preferences depending on what is comfortable and appropriate given the message, audience, environment and privacy needs.
This flexible new user interface, the T9® Mobile Suite, is expected to further drive consumer demand for data services, thereby increasing operator revenues. This UI is projected to be available to mobile handset manufacturers in early 2006. "Integrating ScanSoft voice and handwriting technology plays to Tegic's linguistic strengths, which enable prediction of even ambiguous user input. By creating one unified mobile interface, we will improve the ease and accuracy of input, regardless of whether users want to talk or text," said Bill Schwebel, president, Tegic Communications. "The T9 Mobile Suite is designed to give users easier access to the data and communications services available on their cell phones, anytime and anywhere."
"ScanSoft is well positioned to offer a comprehensive suite of speech and handwriting solutions to mobile device users, which enhance the usability of the latest advanced features. The agreement with Tegic is a welcome endorsement for the capabilities of our solutions, given Tegic's enviable reach within the handset market," said Paul Ricci, chairman and CEO, ScanSoft. "With Tegic, the opportunity for the expansion of our solutions is greater than ever before, as the combination of our strengths and global reach rivals any other. Together, we will enhance the proliferation and ease-of-use of advanced mobile services, offering considerably expanded revenue opportunities for operators."
For a white paper on the T9 Mobile Suite, please contact Erin Gifford of Tegic Communications at egifford01@aol.com.
About T9® Text Input Software
T9 Text Input, a leading alphabet-based and Chinese, Japanese and Korean character-based text input software, is the flagship product of Tegic Communications, and is available in more than 49 languages. By incorporating T9 Text Input into mobile communications products, companies are solving the fundamental problem of how to quickly and easily type and send SMS text messages. More than 800 mobile phone models available throughout the world today include T9 Text Input and the technology has been licensed to major consumer electronics and communications equipment manufacturers worldwide. For more information about T9 Text Input software, visit http://www.t9.com or AOL Keyword: T9 Text Input.
About Tegic Communications
Tegic Communications, a leading provider of predictive text input software and a wholly owned subsidiary of America Online, Inc., was founded in 1995 to develop and market communication technologies for the telecommunications and computing industries. The company is headquartered in Seattle, Washington (U.S.A.) and has offices in London, Paris, Tokyo, Hong Kong, Seoul, Beijing and Bangalore. Tegic is on the Web at http://www.tegic.com.
About ScanSoft, Inc.
ScanSoft, Inc. (Nasdaq: SSFT) is a global leader of speech and imaging solutions that are used to automate a wide range of manual processes – saving time, increasing worker productivity and improving customer service. For more information regarding ScanSoft® products and technologies, please visit www.scansoft.com.
ScanSoft is a registered trademark or trademark of ScanSoft, Inc. and its subsidiaries in the United States and other countries.
Order Dragon Naturally Speaking
Schedule your FREE Medical Transcription Software Demo today.
View the History of Voice Recognition and Speech Recognition Software