Dragon Naturally Speaking Reviews

- 2005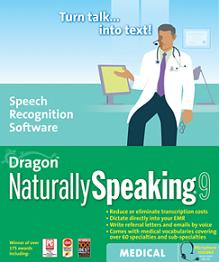 ---
ScanSoft Changes Name to Nuance Communications, Inc., Unveils New Corporate Identity and Branding
Burlington, Mass., October 18, 2005 – ScanSoft, Inc. (Nasdaq: SSFT), today announced that it has changed its name to Nuance Communications, Inc., presenting a unified position for the company in the markets it serves. The new name marks the culmination of four years of work in building the world's most comprehensive and innovative provider of speech solutions. Nuance will use the ScanSoft name for its family of imaging solutions. The company will continue to be listed as "SSFT" on the Nasdaq National Market until November 21, 2005 when it will begin trading as "NUAN" (Nasdaq: NUAN).
"Our new name symbolizes an important point in the company's evolution and better represents our mission to provide solutions that improve the customer experience," said Paul Ricci, chairman and CEO of Nuance. "While our name and branding have changed, the facets of the organization that have made the company a trusted provider, partner and employer are unwavering. Nuance will continue in its tradition of delivering the industry's premier speech and imaging solutions for businesses and consumers around the world."
Speech software is transforming the way people use digital devices and access information systems. Through its dictation, embedded and network speech solutions, Nuance offers the world's most comprehensive and innovative portfolio of speech technologies, expertise and solutions. Every day, millions of users and thousands of businesses experience Nuance by calling directory assistance, receiving account information over the phone, dictating patient records or telling a navigation system their destination. Nuance has deployed more than 3,000 speech applications for some of the world's most respected companies including AOL, Bank of America, British Airways, Charles Schwab, Citigroup, Daimler Chrysler, Ford, General Electric, LG, Nokia, SBC, United Airlines, Verizon and Vodafone.
Nuance is committed to making speech-enabled systems, devices and interactions as effective and ubiquitous as the Web. In doing so, the company draws on the talents and experience of more than 300 speech scientists and engineers, a professional services organization that comprises more than 250 speech and voice user interface experts, and a global partner network that includes industry leaders such as Avaya, Bosch-Blaupunkt, Cisco, Delphi, Dictaphone, Genesys, IDX, Intel, Microsoft, Nortel, Sony, Texas Instruments, and Visteon to further promote the innovation and adoption of speech. For additional information and to experience the power of the spoken word, please visit www.nuance.com.
Nuance will continue to leverage the recognition that the ScanSoft name has earned in the market by using it as the name for its family of imaging solutions. Through unrivaled features, accuracy and performance, ScanSoft imaging solutions eliminate barriers to productivity by enabling people and organizations to automate a range of document processes – increasing productivity, saving time and reducing costs.
With products for enterprises, small-to-medium-sized businesses and home offices, these solutions put the power of PDF on every business desktop; convert paper and PDF into documents that can be edited; and simplify scanning and document management using multifunction scanners and networked digital copiers. Nearly 100 percent of hardware and software vendors that implement scanning and optical character recognition, including Autodesk, Brother, Dell, Filenet, Hewlett-Packard, Lexmark, Lockheed Martin, Microsoft, Symantec, Visioneer and Xerox, rely on ScanSoft imaging solutions to deliver their own superior products. For additional information and to experience new levels of productivity, please visit www.nuance.com/scansoft.
Nuance Communications, Inc.
Nuance (Nasdaq: SSFT) is the leading provider of speech and imaging solutions for businesses and consumers around the world. Its technologies, applications and services make the user experience more compelling by transforming the way people interact with information and how they create, share and use documents. Every day, millions of users and thousands of businesses experience Nuance's proven applications and professional services. For more information, please visit www.nuance.com.
Nuance, the Nuance logo and ScanSoft are trademarks or registered trademarks of Nuance Communications, Inc. in the United States and other countries. All other company names or product names may be the trademarks of their respective owners.
This press release contains certain "forward-looking statements" within the meaning of Section 27A of the Securities Act of 1933 and Section 21E of the Securities Exchange Act of 1934, including statements relating to the continued strength of existing products, services and relationships, and future prospects regarding product lines, sales channels and international operations. Such statements are based on current expectations that are subject to a number of risks and uncertainties, and actual results may differ materially. These risks and uncertainties include, without limitation, the following: fluctuations in demand for Nuance's existing and future products; economic conditions in the United States and abroad; and possible defects in Nuance's products and technologies. A detailed discussion of these and other risks and uncertainties that could cause actual results and events to differ materially from such forward-looking statements is included in Nuance's filings with the Securities and Exchange Commission, including its Annual Report on Form 10-K/T for the fiscal year ended September 30, 2004, and its most recent quarterly reports on Form 10-Q. Nuance undertakes no obligation to update forward-looking statements to reflect events or circumstances occurring after the date of this document.
Order Dragon Naturally Speaking
Schedule your FREE Medical Transcription Software Demo today.
View the History of Voice Recognition and Speech Recognition Software