Dragon Naturally Speaking Reviews

- 2005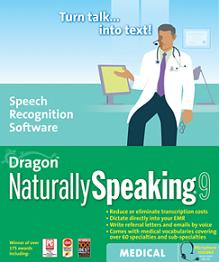 ---
Nightingale Speech-Enables EMR Solution with Dragon NaturallySpeaking Medical from Nuance
Nightingale Taps Dragon NaturallySpeaking to Deliver Complete EMR Solution; Reduces Costs and Improves Overall Patient Care
BURLINGTON, Mass., November 15, 2005 – Nuance Communications, Inc. (Nasdaq: SSFT), formerly ScanSoft, Inc., the leading provider of speech and imaging solutions for businesses and consumers around the world, today announced that Nightingale, the leading provider of ASP-based solutions to Canadian healthcare providers, has selected Dragon NaturallySpeaking® Medical to enable speech recognition within its Nightingale electronic medical records (EMR) solutions. The new integration will enable Nightingale's customers to dictate directly into the myNightingale EMR system, dramatically lowering administrative costs, errors, and turnaround time typically associated with manually transcribing critical medical records.
Canadian healthcare professionals can use the power of their voice within the myNightingale EMR to quickly create accurate patient notes, fax or e-mail referral letters, and perform other traditionally transcription-dependent tasks. The integration of Dragon NaturallySpeaking Medical with Nightingale's EMR equips healthcare providers with the most efficient, accurate documentation solution available – enabling them to spend less time on administrative tasks and more time on direct patient care.
"Dictation and transcription are important recording elements in most every healthcare environment," said John Bodalai, vice president, marketing for Nightingale. "By integrating Dragon NaturallySpeaking solution into myNightingale, we are providing our physician customers with a best-of-breed solution that recognizes their requirements and delivers a comprehensive package."
Dragon NaturallySpeaking Medical 8 has built-in understanding for more than 300,000 words, and includes 14 specialty vocabularies, including General Medicine, Pathology, Radiology, Cardiology and Surgery disciplines. Healthcare organizations can also easily add their own words to the solution to create fully customized vocabularies. Care providers can take advantage of voice-activated shortcuts, allowing a single word or phrase to automatically populate fields within the Nightingale solution. Dragon NaturallySpeaking provides healthcare technology suppliers and integrators with the ability to quickly and easily speech-enable commercial and in-house PC- and Web-based EMR applications, delivering unrivaled speed and accuracy. Dragon NaturallySpeaking can save healthcare organizations thousands of dollars per doctor each year in reduced or eliminated manual transcription costs. Tens of thousands of physicians worldwide use Dragon NaturallySpeaking to achieve substantial time and money savings, enabling them to focus on patient care.
"Healthcare professionals are continually seeking new ways to save money while at the same time increase productivity and improve the quality of care," said John Shagoury, president, Productivity Applications, Nuance. "Using Dragon NaturallySpeaking, Nightingale offers a complete voice-enabled EMR solution with the most accurate speech technology available to Canadian healthcare providers, driving down the time and cost associated with managing patient records, and ultimately improving the quality of patient care."
About Nightingale
Nightingale (www.nightingale.md) is Canada's largest healthcare application service provider (ASP). Nightingale's internet-based Electronic Health Record (EHR), Electronic Medical Record (EMR) and practice management solutions are designed to help physicians, clinics, hospitals and other healthcare organizations manage their practices, as well as their patient records through a secure internet browser. Nightingale's solutions offer multi-location, enterprise wide management and reporting capabilities. Nightingale's suite of products offer Canadian and United States physician's leading edge functionality for patient scheduling, resource scheduling, billing, claims processing, work flow tools, clinical documentation, laboratory interfaces, document management and patient portals, and other real-time patient services. For more information, visit www.nightingale.md.
About Nuance Communications, Inc.
Nuance (Nasdaq: SSFT) is the leading provider of speech and imaging solutions for businesses and consumers around the world. Its technologies, applications and services make the user experience more compelling by transforming the way people interact with information and how they create, share and use documents. Every day, millions of users and thousands of businesses experience Nuance's proven applications and professional services. For more information, please visit www.nuance.com.
Nuance and the Nuance logo are trademarks or registered trademarks of Nuance Communications, Inc. in the United States and other countries. All other company names or product names may be the trademarks of their respective owners.
The statements in this press release that relate to future plans, events or performances are forward-looking statements that involve risks and uncertainties, including risks associated with market trends, competitive factors, and other risks identified in the Company's SEC filings. Actual results, event and performance may differ materially. Readers are cautioned not to put undue reliance on these forward-looking statements that speak only as of the date hereof.
Order Dragon Naturally Speaking
Schedule your FREE Medical Transcription Software Demo today.
View the History of Voice Recognition and Speech Recognition Software