Dragon Naturally Speaking Reviews

- 2005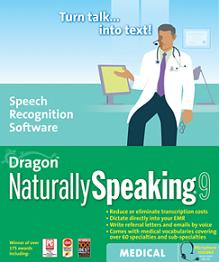 ---
Dragon NaturallySpeaking from Nuance Strengthens Foothold as Standard Speech Recognition Solution for Healthcare Industry
Unrivaled Accuracy, Specialty Vocabularies and Mobility Features in World's Leading Speech Recognition Solution Combine to Dramatically Reduce Costs, Improve Patient Care
RSNA 2005, CHICAGO – November 28, 2005 – Nuance Communications, Inc. (Nasdaq: NUAN), formerly ScanSoft, Inc., the leading provider of speech and imaging solutions for businesses and consumers around the world, today announced that its Dragon™ Dictation Solutions family has become the standard in speech recognition technology for the healthcare sector. Already in use at thousands of healthcare facilities worldwide, Dragon NaturallySpeaking® Medical, Dragon NaturallySpeaking® SDK (software developer kit), and the Dragon™ MT Workflow System can save healthcare organizations thousands of dollars per doctor each year in reduced or eliminated manual transcription costs by converting speech into text at up to twice the speed of the spoken word, automating the clinical documentation process and eliminating the high cost and long turnaround time associated with the manual transcription of patient notes.
Nuance provides the healthcare industry with an unmatched set of speech recognition solutions, including Dragon NaturallySpeaking Medical, the world's best selling front-end speech recognition solution for electronic medical records systems, the Dragon NaturallySpeaking Server SDK, which enables the server-based processing and workflow of recorded patient information, and the Dragon MT Workflow System, a scalable, HIPAA compliant, web-based platform for end-to-end transcription processing The Dragon NaturallySpeaking family of products includes 14 pre-made medical specialty vocabularies, supports the creation of custom vocabularies, and delivers patent-pending roaming user capabilities to enable use within distributed care provider facilities.
A growing number of healthcare vendors and integrators have joined with Nuance to speech-enable their healthcare solutions, including: Allscripts Healthcare Solutions; Cerner CoPath; ChartLogic, Inc; Clinical Content Consultants, LLC; Commissure; Dictaphone; DR Systems, Inc.; ERad; Guardian; IDX Systems Corporation; Instar; Meditech; Misys Healthcare Systems; Mountain Medical Technologies, Inc.; Northbase; NovaRad; Polaris-Danforth; SoftMed Systems; STI Computer Systems, Inc.; Structurad; Swearingen; ThinAir; Virtual Radiological Consultants; and Voicebrook. In addition, ScanSoft® Dragon NaturallySpeaking® has garnered accolades from respected publications worldwide, including C|Net, Computer Reseller News, Forbes, The New York Times, PC Magazine, PC World, and SmartComputing.
Nuance's Dragon Dictation Solutions apply highly accurate speech recognition to intelligent workflow processing solutions in order to reduce the costs associated with manually converting medical dictation into text, estimated at $10 billion in North America and $15 billion worldwide each year. Nuance delivers these solutions through its growing number of channel partners, including healthcare information systems vendors, systems integrators, digital dictation systems vendors and MTSOs. Dragon Dictation Solutions are used worldwide by physicians, records management and medical transcription teams within hospitals, clinics and physician practice organizations, as well as MTSOs to enhance their current transcription services businesses.
Nuance Speech Solutions
Nuance Speech Solutions make the user experience more compelling and expand business potential. Through its dictation, embedded and network speech solutions, Nuance offers the world's preeminent portfolio of speech technologies, expertise and solutions that transform the way people interact with businesses, information and each other. Today, thousands of companies and millions of users around the world depend on Nuance Speech Solutions to deliver vital information, increase productivity and conduct business. To experience the power of the spoken word, please visit www.nuance.com.
Nuance Communications, Inc.
Nuance (Nasdaq: NUAN) is the leading provider of speech and imaging solutions for businesses and consumers around the world. Its technologies, applications and services make the user experience more compelling by transforming the way people interact with information and how they create, share and use documents. Every day, millions of users and thousands of businesses experience Nuance's proven applications and professional services. For more information, please visit www.nuance.com.
Nuance, the Nuance logo, Dragon, and NaturallySpeaking are trademarks or registered trademarks of Nuance Communications, Inc. or its affiliates in the United States and other countries. All other company names or product names may be the trademarks of their respective owners.
The statements in this press release that relate to future plans, events or performance are forward-looking statements that involve risks and uncertainties, including risks associated with market trends, competitive factors, and other risks identified in Nuance's SEC filings. Actual results, events and performance may differ materially. Readers are cautioned not to put undue reliance on these forward-looking statements that speak only as of the date hereof.
Order Dragon Naturally Speaking
Schedule your FREE Medical Transcription Software Demo today.
View the History of Voice Recognition and Speech Recognition Software