Dragon Naturally Speaking Reviews

- 2005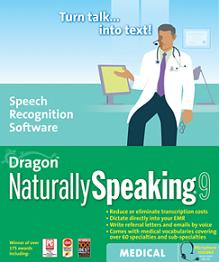 ---
Nuance Named Competitive Strategy Leader by Frost & Sullivan in European Healthcare Voice Recognition Systems Market
Dragon NaturallySpeaking Clear Market Leader in UK Healthcare Voice Recognition Market with 75% Market Share
BURLINGTON, Mass., December 14, 2005 – Nuance Communications, Inc. (Nasdaq: NUAN), formerly ScanSoft, Inc., today announced that it has received the Competitive Strategy Leadership Award from Frost & Sullivan following a detailed analysis of the European Healthcare Voice Recognition Systems Market. The Award specifically recognizes Nuance's Dragon™ Dictation Solutions, including Dragon NaturallySpeaking®, Dragon NaturallySpeaking® SDK (software developer kit), and the Dragon™ MT Workflow System, which save healthcare organizations thousands of dollars per doctor each year in reduced or eliminated costs and reduced turnaround time associated with the manual transcription of patient notes.
"Nuance has created a strong and trustworthy name in the healthcare voice recognition market in Europe," said Konstantinos Nikolopoulos, Research Analyst, Frost & Sullivan. "With the strategic positioning of its existing voice recognition systems platform and in-depth understanding of end-user requirements, further technological innovations and increasing numbers of satisfied customers, Frost & Sullivan believes Nuance has executed an innovative tactic within the existing competitive environment and thus is a deserving recipient of the 2005 Frost & Sullivan Competitive Strategy Leadership Award. Furthermore, Frost & Sullivan believes that Nuance will continue to employ innovative competitive strategies that will allow it to further solidify its market presence."
Nuance is recognized by Frost & Sullivan for its efforts in optimizing its product line and enhancing the key features offered in its Dragon Dictation Solutions product family. Frost & Sullivan found that from a single-handed GP practice to Trust-wide implementation, Dragon NaturallySpeaking, Dragon SDK and Dragon MT Workflow can meet the requirements of all Healthcare bodies. Online or offline, the modular design of Dragon NaturallySpeaking enables the software to be deployed in a manner that suits the working practice of all healthcare professionals. As a result, together with General Practice and Ambulance Services, Dragon NaturallySpeaking is used in over 200 different sites in the UK with an overall Healthcare Voice recognition market share of around 75% in the United Kingdom.
As part of its strategy to increase its influence on the healthcare provider community, Nuance offers healthcare organizations the ability to license software for use, rather than purchase "boxed" products. This program reduces manufacturing costs and passes the additional savings on to the purchaser in the form of a reduced price. In addition, the company draws on the talents and experience of more than 300 speech scientists and engineers, and a professional services organization that comprises more than 250 voice user interface experts. A global partner network that includes industry leaders such as Avaya, Bosch-Blaupunkt, Cisco, Delphi, Dictaphone, Genesys, IDX, Intel, Microsoft, Nortel, Sony, Texas Instruments, and Visteon further promotes the innovation and adoption of voice recognition technology.
"We are honored to receive this recognition in Healthcare leadership from such an esteemed firm as Frost & Sullivan," said John Shagoury, president, Productivity Applications, Nuance. "This award and the scores of industry accolades and awards that Nuance has received for Dragon NaturallySpeaking further underscore not only the increased adoption of speech recognition by the Healthcare sector, but also its proven success. We have worked hard to create compelling speech solutions that not only meet our customers' needs today, but that can grow with them into the future. We are excited to be at the forefront of such a dynamic industry, and we will continue to lead the way, breaking new ground in speech solutions to help our customers to exceed their goals."
Nuance Speech Solutions
Nuance Speech Solutions make the user experience more compelling and expand business potential. Through its dictation, embedded and network speech solutions, Nuance offers the world's preeminent portfolio of speech technologies, expertise and solutions that transform the way people interact with businesses, information and each other. Today, thousands of companies and millions of users around the world depend on Nuance Speech Solutions to deliver vital information, increase productivity and conduct business. To experience the power of the spoken word, please visit www.nuance.com
Frost & Sullivan
Frost & Sullivan, a global growth consulting company, has been partnering with clients to support the development of innovative strategies for more than 40 years. The company's industry expertise integrates growth consulting, growth partnership services and corporate management training to identify and develop opportunities. Frost & Sullivan serves an extensive clientele that includes Global 1000 companies, emerging companies, and the investment community, by providing comprehensive industry coverage that reflects a unique global perspective and combines ongoing analysis of markets, technologies, econometrics, and demographics. For more information, visit www.frost.com.
Nuance Communications, Inc.
Nuance (Nasdaq: NUAN) is the leading provider of speech and imaging solutions for businesses and consumers around the world. Its technologies, applications and services make the user experience more compelling by transforming the way people interact with information and how they create, share and use documents. Every day, millions of users and thousands of businesses experience Nuance's proven applications and professional services. For more information, please visit www.nuance.com.
Nuance, the Nuance logo, Dragon, and NaturallySpeaking are trademarks or registered trademarks of Nuance Communications, Inc. or its affiliates in the United States and other countries. All other company names or product names may be the trademarks of their respective owners.
The statements in this press release that relate to future plans, events or performance are forward-looking statements that involve risks and uncertainties, including risks associated with market trends, competitive factors, and other risks identified in Nuance's SEC filings. Actual results, events and performance may differ materially. Readers are cautioned not to put undue reliance on these forward-looking statements that speak only as of the date hereof.
Order Dragon Naturally Speaking
Schedule your FREE Medical Transcription Software Demo today.
View the History of Voice Recognition and Speech Recognition Software