Dragon Naturally Speaking Reviews

- 2004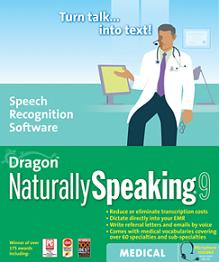 ---
ScanSoft Introduces Dragon NaturallySpeaking Medical 8, Delivers Breakthrough in Speech Recognition Needed by Healthcare Sector
New Release Allows Healthcare Providers and Organizations to Use Speech Recognition to Eliminate the Historical Trade-Off between Improving Patient Care and Reducing Costs
PEABODY, Mass., November 11, 2004 - ScanSoft, Inc. (Nasdaq: SSFT), the global leader of speech and imaging solutions, today announced the immediate availability of Dragon NaturallySpeaking® Medical 8, a new release of the world's most accurate speech recognition solution designed specifically for healthcare organizations. Already in use at thousands of healthcare facilities worldwide, Dragon NaturallySpeaking converts speech into text at up to 160 words per minute, automating the input of patient information and eliminating the high cost and long turnaround time associated with the manual transcription of patient notes.
Dragon NaturallySpeaking Medical 8 represents a breakthrough in speech recognition capabilities for healthcare providers and organizations, including:

Accuracy - Dragon NaturallySpeaking Medical 8 achieves unsurpassed speech recognition accuracy, delivering up to 99 percent overall accuracy and more than 25 percent improvement over the previous release.

Mobility - The new release provides a breakthrough in mobility through its Roaming User capability. Where in the past a care provider was limited to using speech recognition on a dedicated PC, ScanSoft's Roaming User feature implements patent-pending technology that allows a provider to use speech recognition from any PC within the hospital network.

Specialty - The solution delivers a breakthrough in supporting a wide range of medical specialties, expanding the number of built-in medical vocabularies from four to 14 to now include Cardiology, General Medical, Radiology and others.

Compatibility - Dragon NaturallySpeaking Medical 8 provides seamless speech input capabilities with existing electronic medical records (EMR) systems.
"The promise of speech recognition in healthcare is rapidly turning into a reality, driven in part by new products that deliver significant improvements in accuracy, speed and flexibility," said Barry Hieb, M.D., research director with Gartner. "These applications are being embraced because they give care providers a powerful way to improve the quality of patient care while actually reducing transcription costs."
Dragon NaturallySpeaking Medical 8 speech-enables virtually all Microsoft Windows applications, including most PC and Web-based EMR systems, as well as Microsoft Office, Corel WordPerfect and Lotus Notes. By using Dragon NaturallySpeaking to automate the capture of patient data, healthcare professionals can eliminate the time and expense associated with manual transcription services - which represents over $10 billion per year in North America alone (according to the Medical Transcription Industry Alliance, www.MTIA.com).
"Dragon NaturallySpeaking is the voice recognition product that gives me an unrivaled level of interoperability with my EMR," said Robert Frank, M.D. with Advanced Healthcare in Milwaukee, Wisconsin. "I can document directly into the EMR with an exceptional degree of speech accuracy, while voice commands allow me to control the EMR simply by speaking. Adding Dragon NaturallySpeaking to my EMR workflow has improved my prescription-entry, communication, and documentation efficiency - all while reducing my use of transcription services by 97 percent."
Network administration capabilities within Dragon NaturallySpeaking Medical 8 deliver value to mid-to-large-sized healthcare organizations. Installation and maintenance of multi-seat and site deployments are simplified through support for MSI (Microsoft Installer), while centralized management for voice profiles and custom vocabularies is made possible through the ScanSoft® DNS Administrator.
ScanSoft has also delivered the Dragon NaturallySpeaking SDK, which is used by developers and integrators to incorporate speech-to-text and voice command capabilities directly into in-house and commercial applications. The Dragon Naturally Speaking SDK supports integrating both real-time dictation and batch processing capabilities into applications, on either desktop clients or server systems.
"Our ChartLogic EMR system has embedded the Dragon NaturallySpeaking engine for over eight years," said Craig Roush, vice president of marketing and sales, ChartLogic, Inc. "With the advancements that ScanSoft has made to speech recognition technology, speech is no longer nice to have - it is a competitive requirement. The use of speech within ChartLogic gives us a competitive advantage, providing our users the flexibility and speed they need to succeed." The World's Best Speech Recognition for Healthcare Professionals -- Made Better To help healthcare organizations improve the quality of patient care, and reduce or eliminate manual transcription costs, ScanSoft has added a number of key features to Dragon NaturallySpeaking Medical 8, including:

Most Accurate Ever - Significant improvements to the Dragon NaturallySpeaking recognition system has yielded an unprecedented accuracy improvement of up to 25 percent over the previous release, resulting in speech recognition accuracy levels as high as 99 percent.

Expanded Medical Vocabularies - Dragon NaturallySpeaking Medical 8 has expanded its set of specialty vocabularies from four to 14: Cardiology; Emergency; Family Practice; Gastroenterology; General Medical; Mental Health; Neurology; ObGyn; Oncology; Orthopedic; Pathology; Pediatrics; Radiology and Surgery. The product provides a core vocabulary of 300,000 words and thousands more in its specialty vocabulary sets, and also makes it easy to add additional words to existing vocabularies, or to create new custom vocabulary sets.

Roaming User - In a patent-pending new capability, Dragon NaturallySpeaking Medical 8 allows healthcare professionals to access their unique user profiles anywhere on their network, and automatically synchronizes updates and voice adaptations centrally. This enables care providers to use speech from any nurse or care station, while insuring the highest accuracy results possible.

Mobile Dictation Support - Healthcare professionals can use ScanSoft-certified handheld recorders, Pocket PC or Palm Tungsten devices to dictate on the go. Recordings can be processed through Dragon NaturallySpeaking by the care provider or an assistant, with a transcription created automatically.

Improved Voice Commands - Healthcare professionals can create customized simple commands that will automate complex, multi-step tasks - a word or phrase will trigger the insertion of standardized text or instantly execute a command that may have required multiple "points and clicks."

Network Administration - Dragon NaturallySpeaking Medical is available with a pre-configured MSI file for push installations throughout a network environment. The ScanSoft DNS Administrator utility enables IT professionals to manage and update user profiles and vocabularies from a central network location.

Speech Recognition for Developers and System Integrators - The Dragon NaturallySpeaking SDK (Software Developers Kit) enables integrators to add custom speech capabilities to commercial and in-house EMR and HIS applications, and can be deployed on a central server for "off line" or "back end" speech recognition.
"The tangible benefits that Dragon NaturallySpeaking Medical 8 brings to the healthcare sector - dramatic cost savings, reduction in turnaround time, and the quality of care - are evidenced by the results that we are seeing at implementations within large hospitals and small practices," said John Shagoury, president, ScanSoft Productivity Applications Division. "The dramatic improvements that we bring to the table with this release - in accuracy and mobility, as well as the expanded vocabularies - all contribute to allowing healthcare practitioners and organizations to focus more of their time on what matters most - caring for their patients."
Availability and Pricing
ScanSoft Dragon NaturallySpeaking Medical 8 is available immediately through ScanSoft's professional sales organization and global network of value added reseller partners. The suggested retail price is $1095 for individual users, with multi-seat and site license discounts available. For additional information on features, pricing and volume licensing programs, please visit www.ScanSoft.com or call (1) 800-443-7077.
About ScanSoft, Inc.
ScanSoft, Inc. (Nasdaq: SSFT) is the global leader of speech and imaging solutions that are used to automate a wide range of manual processes - saving time, increasing worker productivity and improving customer service. For more information regarding ScanSoft products and technologies, please visit www.ScanSoft.com.
Trademark reference: ScanSoft, the ScanSoft logo, and Dragon NaturallySpeaking are registered trademarks or trademarks of ScanSoft, Inc. or its subsidiaries in the United States and/or other countries. All other company or product names mentioned may be the trademarks of their respective owners.
The statements in this press release that relate to future plans, events or performance are forward-looking statements that involve risks and uncertainties, including risks associated with market trends, competitive factors, and other risks identified in ScanSoft's SEC filings. Actual results, events and performance may differ materially. Readers are cautioned not to put undue reliance on these forward-looking statements that speak only as of the date hereof.
Order Dragon Naturally Speaking
Schedule your FREE Medical Transcription Software Demo today.
View the History of Voice Recognition and Speech Recognition Software