Dragon Naturally Speaking Reviews

- 2004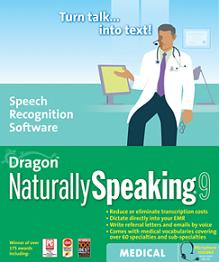 ---
SynaMed Taps ScanSoft Dragon NaturallySpeaking Medical to Integrate Speech Recognition in Electronic Medical Record Solution
Developed in Conjunction with 1450, Inc., Complete EMR Solution Helps Customers Meet HIPAA Regulations, Reduce Costs and Improve Overall Patient Care
PEABODY, Mass. and KEW GARDENS, N.Y., November 22, 2004 - ScanSoft, Inc. (Nasdaq: SSFT), the global leader of speech and imaging solutions, and SynaMed, the producer of a critically-acclaimed, turnkey electronic medical records (EMR) solution, today announced that SynaMed will integrate ScanSoft® Dragon NaturallySpeaking® Medical to enable speech recognition within its suite of EMR software.
This new integration will enable users of SynaMed's web-based EMR and Practice Management solution to quickly and painlessly create clinical reports directly into their EMR solution by using their voice - diminishing the need for manual transcription and significantly reducing the costs and turnaround time of creating reports through medical transcription services. This integration will also empower Dragon NaturallySpeaking users with a tool to improve patient care and reduce medical errors. Combining the power of dictation with the full suite of benefits available with SynaMed's EMR system, like e-prescribing, workflow management tools, and document management, physicians can dictate patient notes directly into the system to create referral letters, procedure documentation, and more. The integration of Dragon NaturallySpeaking with SynaMed provides physicians and healthcare providers with the most accurate documentation solution available - and enables them to spend less time on administrative tasks and focus on patient care.
Dragon NaturallySpeaking Medical 8 has built-in understanding for more than 300,000 words, and includes additional vocabularies covering terms found in 14 different specialty areas, including General Medicine, Pathology, Radiology, Cardiology and Surgery disciplines. Healthcare organizations can also easily add their own words to the solution to create fully customized vocabularies. Care providers can take advantage of voice-activated shortcuts, allowing a single word or phrase to automatically populate fields within the SynaMed solution.
"An increasing number of our customers are realizing the many benefits of a speech-based solution, and the integration of our solutions enables compliance with today's stringent regulations," said Back Kim, M.D., SynaMed. "ScanSoft's Dragon NaturallySpeaking brings a unique combination of accuracy, robust features and a natural, easy to use interface that, in conjunction with SynaMed, delivers real time savings to our customers."
ScanSoft's Dragon NaturallySpeaking provides healthcare technology suppliers and integrators with the ability to quickly and easily speech-enable commercial and in-house PC- and Web-based Healthcare Information Systems (HIS) and Electronic Medical Records (EMR) applications, and delivers unrivaled speed and accuracy. Dragon NaturallySpeaking technology can save healthcare organizations thousands of dollars per doctor each year in reduced or eliminated manual transcription costs. Tens of thousands of physicians world wide use ScanSoft's Dragon technology to achieve substantial time and money savings, enabling them to focus on patient care. Furthermore, through the use of SynaMed, healthcare providers receive additional cost-savings from reduced labor costs and increased efficiency.
"Healthcare organizations are seeking solutions that increase productivity and help their professionals to get the most out of their existing solutions and processes, and most importantly, save money," said John Shagoury, president, ScanSoft Productivity Applications. "Using Dragon NaturallySpeaking, SynaMed is able to offer some of the best technology and services available to the industry, and help healthcare professionals reduce errors and improve the quality of care for patients."
About SynaMed
SynaMed offers an award winning Electronic Health Record (EHR) Software that includes e-Prescribing, Scheduling, Task Management, Lab connectivity, and Documentation Management. In May 2004 SynaMed won awards in four out of eight categories at the Towards Electronic Patient Records (TEPR) consortium. SynaMed has created a unique ASP-model turnkey electronic medical records solution and practice management system with lab connectivity, imaging, document manger, e-prescribing, and tasks.
About ScanSoft, Inc.
ScanSoft, Inc. (Nasdaq: SSFT) is the global leader of speech and imaging solutions that are used to automate a wide range of manual processes - saving time, increasing worker productivity and improving customer service. For more information regarding ScanSoft products and technologies, please visit www.ScanSoft.com.
Trademark reference: ScanSoft, the ScanSoft logo, and Dragon NaturallySpeaking are registered trademarks or trademarks of ScanSoft, Inc. or its subsidiaries in the United States and other countries. All other company or product names mentioned may be the trademarks of their respective owners.
The statements in this press release that relate to future plans, events or performance are forward-looking statements that involve risks and uncertainties, including risks associated with market trends, competitive factors, and other risks identified in ScanSoft's SEC filings. Actual results, events and performance may differ materially. Readers are cautioned not to put undue reliance on these forward-looking statements that speak only as of the date hereof.
Order Dragon Naturally Speaking
Schedule your FREE Medical Transcription Software Demo today.
View the History of Voice Recognition and Speech Recognition Software