Dragon Naturally Speaking Reviews

- 2004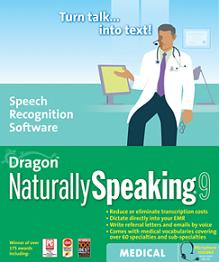 ---
Clinical Content Consultants Adds Speech Recognition to GE Centricity Electronic Medical Records System Using ScanSoft Dragon NaturallySpeaking SDK
Award-Winning CCCSpeak Application Adds Front-end Speech Input and Automated Back-end Processing, Enhancing Functionality Within GE Centricity - Improves Speed, Accuracy, and Workflow, Reduces Costs
PEABODY, Mass. November 23, 2004 - ScanSoft, Inc. (Nasdaq: SSFT), the global leader of speech and imaging solutions, today announced that Clinical Content Consultants, LLC has integrated speech recognition into the GE Centricity EMR (formerly Logician®) with its award-winning CCCSpeak application using the ScanSoft® Dragon NaturallySpeaking® SDK (software developers toolkit). CCCSpeak, an enhanced voice recognition application specially designed to work within an EMR, uses the Dragon NaturallySpeaking SDK to integrate interactive speech and voice recognition as well as recorded dictation with the GE Centricity EMR system to enhance speed, accuracy and workflow functionality. Dragon NaturallySpeaking is the world's leading speech recognition solution, enabling the automatic conversion of speech into text at up to 160 words per minute, and allowing the voice-control of software applications simply by speaking.
Recently hailed by the GE Centricity EMR User Group as the best new innovation in EMR functionality, Clinical Content Consultants' CCCSpeak leverages the ScanSoft Dragon NaturallySpeaking SDK to quickly and easily integrate dictation with the GE Centricity EMR, enabling healthcare organizations to eliminate the time and cost associated with manual transcription processes. The ScanSoft Dragon NaturallySpeaking SDK allowed Clinical Content Consultants to rapidly add both front-end and back-end speech recognition capabilities to CCCSpeak. Front-end speech recognition enables the real-time conversion of speech into text, allowing documents and forms to be completed by voice. As a result, front-end speech recognition is the fastest way to enter clinical data into an EMR, and delivers the greatest reduction in transcription processing costs. Back-end speech recognition enables the batch-processing of recorded speech from a range of devices, including digital recorders, PDAs and Tablet PC's. Dragon NaturallySpeaking automatically converts the recordings into transcription data, reducing transcription processing costs by 50 percent or more.
"ScanSoft is recognized as the leader in speech technology, and the Dragon NaturallySpeaking SDK in particular has allowed us to quickly and easily integrate speech recognition within CCCSpeak for rapid deployment to our GE Centricity EMR customers," said John J. Janas III, MD, president and CEO, Clinical Content Consultants, LLC. "ScanSoft's technology provided a single solution from which we could efficiently implement front-end speech input and back-end processing with CCCSpeak, ultimately ensuring successful integration into the GE Centricity EMR system and fast adoption by hundreds of physicians."
The GE Centricity EMR (formerly Logician®) is an electronic medical record (EMR) system that enables ambulatory care physicians and clinical staff to document patient encounters, streamline clinical workflow, and securely exchange clinical data with other providers, patients, and information systems. Centricity EMR is used by thousands of physicians to manage millions of patient records, making it the most widely used ambulatory care electronic medical record. Centricity EMR empowers healthcare providers to deliver the highest quality of care at lower costs.
The ScanSoft Dragon NaturallySpeaking SDK provides healthcare providers, technology suppliers and integrators with the ability to quickly and easily speech-enable PC- and Web-based Healthcare Information Systems (HIS) and Electronic Medical Records (EMR) applications. Speech-enabled solutions provide healthcare organizations with the ability to improve patient care while saving thousands of dollars per doctor each year by automating the capture and processing of patient data.
"Increasing numbers of healthcare organizations are demanding speech technology within their EMR in order to increase productivity, lower costs and improve the quality of patient care," said John Shagoury, president, ScanSoft Productivity Applications Division. "We are pleased to work with Clinical Content Consultants to provide healthcare professionals using the GE Centricity EMR with the leading-edge technology that they need to meet and exceed these challenges."
About Clinical Content Consultants, LLC
Clinical Content Consultants is a physician owned company which provides premium clinical content and 4th Generation EMR capabilities. CCC has created a new generation of EMR functionality through the use of a core set of highly configurable, multi-specialty clinical content with embedded voice recognition to meet the needs of small or large provider groups. A revolutionary ambulatory CPOE assessment and plan module dramatically improves clinical workflows while providing 4th generation embedded clinical decision support without the need for multiple forms or templates. Providers can rapidly document any problem in any sequence while ordering: Medications, Lab Tests, Diagnostic Tests, Referrals, Custom Patient Education and Handouts. The clinical workflows of the CPOE modules are natural and automatically generate the provider's note. Time is spent on patient care and not on data entry or note generation. For more information contact support@clinicalcontent.com.
About ScanSoft, Inc.
ScanSoft, Inc. (Nasdaq: SSFT) is the global leader of speech and imaging solutions that are used to automate a wide range of manual processes - saving time, increasing worker productivity and improving customer service. For more information regarding ScanSoft® products and technologies, please visit www.ScanSoft.com.
Trademark reference: ScanSoft, the ScanSoft logo, and Dragon NaturallySpeaking are registered trademarks or trademarks of ScanSoft, Inc. or its subsidiaries in the United States and/or other countries. All other company or product names mentioned may be the trademarks of their respective owners.
The statements in this press release that relate to future plans, events or performance are forward-looking statements that involve risks and uncertainties, including risks associated with market trends, competitive factors, and other risks identified in ScanSoft's SEC filings. Actual results, events and performance may differ materially. Readers are cautioned not to put undue reliance on these forward-looking statements that speak only as of the date hereof
Order Dragon Naturally Speaking
Schedule your FREE Medical Transcription Software Demo today.
View the History of Voice Recognition and Speech Recognition Software